Sport
Sport socks
Each sport has different demands: that's why we've made a selection of the best socks for each specific sport. We have used technical materials to provide comfort and protection for your feet. Discover our selection of tennis socks, hunting socks, socks for golf and hiking, horse riding socks and more.
Les chaussettes de sport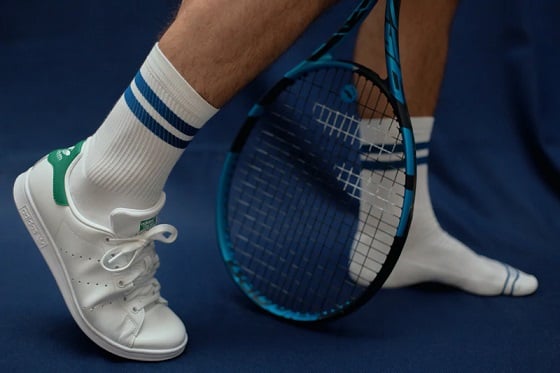 # Pourquoi porter des chaussettes de sport
Nos chaussettes de sport ont été conçues pour vous assurer de meilleures performances sportives grâce au confort et à la protection optimale de vos pieds que chacune de nos paires assure pendant toute la durée de l'effort.
Les chaussettes de sport jouent un rôle déterminant dans l'amélioration des performances. Une paire de chaussettes de sport non adaptée aux spécificités du sport pratiqué aura pour conséquences un inconfort pendant la pratique et un excès de friction. À l'inverse, un modèle adapté assure un maintien impeccable des chaussettes et permet des déplacements plus fluides, moins forcés !
# La particularité des chaussettes de sport Mazarin
Sur chaque paire de chaussettes de sport, vous retrouverez les mêmes finitions d'exception :
La semelle : elle est tricotée en bouclette, une technique qui permet d'assurer une épaisseur de matière supplémentaire à la semelle. Cette épaisseur permet de limiter au maximum les zones de friction intérieure, qui sont à l'origine des ampoules.

La composition : chaque paire de chaussettes de sport allie des matières naturelles et synthétiques dans sa composition. Les matières naturelles assurent aux pieds de respirer et d'évacuer la transpiration pour rester au sec pendant tout l'effort. Elles ont aussi des propriétés anti-bactériennes et anti-odeurs. Le fil d'Écosse et la laine sont d'ailleurs deux matières douces et légères qui protègent les pieds des frottements et irritations pendant l'effort.

La solidité : L'ajout du polyamide, matière utilisée pour les amarres de bateaux, apporte de la robustesse aux chaussettes. Elles tiendront donc mieux sur la durée, malgré les frottements répétés.

La tenue : La présence d'élasthanne dans les modèles de chaussettes de sport assure une souplesse et une tenue impeccable des chaussettes de sport, peu importe l'intensité des mouvements réalisés.
# Des chaussettes de sport spécifiques pour chaque discipline
Les sportifs amateurs, confirmés ou professionnels s'accordent tous sur un point : le choix de chaussettes de sport adaptées est primordial ! Parmi nos différents modèles, nous vous recommandons de toujours choisir le modèle approprié pour le sport que vous pratiquez.
Chaussettes de tennis ou de running : Nos chaussettes de tennis sont conçues avec un coton d'excellente qualité, qui conserve sa douceur même après plusieurs lavages. Cette paire de mi-mollet (chaussettes courtes) complète très bien un ensemble sportif, notamment avec sa touche vintage grâce aux deux bandes colorées aux deux extrémités des chaussettes !
Chaussettes de golf et randonnée : très courtes (au niveau de la cheville) ou en mi-mollet, ces chaussettes de sport sont adaptées à la pratique du golf et de la randonnée. Tout comme leur composition : légères, en coton, ou plus épaisses en laine, nos modèles de tennis sont parfaitement adaptés pour absorber la transpiration et garder une tenue impeccable après chaque mouvement. Ces chaussettes de sport confortables et robustes se déclinent également dans de nombreux coloris.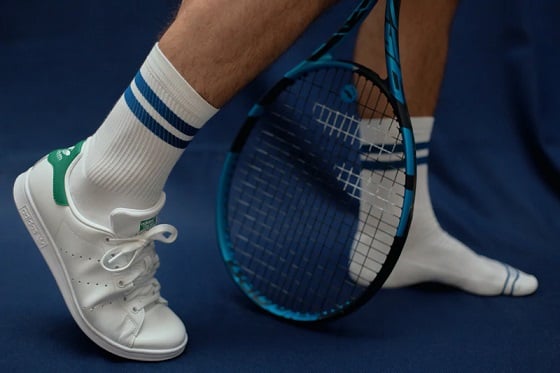 Chaussettes de chasse : Ces chaussettes de sport ont une forme qui a été spécialement pensée pour tenir sur de longues périodes de marche et respecter les codes vestimentaires de cette pratique traditionnelle. Albert Baucet et Pennine sont les deux marques spécialisées dans les modèles de chasse mi-bas (hautes), qui ont un revers au tricotage travaillé à rabattre sous le genou. Des garters en forme de pompons sont également disponibles afin d'assurer un maintien impeccable des chaussettes sur la jambe.
Chaussettes de ski : Le ski est une pratique qui nécessite des chaussettes de sport bien spécifiques afin de protéger les pieds, les chevilles et les tibias, des pressions exercées par les chaussures de ski. Nos chaussettes de ski, renforcées à tous ces points stratégiques, sont principalement composées de matières synthétiques car ce sont elles qui apportent la souplesse, la tenue et la protection nécessaires des jambes face aux à-coups et pression exercées pendant l'effort.
Chaussettes d'équitation : Conçues en collaboration avec des cavaliers, ces chaussettes à hauteur mi-bas répondent à des critères exigeants. Elles se déclinent en deux modèles. Le premier, en laine épaisse et robuste, est adapté aux promenades à cheval. Le second, conçu pour l'équitation à niveau compétitif, est un mélange de coton, de cachemire et de matières synthétiques, le tactel et l'élasthanne. Souples, douces et robustes, elles seront vos alliées pendant les concours !