Textures socks
Textured socks
Textured socks are a good alternative to patterned socks thanks to their visually striking knitted qualities. Our range of knee-high textured socks features honeycomb, scaled and grenadine textures.


Chaussettes texturées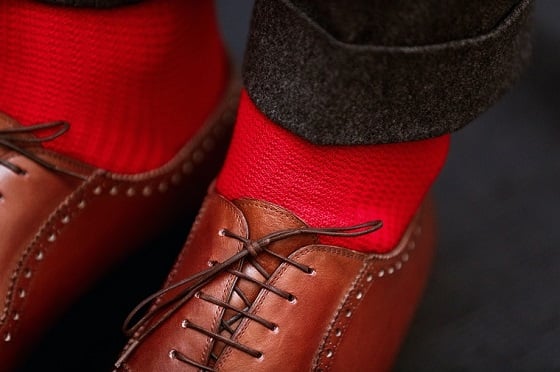 # Les chaussettes texturées
Les chaussettes texturées sont une bonne alternative aux chaussettes à motifs : généralement de couleur unie, c'est un bon choix si vous souhaitez donner du relief à vos chaussettes sans pour autant être trop voyantes.
Nous proposons 3 types de chaussettes texturées :
Les chaussettes nid d'abeille : elles ont une texture très fondue, presque lisse, et les mailles du tricotage ont un aspect "piqué" ;
Les chaussettes à écailles : les mailles du tricotage donnent un aspect superposé en volume, très raffiné, similaire à la forme des écailles de poisson ;
Les chaussettes grenadine : ces mailles sont sans doute les plus volumineuses et tricotées sous forme de petits carrés.