Gift sets for Woman
Gift sets for women
Discover all our sock ranges thanks to our women's sock sets composed of several pairs from the brands Daphné, Bonne Maison, Mazarin, etc.
As a gift or for yourself, we offer women's sock sets for all occasions, even Valentine's Day sets for women!
Patterned or solid, glittery or unique, there is something for everyone, always with a refined feminine touch. You simply can't go wrong with our gift sets!
Coffret chaussettes femme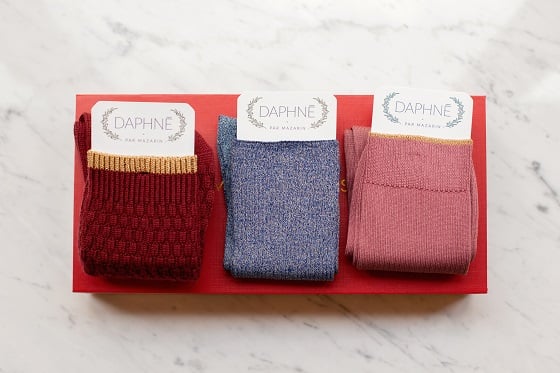 # Les usages du coffret chaussettes femme
Opter pour le coffret chaussettes femme c'est :
Découvrir des matières : du fil d'Écosse au cachemire en passant par la laine, nos coffrets chaussettes femme sont parfaits pour tester différentes matières afin de trouver celles qui vous conviennent !
Avoir une paire au quotidien : plusieurs coffrets proposent des paires de chaussettes allant jusqu'à 7 modèles différents (semainier) afin d'avoir une paire prévue pour chaque jour.
Faire un cadeau d'exception : Ces coffrets chaussettes femmes élégants sont de merveilleux présents. Si vous souhaitez offrir un cadeau original ou utile, nos coffrets font la différence. Nous proposons notamment plusieurs coffrets de chaussettes chaudes qui sont le cadeau parfait à offrir en période froide à vos proches ou à ouvrir sous le sapin !
Trouver la paire adaptée à vos besoins : Certains préfèrent les chaussettes fines, d'autres les plus épaisses. Nos coffrets chaussettes femme répondent parfaitement à ces besoins, vous n'aurez qu'à choisir celui qui vous correspond !
Faire un cadeau de chaussettes pour femme : les paires contenues dans ces coffrets sont plus fines pour s'adapter à la morphologie féminine. Elles sont également disponibles dans de plus petites pointures. Certaines paires sont conçues par la marque Daphné, spécialisée dans la chaussette pour femme. Plus généralement, nous avons cherché à proposer des paires avec une touche féminine sur l'originalité des motifs ou sur les formes.
# La préparation des coffrets chaussettes femme
Nos coffrets cadeau sont préparés avec le plus grand soin. Finement parfumées, nos chaussettes sont ensuite placées dans une élégante boîte cadeau dont la couleur rappelle celle de Mes Chaussettes Rouges. Et parce qu'aucun détail ne nous échappe, vous aurez le plaisir de découvrir dans votre coffret cadeau une carte personnalisée et des notes de parfum d'un grand parfumeur français. Une expérience unique pour un cadeau inoubliable !
# La conception de nos coffrets chaussettes femme
Les coffrets chaussettes femme intègrent un nombre variable de paires de chaussettes selon le coffret. Ils sont généralement composés par matière ou par collection.
Nos coffrets chaussettes femme sont très diversifiés, afin que nous puissions vous proposer une grande variété de paires de chaussettes dont le nombre varie selon le coffret.
# Notre offre de coffret chaussettes femme
Coffret Business femme en mi-mollet : Un coffret chaussettes femme semainier. Il s'agit du coffret chaussettes idéal pour avoir 7 paires de chaussettes d'épaisseurs et de matières variées, formelles et avec parfois une pointe de fantaisie pour chaque jour au travail.
Coffret Super-solides femme en mi-mollet : Un coffret chaussettes femme composé de 5 paires de chaussettes en fil d'Écosse Super-solides. Pour ceux à la recherche de robustesse et de durabilité, il s'agit du choix idéal puisque les chaussettes de la gamme Super-solides sont les plus résistantes au monde d'après le test d'usure Martindale.
Coffret Paillettes femme en mi-mollet : Ce coffret chaussettes femme original propose 6 paires de chaussettes composées de coton et de lurex. Ces chaussettes, de couleurs unies, se distinguent par leur texture pailletée apportée par le fil de lurex. Elles sont idéales si vous souhaitez donner une touche d'originalité à toutes vos tenues.
Coffret Rome femme en mi-mollet : Voici le coffret chaussettes femme le plus iconique proposé par la marque Daphné. Il est composé de 5 paires de chaussettes en coton dont le motif rend hommage à un événement marquant de l'Histoire romaine. Un coffret de chaussettes qui plaira aux amatrices de l'Empire romain et de la culture italienne.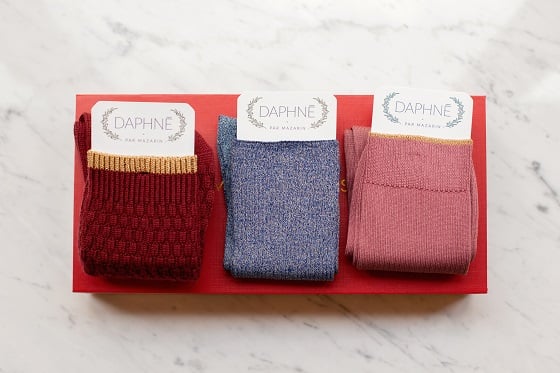 Coffret Laine femme en mi-mollet : Un coffret chaussettes femme composé de 5 paires en laine nattée. La nature du tissage permet d'obtenir des paires élégantes, originales, texturées et chaudes.
Coffret d'hiver femme en mi-bas et mi-mollet : Découvrez notre coffret chaussettes femme d'hiver, composé de 4 paires de chaussettes courtes ou longues de matières diverses et d'épaisseurs variées. Vous trouverez notamment une paire en cachemire épais très chaude, et une paire en cachemire & soie d'une douceur exceptionnelle. Quant aux paires en laine, d'épaisseur moyenne ou fine, elles vous accompagneront très bien durant les jours froids.
Coffret 3 cachemires femme en mi-bas : Voici un coffret chaussettes femme qui propose 3 paires de chaussettes longues, déclinées en différents mélanges de cachemire. Un coffret de chaussettes idéal pour découvrir cette matière chaude et d'une douceur exceptionnelle.
Coffret 5 cachemires femme en mi-bas et mi-mollet : Amatrices et passionnées de cachemire, ce coffret chaussettes femme est conçu pour vous ! Vous y découvrirez 5 paires de chaussettes longues ou courtes en cachemire, parfois mélangées à de la soie. Une douceur et un toucher soyeux sans pareil. Une chaleur inégalée. Le coffret chaussettes femme est parfait pour passer les jours d'hiver les plus froids dans le plus grand confort.