Mid-calf socks in Wool
Wool socks
Here are all our short wool socks (mid-calf) that will keep your feet warm in winter.
From the thinnest to the thickest, these wool socks are soft and insulating while allowing your feet to breathe.
Choose the pair that will brighten up your winter outfits with their colours and patterns, such as the Norwegian socks !
Chaussettes laine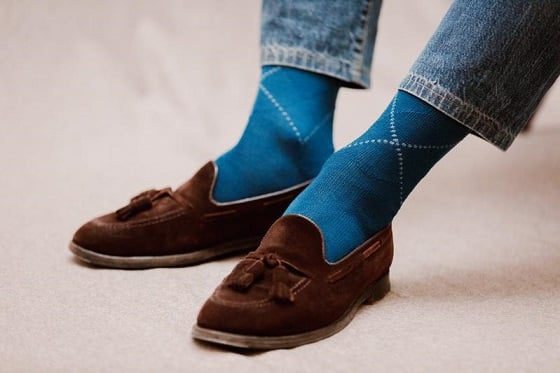 # Les chaussettes laine en hiver
Les chaussettes tricotées laine sont idéales pour éviter le froid hivernale : non seulement grâce à leur douceur et à leur chaleur qui réconfortent vos pieds mais aussi à leur couleurs et motifs lumineux qui égaieront vos tenues. Des chaussettes pour passer un hiver cozy et confortable !
Les propriétés des chaussettes en laine
Les chaussettes laine homme femme sont des chaussettes d'hiver idéales grâce à leurs nombreuses propriétés :
Chaussettes isolantes : les fibres de laine ralentissent le passage de l'air à travers la matière ce qui permet aux chaussettes de conserver la chaleur corporelle naturelle au niveau des pieds. Les chaussettes laine assurent donc un confort thermique sans faille pendant les dures journées d'hiver.

Chaussettes respirantes :

comme expliqué précédemment, la laine ralentit le passage de l'air mais elle ne l'empêche pas pour autant ! Les chaussettes en laine sont donc isolantes et respirantes. L'air renouvelé dans les chaussettes permet de garder les pieds au chaud, à l'abri de l'humidité tout en assurant des chaussettes sans odeur.

Matières sèches : les fibres de laine sont capables d'absorber ⅓ de leur poid en eau. Cela rend les chaussettes très absorbantes et anti-acariens. Vos pieds sont donc toujours bien au sec même en cas de transpiration. C'est pour cette raison que l'on conseille de porter des chaussettes de randonnées en laine pour éviter les désagréments lors de la marche (frottement, pieds humides, ampoules).
Chaussettes hypoallergéniques : la laine est une matière naturellement hypoallergénique, notamment grâce à sa douceur qui provient de la finesse de ses fibres. Les chaussettes en laine sont particulièrement douces et ne grattent pas. Elles protègeront donc vos pieds des irritations !
# La variété des chaussettes laine
Il existe plusieurs gammes de chaussettes en laine pour convenir à tous les types de besoins selon l'épaisseur, la composition, les mélanges de matières et même les couleurs et les motifs !
Les chaussettes laine mérinos fines
Si vous recherchez des chaussettes chaudes en laine fine, c'est du côté des modèles Bresciani qu'il faut aller jeter un coup d'œil ! Les chaussettes laine Bresciani sont appréciées, non seulement pour leur finesse et leur douceur, mais aussi pour le raffinement de leurs motifs et leurs sublimes associations de couleurs.
Chaussettes tricotées laine vanisées avec côtes aux couleurs contrastées, motifs pied-de-poule, chevrons… Essayez les modèles de chaussettes laine fines pour homme chez Bresciani pour réhausser les couleurs de vos tenues hivernales en ajoutant un détail fantaisie élégant à vos tenues. Des chaussettes tendance pour un look élégant en toute circonstance !
Les chaussettes laine d'épaisseur intermédiaire
C'est la marque française Mazarin qui est la spécialiste des chaussettes chaudes en laine d'épaisseur intermédiaire et surtout très solides !
Les chaussettes laine Super-solides : ces chaussettes made in France sont de loin les plus robustes au monde grâce à leur composition qui mélange le meilleur des matières naturelles (72% laine) et synthétiques. Le mélange des fibres de matières donnent cette épaisseur supplémentaire aux chaussettes laine, synonyme de confort, chaleur et robustesse. Le polyamide apporte le côté très résistant à l'usure des mi-mollets. L'élasthanne leur donne cette souplesse et ce maintien impeccable sur la jambe.
Les chaussettes en laine & fil d'Écosse mélangés : cette gamme de chaussettes fabriquées en France est légèrement plus épaisse que les super-solides, tout aussi robustes et chaudes. Leurs plus ? Elles ont de superbes côtes colorées qui se distinguent une fois portées sur la jambe, comme avec cette paire de chaussettes grise à côtes rouges, et peuvent être portées à l'envers.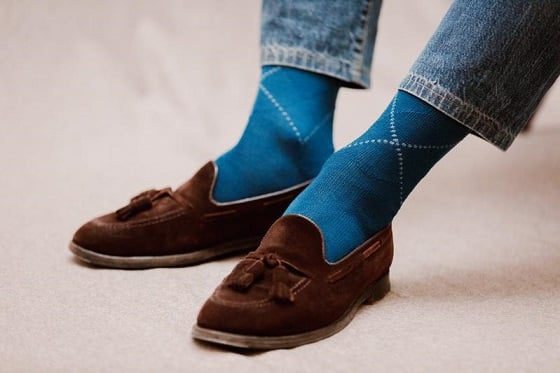 Les chaussettes laine épaisses
Chaussettes en laine épaisse : Amateur d'épaisseur et de chaleur, enfilez les chaussettes Bison de Mazarin. Le nom de cette gamme parle pour elle : aussi robustes que cet animal, elles vous tiendront aussi chaud que le pelage du bison capable de supporter des températures extrêmes en hiver. Et leur solidité est comparable à la force de cet animal. Leur plus ? Leur design avec leurs fines côtes en relief qui les rend davantage confortables et épaisses. Avec les chaussettes Bison, marchez des kilomètres sans craindre le froid ni l'usure.
Chaussettes laine & cachemire : ces chaussettes laine combinent tout l'avantage des deux matières. Les caractéristiques isolantes de la laine, la douceur et le duveteux du cachemire, la robustesse du polyamide et la souplesse de l'élasthanne. Elles sont d'autant plus douces et chaudes qu'elles sont sans côtes.
# Entretenir ses chaussettes chaudes laine
La laine est une matière somptueuse mais délicate ! Il faut donc prendre le plus grand soin de vos chaussettes laine si vous souhaitez préserver leur douceur et leur confort.
Nos conseils d'entretien :
Lavage : la laine mérinos est une matière sensible. Vous pouvez laver vos chaussettes chaudes laine en machine en régime laine ou délicat, à 30° et un essorage à 600 tours/minute maximal.
Séchage : oubliez le sèche-linge bien trop chaud pour la laine. Faites sécher vos chaussettes laine à l'air libre et disposez-les à plat pour conserver leur forme et leur tenue.