Mid-calf socks in Wool
Wool socks
Here are all our short wool socks (mid-calf) that will keep your feet warm in winter.
From the thinnest to the thickest, these wool socks are soft and insulating while allowing your feet to breathe.
Choose the pair that will brighten up your winter outfits with their colours and patterns, such as the Norwegian socks !
Wool socks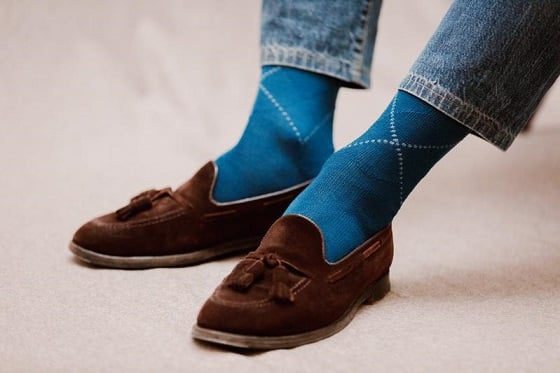 # Wool socks in winter
Knitted wool socks are ideal for facing the winter chill: not only for their softness and warmth to comfort your feet, but also for their bright colors and patterns to brighten up your outfits. Socks for a cozy, comfortable winter!
Properties of wool socks
Men's and women's wool socks are ideal winter socks thanks to their many properties:
Insulating socks: wool fibers slow down the passage of air through the material, enabling the socks to retain natural body heat in the feet. Wool socks therefore ensure unfailing thermal comfort on harsh winter days.

Breathable socks:

As explained above, wool slows down the passage of air, but doesn't stop it! Wool socks are therefore both insulating and breathable. The renewed air in the socks keeps feet warm and moisture-free, while ensuring odor-free socks.

Dry materials: wool fibers are able to absorb ⅓ of their weight in water. This makes the socks highly absorbent and anti-mite. So your feet are always dry, even when they're sweating. For this reason, we recommend wearing wool hiking socks to avoid discomfort when walking (rubbing, wet feet, blisters).
Hypoallergenic socks: wool is a naturally hypoallergenic material, thanks in particular to its softness, which comes from the fineness of its fibers. Wool socks are particularly soft and non-itchy. So they'll protect your feet from irritation!
# The variety of wool socks
There are several ranges of wool socks to suit every type of need, depending on thickness, composition, mix of materials and even colors and patterns!
Fine merino wool socks
If you're looking for warm socks in fine wool, Bresciani is the place to look! Bresciani wool socks are appreciated not only for their finesse and softness, but also for their refined patterns and sublime color combinations.
Vanilla-knit wool socks with contrasting ribbing, houndstooth and herringbone patterns... Try Bresciani's fine wool socks for men to enhance the colors of your winter outfits and add an elegant fantasy detail to your outfits. Trendy socks for an elegant look in any circumstance!
Intermediate wool socks
French brand Mazarin specializes in warm wool socks of intermediate thickness, and above all, super-strong!
Super-strong wool socks These made-in-France socks are by far the strongest in the world, thanks to their composition which blends the best of natural (72% wool) and synthetic materials. The blend of fibers gives wool socks that extra thickness, synonymous with comfort, warmth and sturdiness. Polyamide provides the wear-resistance of mid-calf socks. Elastane gives them suppleness and impeccable support on the leg.
Mixed wool & Scottish yarn socks Made in France: this range of socks is slightly thicker than the super-solids, but just as sturdy and warm. Their plus? They have superb colorful ribbing that stands out when worn on the leg, as with this pair of gray socks with red ribbing, and can be worn inside out.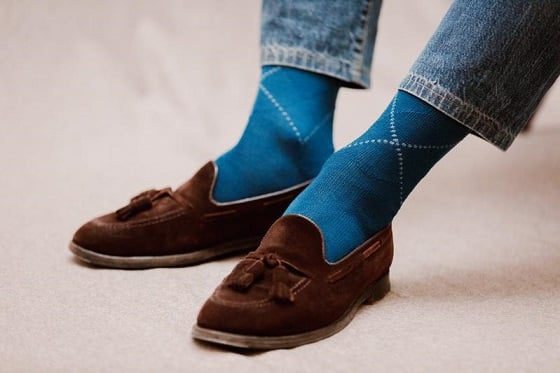 Thick wool socks
Thick wool socks For those who love thickness and warmth, slip on Mazarin's Bison socks. The name of this range speaks for itself: as tough as this animal, they'll keep you as warm as a bison's coat capable of withstanding extreme winter temperatures. And their solidity is comparable to the animal's strength. What's more? Their embossed ribbed design, which makes them even more comfortable and thicker. With Bison socks, you can walk for miles without fear of cold or wear.
Wool & cashmere socks These wool socks combine all the advantages of both materials. The insulating properties of wool, the softness and fluffiness of cashmere, the sturdiness of polyamide and the suppleness of elastane. And they're all the softer and warmer for being rib-free.
# Caring for warm wool socks
Wool is a sumptuous but delicate material! You need to take the utmost care of your wool socks if you want to preserve their softness and comfort.
Our care tips:
Washing: Merino wool is a sensitive material. You can machine-wash your warm wool socks on the wool or delicates setting, at 30° and a maximum spin speed of 600 rpm.
Drying: forget the tumble-dryer, which is far too hot for wool. Air-dry your wool socks and lay them flat to retain their shape and hold.