Knee-high green socks
Green socks
Our selection of knee-high socks in green is a stylish alternative to more traditional colours, such as navy blue or black.
Add a discreet touch of colour to your outfits with the Academy green socks from Mazarin.
Discover our range of plain or patterned green socks in different shades, ideal to express your style and mood.
Le vert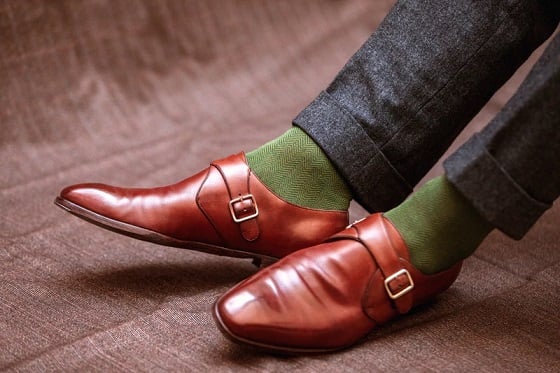 # Les chaussettes vertes
Le vert est la couleur de l'espoir ! Cette couleur propose une large palette de teintes plus ou moins foncées, tout comme notre sélection de chaussettes vertes !
Must-have de votre garde-robe, les chaussettes vertes sont une alternative élégante aux couleurs de chaussettes plus traditionnelles (noir, bleu marine, gris marron, etc.) et s'accordent quand même très bien avec vos costumes de ces mêmes couleurs.
À vous de choisir ensuite quelle place vous souhaitez donner à vos chaussettes dans votre tenue :
Les verts les plus foncés, comme le vert académie, se mélangeront facilement avec l'ensemble pour un résultat sobre ;
Alors que les verts les plus clairs, comme les mi-bas vert pomme, auront l'effet inverse pour une touche originale et osée raffinée !
# Nos coups de cœur
Nous avons sélectionné les plus beaux modèles de chaussettes vertes pour convenir à tous vos styles. Mais nous avons quand même nos préférées !