White socks
White socks
Light and bright, white socks are the perfect piece of clothing to wear if you want to brighten up your outfits.
Browse our selection of short (mid-calf) white socks in linen for summer, cotton lisle, wool for winter or even tennis socks.
Just combine them with style and they will become a real fashion statement!
Chaussette blanche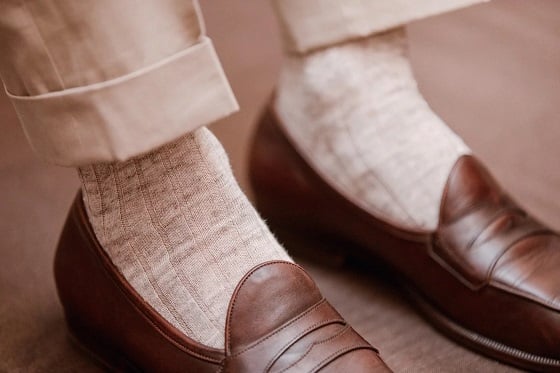 # Chaussette blanche, comment l'associer ?
Souvent décriée, la chaussettes blanche a perdu de sa popularité pendant longtemps. Mais ce n'est pas pour autant qu'il faut la bannir de votre tiroir, au contraire, elle revient sur le devant de la scène !
Certes, il vaut mieux éviter l'association souliers habillés & chaussette blanche de sport, mais il ne faut pas oublier pour autant que la chaussette blanche peut-être un détail de style qui fait la différence. Vous souvenez-vous des fameux souliers du "King of Pop" et de sa chaussette blanche contrastée ?!
De plus, la couleur blanche est très lumineuse et s'associe à tous vos looks élégamment, notamment à vos tenues estivales. Découvrez tous nos modèles de chaussette blanche courte, à porter au quotidien, pour tes tenues habillées ou décontractées ou bien pour faire du sport. Découvrez également tous nos conseils pour les associer élégamment sans faute de goût tout en assumant votre style !
# Comment porter des chaussettes blanches au quotidien ?
Sa couleur à beau être relativement neutre, une chaussette blanche n'est pas lambda pour autant. Bien au contraire, la porter avec vos tenues quotidiennes est l'expression la plus directe de votre style et de votre goût vestimentaire.
Chaussette blanche unie
Avec des tenues habillées plutôt classique ou formelle, nous vous conseillons d'opter pour une paire de chaussettes blanches unies. Sa couleur lumineuse ressortira comme un détail fantaisie tout en restant relativement discret grâce à son unicité.
En portant une chaussette blanche avec des tenues habillées, vous ne risquerez pas le ringardisme si le modèle est tricoté avec des côtes. En effet, les côtes des chaussettes sont souvent le détail qui ajoute la touche chic à un modèle.
Voici les trois modèles de chaussettes unies blanches que nous vous recommandons de porter avec des tenues quotidiennes :
Chaussette blanche en 100% fil d'Écosse : ces chaussettes mi-mollet ivoire ont une teinte blanche très raffinée, leur composition en coton égyptien est fine est légère, idéale à porter toute l'année et notamment avec des tenues de printemps.


Chaussette blanche en lin : le lin est une matière très aérée, qui laisse les pieds respirer tout en les laissant au sec en cas de forte chaleur. Ce modèle est donc parfait pour l'été ! D'autant plus que la couleur du modèle de chaussettes blanc cassé chinée donne une teinte très élégantes au modèle qui s'associe parfaotement avecc des pantalons en lin ou des chinos de couleur claire.


Chaussette beige en laine : le blanc n'est pas vraiment une couleur d'hiver, c'est pour cela que la marque Mazarin a plutôt opté pour des chaussettes beiges en laine super-solide. Cette paire beige clair redonnera un coup d'éclat à vos tenues d'hiver avec douceur et sans trop contraster avec vos tenues foncées hivernales.
N.B : le must have de la chaussette blanche reste la paire de chaussettes hautes Gammarelli. Pourquoi ? Parce que la chaussette blanche Gammarelli, aussi connue sous le nom de tailleur des Papes à Rome, est justement la couleur des chaussettes spécialement tricotées pour le Pape et qui n'existent qu'en modèle mi-bas !
Chaussette blanche à motifs
Amateurs de détails mode fantaisie, vous apprécierez particulièrement porter nos modèles blanc à motifs. La partie blanche de la chaussette fait davantage ressortir le motif du modèle ce qui lui donne un effet contrasté très original.
Voici notre sélection :
La chaussette Alpha blanche : cette paire de chaussettes coton extra-doux exclusive Mazarin reprend le nom de la marque à travers un alphabet multicolore très stylisé. Cette chaussette blanche est parfaite pour être portée avec des baskets !


La chaussette transat : le motif transat est inspiré des tissus des transt disposés sur les pontons des bateaux de croisière d'époque. Le modèle transat est donc partiulièrement chic, notammet grâce à ses rayures verticales très fines qui, ici, associe le blanc au vert comme sur ce modèle rayé vert & blanc Mazarin pour une touche originale haute en couleur. Le vert s'inspire lui directement de la couleur de la marque aux trois bandes pour aller parfaitement avec votre paire de baskets au trèfle vert iconique.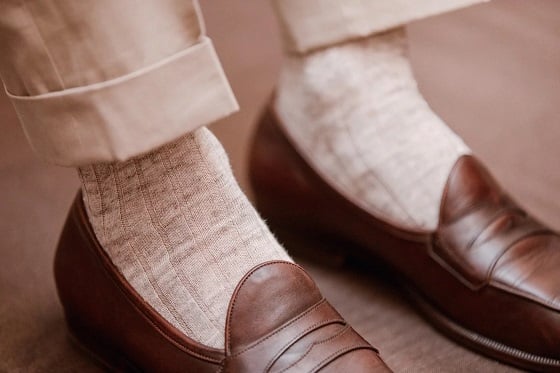 Le modèle Ivy League : Et si vous aimez le style chic décontracté des étudiants des plus grandes universités américaines, osez porter cette chaussette en lin et coton avec ses bandes bleu marine aux extrémités. Cette paire est très légère et son motif discret sera se faire apprécier des plus coquets.
# Chaussette blanche de sport
La chaussette blanche est aussi la chaussette de sport par excellence. Mazarin propose une large gamme de chaussettes de sport blanches au motif vintage. Elles feront de parfaites chaussettes de tennis blanches ou des chaussettes de course, de golf, etc. Vous n'aurez jamais eu autant de style pour vous dépenser !
Voici les caractéristiques exceptionnelles de la chaussette de sport blanche :
Sa couleur : le blanc est une coleur sportive neutre qui s'associe avec un maximum de couleur de tenue. C'est aussi une couleur qui ne retient pas trop la chaleur, atout indispensable pour une activité physique !


Leur épaisseur : la semelle de chaque chaussette est tricotée en bouclette, une technique qui ajoute une épaisseur supplémentaire aux chaussettes pour plus de confort pendant l'effort et qui limite le frottements et à-coups.


Leurs bandes colorées : les chaussettes de tennis courtes blanches Mazarin ont de larges bandes colorées à leurs extrémités. Ce détail donnera un côté vintage à vos tenues, comme pour cette paire aux couleurs françaises par exemple. Elles pourront d'ailleurs être portées avec des sneakers et des tenues décontractées pour les amateurs du streetwear !
N.B : nous vous parlions des côtes pour l'aspect chic, les modèles de sport n'y coupent pas ! En effet, chaque chaussette de sport a de fines côtes qui assurent une tenue impeccable de la chaussette sur la jambe pendant toute la durée de l'effort. Alors, qui a dit que la chaussette blanche n'était plus au goût du jour ?
Et si vous êtes aussi adeptes des mi-bas, les chaussettes les plus hautes, découvrez également notre collection de chaussettes blanches homme qui arrivent sous le genou !
# La chaussette blanche invisibles
Et pour ceux qui n'osent quand même pas montrer leurs chaussettes blanches, il reste quand même la chaussette blanche invisible, cette fameuse paire à glisser dans des chaussures échancrées ou en été. Mazarin propose deux modèles de chaussettes invisibles les protège pied pour basket blanc ou écru et les socquettes beiges pour mocassin. Découvrez tous les modèles ici.