Black knee-high socks
Black socks
Discover all our models of men's black socks adapted to all styles, plain or patterned, discreet or more fancy.
From black men's socks in cotton lisle to the softest ones in cashmere, black socks are a timeless classic that will accompany you in all seasons.
Our black men's socks are available in sizes 36 to 49, depending on the model, and also in mid-calf height.
Chaussettes noires homme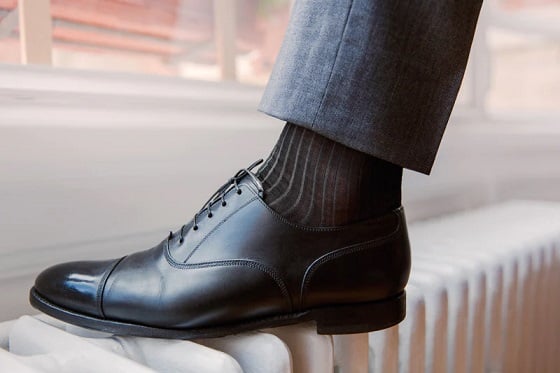 # L'histoire des chaussettes noires homme ?
D'aucuns pensent que les chaussettes noires homme sont un choix par défaut. En réalité, le noir est une couleur forte en signification. C'est à partir du XIVème siècle que l'on voit la couleur noire se répandre dans le vestiaire des hommes influents comme un symbole de pouvoir, d'intégrité et de dignité. Au fil du temps, le noir est aussi devenu la couleur du luxe car élégante par sa sobriété sans pour autan être dénuée de caractère.
Les chaussettes noires homme les plus connues sont peut-être celles de la marque italienne Gammarelli, aussi connue comme le tailleur des Papes depuis 1798. En effet, ce tailleur spécialisé dans les vêtements ecclésiastiques fournit aussi leurs chaussettes. Parmi les 4 couleurs proposées, il y a bien évidemment les chaussettes noires destinées aux prêtres pour aller avec la couleur de leur soutane. Les autres couleurs étant destinées aux évêques (chaussettes violettes), aux cardinaux (pour les chaussettes rouge cardinal) et les blanches pour le Pape.
Les chaussettes noires homme sont donc l'accessoire chic indémodables et incontournables pour toute homme qui souhaite mettre en avant son caractère rigoureux, son élégance et sa sobriété. Les chaussettes noires homme, la classe à l'état pur !
# Quelles paires de chaussettes noires homme choisir ?
Contrairement à ce que l'on pourrait penser, non, les chaussettes noires ne sont pas anodines. Comme aurait pu le dire le peintre Pierre Soulage à qui l'on doit ces magnifiques tabeaux aux nuances de noir infinies, parmi le noir se cache d'autres teintes de noir et c'est aussi le cas pour les chaussettes noires homme.
Voici un aperçu des modèles de chaussettes noires homme que nous proposons, leurs caractéristiques et des conseils pour les associer à la perfection à vos tenues aussi bien formelles que décontractées. Une paire de chaussettes qui se porte avec des chaussures de ville, des mocassins ou des sneakers.
Les chaussettes noires homme unies
Avis aux puristes, voici les modèles de chaussettes noires homme unies à porter en toute sobriété avec toutes vos tenues. Effet discret et élégant assuré. Ce modèle classique est un accessoire de mode pour homme incontournable. Grâce à la sélection de matières nobles que nous utilisons dans la composition de nos chaussettes, vous porterez une paire de chaussette unique, de qualité premium, parfaite pour affirmer votre charisme !
Chaussettes noires homme lisses : de loin les chaussettes en coton les plus douces que nous avons avant les chaussettes en cachemire, ces chaussettes noires homme de la gamme coton supersoft se démarquent par :
Leur finesse : elles sont les parfaites intermédiaires entre le fil d'Écosse 100% et les Super-solides, tout en ayant l'avantage de la solidité grâce à leur renfort en polyamide et de la tenue grâce à l'élasthanne ;
Leur douceur : le coton égyptien utilisé pour cette paire est réputé pour son toucher duveteux qui fait de ces chaussettes une seconde peau qui tient à la perfection sur la jambe ;
L'aspect lisse : l'absence de côtes de ce modèle accentue le confort et la douceur de ces chaussettes noires homme que vous apprécierez porter en toute saison, même en hiver si les modèles en cachemire & soie restent trop chauds pour vous !
Chaussettes noires à côtes pour homme : les intemporels restent bel et bien les modèles de chaussettes noires homme en fil d'Écosse Gammarelli auquel les marques de chaussettes les plus chics ont laissé le monopole de l'élégance dans cette couleur. Finesse et légèreté sont les mots d'ordre de cette paire tout autant que classe et discrétion. Les discrètes et minces côtes de ces chaussettes hautes noires leur donnent un aspect légèrement plus habillé que les modèles lisses, parfait pour les associer à des costumes par exemple.
Chaussette noires homme à motifs
Vous aimez l'élégance et la simplicité des chaussettes noires homme mais aimeriez quand même sauter le pas des motifs ? C'est tout à fait possible de combiner les deux grâce à nos modèles de chaussettes noires hautes pour homme à motifs qui apportent une touche de fantaisie très discrète et raffinée !
Chaussettes noires homme vanisées : Mazarin et Bresciani sont les deux marques respectivement française et italienne spécialiste des associations de couleurs de fils pour tricoter les paires de chaussettes vanisées les plus somptueuses qui soient. Y compris pour les chaussettes noires homme vanisées ! Ces chaussettes aux rayures légèrement colorées vous permettront d'ajouter une touche d'originalité à vos tenues. Elles seront l'accessoire idéal pour vous démarquer sans en faire trop comme avec ce modèle noir et bleu roi ou encore noir et gris.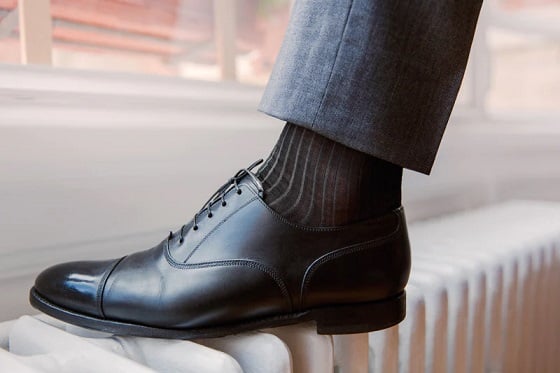 N.B : plus les contrastes de couleurs sont marqués et plus le détail sera visible.
Chaussettes hautes noires homme à chevrons : les chevrons, motif grecques à l'origine, ont un effet zig zag qui donne encore plus d'éclat aux mélanges de couleurs, mêmes les plus sobres. Comme avec cette paire noire à chevrons gris, ajoutez une touche de finesse et de raffinement à vos tenues sombres !
Chaussettes montantes noires à pied-de-poule : ce motif remis au goût du jour par les costumes Prince de Galle puis les tailleurs Dior dans les années 30 est réputé pour l'originalité des contrastes de couleurs qu'il permet. Les chaussettes noires homme motif pied-de-poule gris restent assez sobres à l'œil nu mais se démarquent dans vos tenues ! De nombreux autres modèles existent, notamment avec du bleu marine et des couleurs plus vives !
Le motif caviar pour des chaussettes noires homme : de loin le plus subtil des motifs, le caviar se distingue par ses légers points de couleurs qui donnent un aspect fondu vu de loin. C'est un vrai trompe l'œil qui illumine les chaussettes noires homme par la finesse de ses points. Essayez cette paire de chaussettes homme à motif caviar aubergine !
# Trouver la matière de chaussettes noires homme adaptée à chaque saison
Nous proposons des chaussettes noires homme dans toutes les matières pour vous accompagner avec chic et élégance en toute saison :
Printemps/été : portez les chaussettes montantes noires en lin ou en fil d'Écosse ;
Automne-hiver : les super-solides en fil d'Écosse ou en laine, les laines mérinos seront parfaites pour des hivers doux. Et pour les plus frileux d'entre vous, succomber à la douceur et au confort des chaussettes noires homme mi-bas en cachemire épais ou cachemire et soie.
Dans tous les cas, votre pied restera au summum de l'élégance et dans un confort absolu !
Conseils d'entretien : lavez vos chaussettes noires homme en machine dans un sac de lavage pour préserver la qualité des fibres et à l'envers afin de conserver la pureté de leur couleur noire.