Mid-calf socks by materials
Mid-calf by materials
Discover all our mid-calf (short) sock materials.

Each pair of socks has its own characteristics depending on the material it is made of in order to meet all your needs in any season.
The warmest ones are made of 100% cashmere or wool, the lightest ones of linen or cotton veil for the summer, and, for all year round, we have the 100% cotton lisle.
Les chaussettes mi-mollet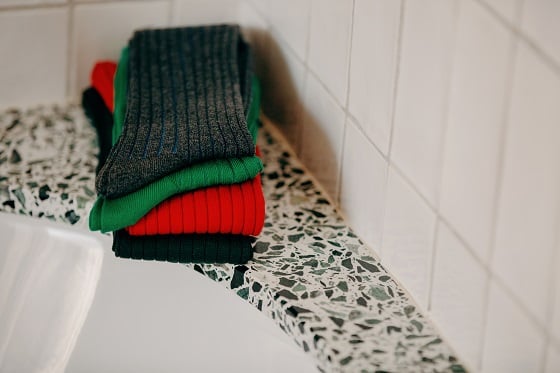 # Qu'est ce que les mi-mollet?
Les chaussettes mi-mollet, aussi appelées mi-hautes, s'opposent aux mi-bas, car elles sont plus courtes. Ce sont des chaussettes qui arrivent au milieu du mollet, plus communément appelées chaussettes courtes. Découvrez notre gamme de chaussettes mi-mollet ainsi que leur variété de matières.
# Pourquoi porter des mi-mollet ?
Nous proposons des chaussettes plus courtes pour pouvoir porter aisément des costumes dont la coupe du pantalon est plus ajustée. Même si nous avons commencé en distribuant des chaussettes mi-bas, les chaussettes mi-mollet restent à 90% les chaussettes les plus vendues !