Black socks
Black socks
Discover our selection of black mid-calf socks, a basic in any wardrobe.
Some people believe that black socks are chosen as a default option. Au contraire, black is a colour that carries a lot of meaning.
Black socks allow for infinite colour combinations thanks to the variations in materials, patterns and textures.
Chaussettes noires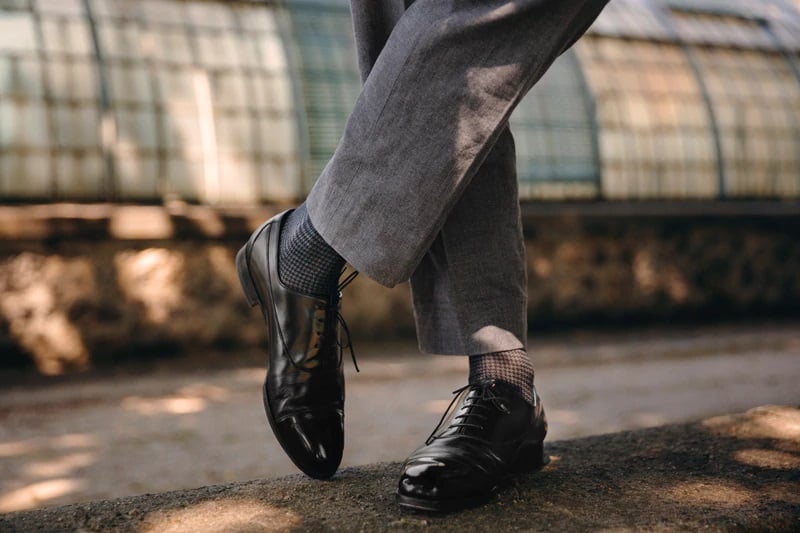 Le noir, une couleur luxueuse
La couleur noire, contrairement aux croyances, n'est pas une couleur que l'on réserve aux tenues austères et formelles. Elle est au contraire porteuse de nombreux messages. Dès le Moyen Âge, elle est associée à la puissance, et les hommes de pouvoir adoptent de plus en plus la couleur.
De nos jours, les marques de luxe sont parvenues à définir cette couleur comme un symbole de sophistication et de raffinement. Le noir est synonyme d'élégance, de style et de luxe. C'est une couleur sobre qui apporte du caractère et du charisme à vos looks. On retrouve aujourd'hui le noir dans les vêtements, la maroquinerie et de multiples autres produits haut de gamme. C'est une couleur très prisée dans le milieu de la mode et les plus grands créateurs de mode ont fait du noir leur couleur fétiche.
Les chaussettes noires, une pièce basique et intemporelle
La chaussette noire est un classique du vestiaire masculin. Certains sont même prêts à affirmer que cette pièce s'accorde avec toutes les tenues. Cette affirmation est à nuancer.
Les chaussettes noires sont des pièces discrètes qui se portent avec des couleurs sombres similaires, comme le gris anthracite, le bleu marine, etc. On peut généralement les accorder ton sur ton avec des souliers noirs. Toutefois, le noir ne s'accorde pas forcément à toutes les autres couleurs. Un ensemble trop foncé ou au contraire trop contrastant n'est pas toujours mis en valeur par ce type de chaussettes.
Les chaussettes noires sont donc plus appropriées en tant que pièces basiques d'une garde-robe, à accorder avec des tenues pas trop contrastantes. Elles sont particulièrement portées par les hommes et les femmes qui travaillent certains dans des milieux avec un dress code strict. En revanche, elles ne sont pas nécessairement à privilégier pour des tenues plus sophistiquées ou décontractées.
Les chaussettes noires sont aussi adaptées à des tenues de soirées et de gala. Si vous vous rendez à l'opéra, à un événement Black Tie ou d'autres formalités, il s'agit de la paire idéale qui apportera du raffinement et de la sobriété.
Les matières et motifs de nos chaussettes noires
Si la couleur est formelle, ces chaussettes se distinguent avant tout par leurs matières. Nous proposons des chaussettes mi-mollet noires dans des matières nobles, légères ou plus chaudes.
Les chaussettes noires par matières
Chaussettes noires en fil d'Écosse : ces chaussettes de qualité sont proposées par la marque Gammarelli, le tailleur des ecclésiastiques ! Cette couleur est celle des prêtres, mais nul besoin de s'engager sur ce parcours pour profiter de cette paire. Le fil d'Écosse est une matière légère et durable, vous pourrez donc porter ces mi-mollet toute l'année. Mazarin propose également des chaussettes noires en fil d'Écosse renforcé dans la gamme Super Solide.
Mi-mollet en coton Sea Island : Ce coton d'exception ne pousse que sur certaines îles aux Antilles. Il est réputé pour être un des cotons les plus doux et les plus raffinés qui existent. Cette paire de chaussettes noires en coton Sea Island est légère et durable.
Mi-mollet en coton supersoft : L'utilisation de coton compact extra-doux et l'absence de côtes de ces chaussettes noires les rendent particulièrement confortables avec une compression idéale sur le mollet.
Chaussettes noires en laine : Découvrez nos modèles en laine, parfaitement adaptés pour les saisons froides. Vous trouverez notamment des chaussettes courtes en laine mérinos, assez fines pour se glisser dans toutes vos chaussures. Les modèles de la gamme Super Solide en laine sont parfaits pour une utilisation régulière.
Les chaussettes courtes en cachemire : Le cachemire est une matière d'une grande noblesse. Très chaude et douce, elle permet d'obtenir des nuances subtiles sur les chaussettes noires. Vous trouverez des chaussettes noires en cachemire épais, ou en cachemire mélangé à de la soie pour une plus grande douceur.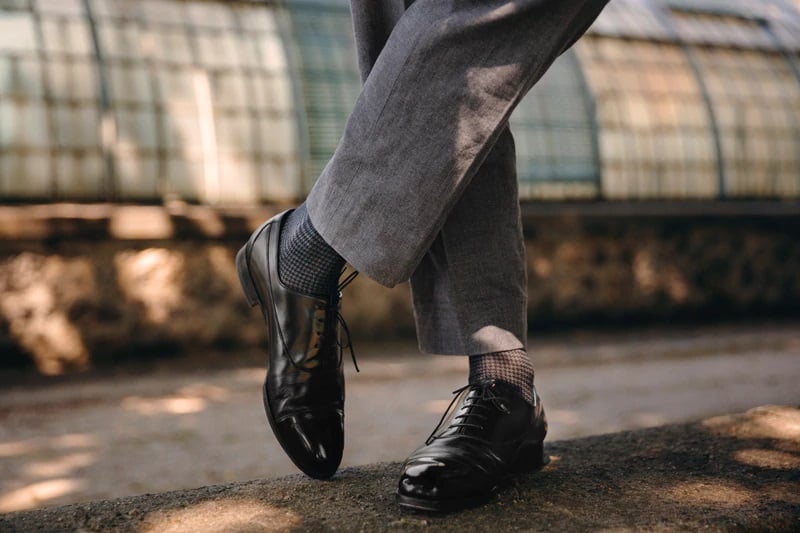 Les chaussettes en lin : ces chaussettes lin noires sont aérées, légères, et évacuent très bien l'humidité. C'est le modèle estival parfait. Le lin s'adoucit avec les lavages et conserve une bonne tenue dans le temps, ce qui vous garantit de porter ces chaussettes longtemps.
Les chaussettes noires non comprimantes : Enfin, si vous n'aimez pas les chaussettes trop serrées, nos chaussettes courtes non comprimantes noires seront parfaites pour vous.
Le voile de coton : Si vous vivez dans un climat très chaud, les chaussettes noires en voile de coton sont idéales (attention : ces chaussettes sont si fines qu'elles sont pratiquement transparentes).
Les chaussettes en soie : Nos chaussettes en soie noire, elles, sont les chaussettes noires de luxe par excellence. Ces chaussettes noires sont idéales pour être portées avec une belle tenue comme un smoking ou un costume classique. La brillance de la matière crée des jeux de lumières sur la couleur.
Les chaussettes noires par motifs
Vous pourrez également choisir vos chaussettes noires avec des motifs plus ou moins prononcés si vous souhaitez rester sobre, avec une touche de style supplémentaire.
Les chaussettes noires à motifs restent relativement sobres lorsqu'elles sont ton sur ton comme avec ces modèles pied-de-poule et chevrons. Si vous souhaitez des chaussettes plus voyantes, essayez ce modèle noir super-solide rayé rouge. Tout est possible, il suffit juste de choisir en fonction de votre appréciation personnelle !