White knee-high socks
White socks
Here is our selection of men's white knee-high socks in light materials that can be worn all year round.
Show your style by wearing white socks for men, this timeless colour is very elegant!
These models are also available in mid-calf and in tennis socks.
Chaussettes blanches homme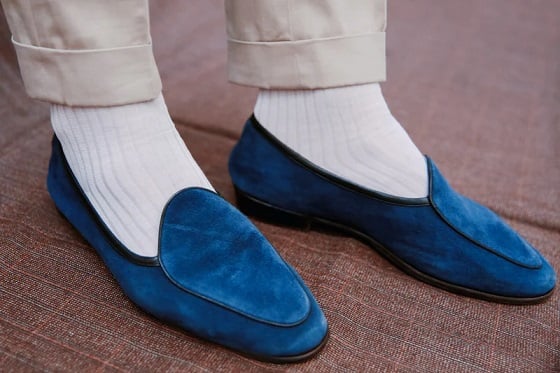 # Les chaussettes blanches homme, une couleur devenue tendance
Les chaussettes blanches homme sont trop souvent décriées lorsqu'elles sont portées avec des tenues formelles ou habillées car elles sont associées à des chaussettes de sport. Et pourtant ce n'est pas toujours le cas ! En effet, les chaussettes blanches homme donnent du caractère à une tenue et sont le symbole d'un style chic assumé.
Le blanc est une couleur très symbolique est souvent vue comme positive, elle est généralement associée à la pureté et la simplicité. Vous comprenez mieux pourquoi nous sommes convaincus que les chaussettes blanches homme sont tout à fait recevables comme signe vestimentaire d'élégance ?
La paire la plus connue reste d'ailleurs celle portée par le Pape ! C'est le tailleur romain mondialement connu, Gammarelli, qui a tricoté ces somptueuses chaussettes blanches en fil d'Écosse et notamment les paires portées par le Pape lui-même. C'est d'ailleurs pour cette raison que Gammarelli est aussi connu sous le nom de "tailleur des Papes".
N.B : Et si vous êtes amateurs de chaussettes historiques, jetez également un œil à cette pièce de collection désormais exposée dans notre boutique parisienne ! Les véritables bas de soie blancs portés par l'empereur Napoléon, d'une finesse incroyable et aux finitions d'exception. Les amateurs d'histoire pourront s'offrir une réplique de ces bas grâce à la création d'un coffret spécial exclusif reprenant le modèle original dupliqué en 6 paires de couleur en fil d'Écosse dont une en soie blanche.
Vous vous souviendrez aussi sûrement de la tendance Ivy League des années 1960-1970, époque à laquelle il était fréquent de voir des étudiants américains porter fièrement leurs mocassins avec des chaussettes blanches homme.
# Porter des chaussettes blanches homme avec élégance
Les chaussettes blanches homme sont d'ailleurs particulièrement chic lorsqu'elles sont assorties à des tenues estivales aux couleurs claires. Et plus elles seront associées à des couleurs contrastées, plus elles apporteront une touche de fantaisie et d'élégance à vos tenues.
Afin d'oser porter des chaussettes blanches hautes homme, nous avons sélectionné pour vous les meilleurs modèles dans des matières d'exception :
Les chaussettes blanches homme en lin : ces chaussettes couleur blanc cassé sont idéales à porter en été grâce à leur composition en lin. Le lin est une matière noble particulièrement légère, aérée, qui laisse la peau respirer. Ainsi, les chaussettes blanches homme en lin laissent vos pieds respirer tout en absorbant l'humidité en cas de transpiration pour les laisser au frais et au sec tout au long de la journée. Cette paire s'associera élégamment avec des pantalons de la même matière ou alors avec des chinnos clairs. Portez-là avec des jeans ou des couleurs plus foncées si vous voulez attirer l'œil sur ce détail osé mais chic !
La chaussette homme blanche en fil d'Écosse :
Le modèle Gammarelli : comme évoqué précédemment, ces chaussettes sont de loin les plus iconiques. Elles sont tricotées par le tailleur romain Gammarelli, spécialiste des vêtements ecclésiastiques qui fournit, entre autre, les fameuses chaussettes des religieux du Vatican et donc du Pape, dont la couleur de soutane est le blanc.


Les chaussettes blanches écrues de Mazarin : un peu moins vives que les chaussettes totalement blanches, ces chaussettes hautes écrues tirent légèrement vers un beige clair. Leur teinte très douce, presque neutre, se fondera facilement à vos tenues claires.
Les chaussettes homme blanches à motifs : et si vous aimez les motifs, voici une paire de chaussettes mi-bas Bresciani en fil d'Écosse jaune avec des rayures blanches absolument somptueuses ! Cette paire de chaussettes aux couleurs chaudes sera parfaite à porter avec vos tenues estivales. À porter aussi bien avec des pantalons beiges qu'avec des tenues plus foncées pour leur redonner un peu de chaleur.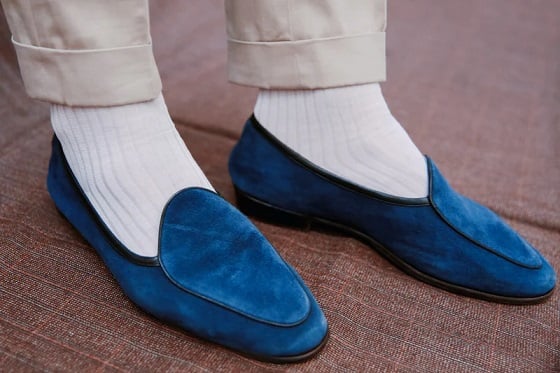 #Les autres options de chaussettes blanches
Notre gamme de chaussettes blanches homme s'étend aussi aux mi-mollet ! Découvrez nos modèles de chaussettes blanches à porter au quotidien, aussi bien avec des tenues formelles que décontractées. Pour les plus sportifs d'entre vous, jetez également un œil aux chaussettes de sport blanches Mazarin, très élégantes et stylisées avec leurs couleurs et motifs vintage.
#Entretenir vos chaussettes blanches homme
Le plus dur avec des chaussettes blanches homme, c'est de conserver leur couleur éclatante au fur et à mesure des lavages !
Voici nos conseils d'entretien pour les garder intactes :
Placez-les d'abord dans un sac de lavage cela limitera la friction avec le tambour de la machine et les autres vêtements ;
Lavez-vos chaussettes blanches homme à 30°c avec des vêtements de la même couleur afin d'éviter les dégorgements ;
Faites-les sécher à l'air libre et à plat pour garder leur forme initiale et éviter de les déformer.