Blue socks
Blue socks
Introducing all our blue mid-calf socks (short).
Find the traditional navy blue socks, classic and elegant, and other more original shades of blue.
Add a touch of originality to your socks by trying the fancy blue models with stripes, houndstooth and birdseye patterns.
Le bleu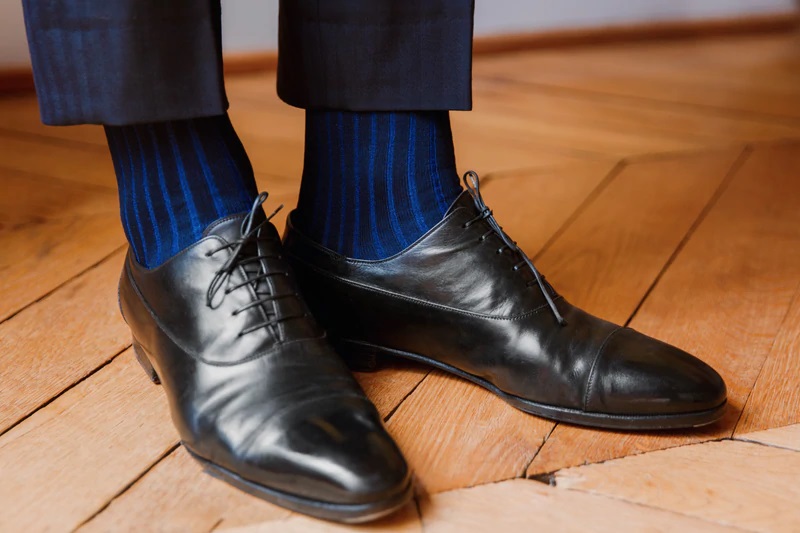 # La couleur bleue
Les chaussettes bleues sont des incontournables à avoir dans un tiroir à chaussettes. Le bleu, et notamment le bleu marine, est une couleur neutre facile à porter, qui se fond aisément avec des vêtements de tous types de couleurs, unies ou à motifs (marron, gris, vert, rouge, etc.). C'est d'ailleurs la couleur préférée de pas moins de 80% des européens.
# Comment porter des chaussettes bleues ?
Si vous souhaitez redonner un peu de lumière à vos tenues sans pour autant oser les couleurs trop prononcées, essayez les chaussettes bleu nuit, légèrement plus lumineux que le marine, ou encore le bleu roi. Pour trancher franchement avec les couleurs foncées, osez le bleu ciel qui redonnera de l'éclat à vos tenues sombres.
Les chaussettes bleu marine ont plusieurs facettes : elles habillent vos tenues formelles et paraissent plus décontractées lorsqu'elles sont portées avec des baskets !
# Redonnez de l'originalité aux chaussettes bleues
En jouant sur les motifs ! Détrompez-vous, les chaussettes bleues ne sont pas monotones. Nous proposons par moins de 187 paires de chaussettes bleues parmi lesquelles des chaussettes à motifs. Côtes colorées (marron, vert, rouge, ou encore orange), caviar (rouge, rose, bordeaux), pied-de-poule (beige, rouge) sont autant de possibilités pour faire ressortir le bleu et apporter une touche de fantaisie à vos tenues.