Thin socks
Thin socks
Here are all our thin mid-calf (short) socks for men that can be worn with all types of shoes, even the narrowest ones.
The advantage of a thin sock for men is that it doesn't take up too much space in the shoe, making it very comfortable for every day wear.
The finest materials include cotton lisle for every season, linen for summer, and silk.
Chaussette fine homme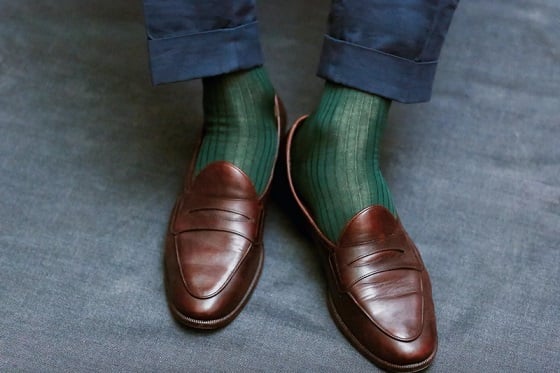 La chaussette fine homme, un accessoire raffiné
La chaussette homme est un accessoire de mode prisé du vestiaire masculin et féminin, car elle est à la fois indispensable au quotidien et excellente d'un point de vue stylistique pour réhausser une tenue. Bien qu'il existe toutes les épaisseurs, les chaussettes homme fines sont les plus raffinées. La finesse permet de mettre en valeur les qualités des matières, du tricotage… c'est également un moyen d'habiller avec élégance votre jambe.
Les amateurs de beaux souliers favorisent les chaussettes fines afin de pouvoir les porter dans toutes les chaussures (chaussures de ville, mocassins, derbies, Richelieu). Des modèles chics très ajustés comme les richelieus ou les mocassins requièrent en effet une faible épaisseur de tissu afin de pouvoir les porter avec confort.
Pour les chaussettes fines, nous recommandons le port de chaussettes mi-mollet. Ces chaussettes courtes fines sont si légères qu'elles s'oublient au bout de quelques minutes de port. De plus, étant donné qu'elles restent bien tendues toute la journée, vous ne sentirez pas un excédent de matière qui peut être désagréable sous le talon ou les pointes de vos pieds. En outre, nos chaussettes de luxe sont remaillées maille à maille afin d'assurer une couture imperceptible à la pointe et confortable.
Vous pouvez également choisir en hauteur mi-bas, ou nos modèles de chaussettes fines invisibles pour un style "sans chaussettes".
Les matières de nos chaussettes fines pour homme
Il existe plusieurs modèles de chaussettes homme fines dans des matières variées, afin que vous puissiez les porter en toutes circonstances.
La chaussette fine en fil d'Écosse : Le fil d'Écosse, ou fil de coton mercerisé, est une matière incontournable en bonneterie pour la confection de chaussettes fines et élégantes, tout en restant durable. Le fil d'Écosse a généralement des couleurs plus vives qui s'embellissent à la lumière. La chaussette en fil d'Écosse est le modèle de chaussettes fines coton homme le plus polyvalent. Vous pouvez les porter toute l'année, et même en saison chaude, c'est un modèle de chaussettes d'été approprié et anti-odeurs.
La chaussette fine laine homme : Parmi nos modèles en laine, nous proposons notamment des chaussettes chaudes et fines en laine mérinos. Ce modèle est parfait pour la mi-saison ou les saisons froides. La laine est en effet une matière isolante et respirante qui permet de garder les pieds bien au chaud. La finesse de la matière permet également le port de ces chaussettes dans toutes vos chaussures.
Les chaussettes fines homme en soie : ces chaussettes fines homme sont les plus élégantes et les plus raffinées de toutes nos chaussettes fines. La soie est une matière d'exception. Vous pouvez porter les chaussettes en soie aussi bien en hiver qu'en été, grâce aux propriétés thermorégulatrices de la matière. La soie est également extrêmement douce et hypoallergénique, ce qui fait d'elle une matière noble idéale pour favoriser le confort.
Les chaussettes ultra fines en voile de coton : ces chaussettes sont les plus fines parmi tous nos modèles, à tel point qu'elles sont pratiquement transparentes. Nous les recommandons donc essentiellement par temps très chaud ou climats tropicaux.
Les chaussettes en lin : Ces chaussettes fines homme sont idéales en été. Le lin est une matière respirante, qui sèche vite et qui conserve une très bonne tenue dans le temps. En cas de forte chaleur, nous vous recommandons le port de ces modèles.
Les chaussettes invisibles : Ce modèle de chaussettes fines pour homme est destiné à être porté avec des sneakers ou des mocassins. C'est une paire de chaussettes fines discrète qui vous permet de conserver un style sans chaussettes tout en limitant la sudation à l'intérieur de vos chaussures, et en protégeant vos pieds des frottements. Ces chaussettes ont également des bandes anti-glisse sur le talon pour rester bien en place.
N.B : Nous proposons également des modèles de socquettes fines pour femme.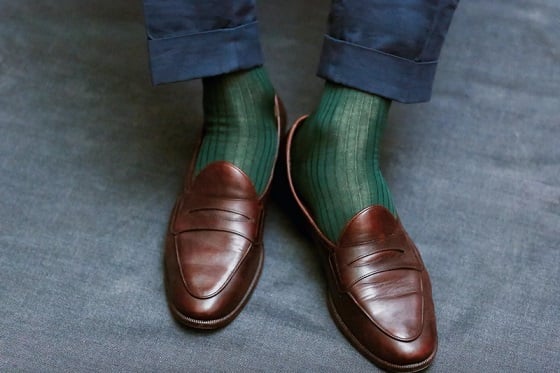 Comment assortir les chaussettes fines homme
Les chaussettes fines homme sont recommandées pour accompagner des tenues quotidiennes, avec un style formel, chic ou décontracté. Pour les associer, vous pouvez réaliser un accord ton sur ton avec votre pantalon ou vos souliers. Cet accord classique permet de conserver une tenue sobre sans la surcharger. Vous pouvez également associer vos chaussettes fines à un autre accessoire ou une autre pièce.
Vous pouvez également choisir des chaussettes fines avec un motif, afin de réaliser un double accord, un rappel, ou au contraire de marquer un contraste dans votre tenue. Cette association plus marquée permet souvent de réhausser une tenue.
Dans le cas des chaussettes en soie, celles-ci sont idéales lors d'occasions spécifiques afin de mettre en valeur l'ensemble de votre tenue. Elles sont notamment parfaites pour un évènement Black Tie / White Tie, qui impose généralement un dress code strict. Vous pouvez donc les porter aussi bien avec un costume classique qu'un smoking. Cela permet de vous démarquer avec des chaussettes fines homme en soie pour une élégance maximale.