Mid-calf socks
Mid-calf socks
Here you will find all the available models of mid-caf socks, socks that come up to the middle of your calf.
The advantage of these short socks is that they can be worn with tight trousers or jeans, while amplifying the feeling of lightness.
Discover our selection of socks made in cotton lisle, wool, cashmere, linen or even supersoft cotton, available in solid colours or with different patterns.
Chaussettes mi-mollet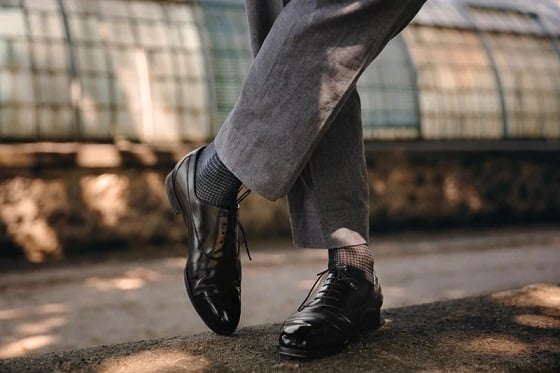 # Chaussette mi-mollet
Les chaussettes mi-mollet font partie des chaussettes les plus courtes proposées chez Mes Chaussettes Rouges (avant les chaussettes invisibles bien sûr !). Comme leur nom l'indique, ce sont des chaussettes mi-hautes qui arrivent au milieu voir juste au-dessous du mollet.
Pourquoi opter pour cette hauteur ?
Pour leur tenue : le maintien de l'élastique est impeccable lorsqu'il est sur la partie la plus fine de la jambe, d'où la volonté d'avoir des chaussettes soit en dessous soit tout au-dessus du mollet (comme avec les modèles de chaussettes mi-bas, sous le genou)
Pour leur style : cette hauteur est également idéale si vous avez l'habitude de porter des pantalons ajustés. En effet, il peut y avoir des frottements de matières entre votre pantalon et vos chaussettes si celles-ci sont trop hautes et que votre pantalon est serré. Avec les chaussettes mi-mollet, non seulement elles ne créent pas de frottements, mais en plus elles tiennent toujours bien sur votre jambe !
Pour leur sensation : les chaussettes mi-mollet garantissent une sensation de légèreté. Elles tiennent et protègent les pieds en toute discrétion et finesse !
L'autre avantage des chaussettes mi-mollet ? Comme elles sont moins longues, elles couvrent moins la jambe et sont donc plus adaptées en période estivale pour garder vos pieds au frais malgré les fortes températures.
# Les gammes de chaussette mi-mollet
Même si nous sommes originellement des spécialistes des chaussettes mi-bas, nous proposons un très grand nombre de modèles de chaussettes mi mollet, pour toutes les saisons, pour tous les goûts et toutes les pointures !
Chaussette mi mollet toute saison
Les mi-mollet en fil d'Écosse : nous proposons deux gammes en fil d'Écosse
Les 100% fil d'Écosse : tricotées intégralement en coton égyptien de haute qualité, ces mi-mollet sont les plus fines et les plus légères. Elles ont de fines côtes raffinées et existent en couleurs unies ou avec des motifs (pied-de-poule, caviar, chevrons). Leur plus ? Elles sont renforcées à la pointe et au talon pour davantage de solidité et remaillées maille à maille pour garantir le confort de l'absence de couture à la pointe des pieds.


Les Super-solides en fil d'Écosse : "le nouveau chic c'est de durer" ! Le slogan de cette gamme en dit long. Le fil d'Écosse dont elles sont composées à 72% est renforcé en polyamide (solidité - c'est la matière utilisée pour fabriquer les amarres de bateau) et élasthanne (souplesse et tenue impeccable sur la jambe).
Les chaussettes mi-mollet en coton :
Les chaussettes coton supersoft : leur nom vient de leur extrême douceur. Le coton utilisé pour le tricotage de ces chaussettes mi-mollet est non-mercerisé, un coton non traité pour garantir une douceur extrême (sans pour autant tenir trop chaud). Leur avantage ? L'absence de côte qui les rend encore plus douces !

Les Non-comprimantes : cette gamme en coton bio se distingue non seulement par sa douceur de son coton mais aussi par son confort. On la nomme "non-comprimantes" car l'élastique des chaussettes a été réparti dans toute la longueur pour ne pas serrer qu'à un seul endroit et garantir un confort et une tenue maximum.




Chaussette mi mollet d'hiver
Les chaussettes mi-hautes en laine :
Les laines mérinos fines : les modèles de chaussettes Bresciani sont en laine fine, généralement 80% laine, et se distinguent par leur douceur, leur finesse et leurs motifs originaux qui apportent une touche de gaieté parfaitement chic à vos tenues hivernales.


Les laine épaisses: en Super-solide ou Bison, ces chaussettes en laine sont appréciées pour leur épaisseur intermédiaire très confortables, leur solidité inégalée face à l'usure et leur douceur. Elles sont évidemment bien chaudes grâce aux propriétés isolantes de la laine.
Les chaussettes hauteur mi-mollet en cachemire : Le cachemire est parmi les laines les plus douces et soyeuses qui existent. Les modèles de chaussettes cachemire mi-mollet existent soit très épaisses en 85% cachemire, soit d'épaisseur intermédiaire en cachemire & Laine (très robustes et duveteuses avec leur aspect lisse) ou encore plus fines en cachemire & soie (les plus chaudes, douces et fines qui soient pour l'hiver !).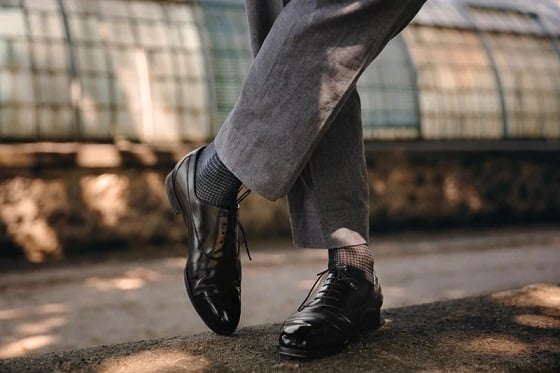 Chaussette mi mollet d'été
Les chaussettes mi-mollet en lin : Bresciani propose une somptueuse collection de chaussettes mi-mollet en lin parfaite pour l'été. Le lin est une matière très légère et aérée qui laisse les pieds respirer. Elle est même réputée pour être capable d'absorber plus de 30% de son poids en eau, de quoi laisser vos pieds bien au frais et au sec tout l'été. Leur plus ? Les chaussettes en lin s'adoucissent au fur et à mesure des lavages !
Les chaussettes mi-mollet invisibles : pour baskets ou pour mocassins, les socquettes Mazarin sont les chaussettes à porter dès le retour des beaux jours. En coton ou coton et lin mélangées, elles sont renforcées avec des bandes antiglisse au talon.
Les mi-mollet en voile de coton : elles sont de loin les plus fines et transparentes que nous ayons ! Elles sont idéales pour les personnes qui habitent dans des pays chauds au climat tropical, pour protéger les pieds tout en les laissant respirer. Sensation pieds-nus garantie !
Les chaussettes en soie mi-mollet : réputées pour leurs capacités thermorégulatrices, ces chaussettes mi-mollet gardent les pieds au frais en été (et au chaud en hiver). Les chaussettes en soie sont fines et soyeuses et leur aspect lisse renforce leur toucher doux.
# Comment porter sa chaussette mi-mollet ?
Nous sommes souvent séduits par des modèles de chaussettes pour leurs couleurs ou leurs motifs sans pour autant trop savoir comment les associer à nos tenues. Voici quelques conseils pour associer vos chaussettes à vos tenues à la perfection !
Il existe deux écoles pour assortir ses chaussettes à sa tenue :
Ceux qui accordent leurs chaussettes et leur pantalon : l'avantage de cette option c'est qu'elle a pour effet d'allonger la jambe ! Les chaussettes sont alors perçues comme une continuation du pantalon et se fondent plus facilement dans la tenue. Cet assortiment est généralement plus discret mais vous pouvez toujours opter pour des chaussettes à motif colorés pour ajouter une légère touche de fantaisie à vos tenues.


Ceux qui préfèrent assortir leurs chaussettes à leur souliers : c'est l'option préférée des amateurs de contrastes ! L'assortiment des chaussettes aux chaussures aura pour effet de contraster un peu plus la silhouette et donc faire ressortir davantage la couleur des chaussettes. Ce détail attirera donc un peu plus l'œil !
Et si vous voulez davantage de conseils, vous pouvez lire cet article Comment assortir ses chaussettes à son pantalon ou ses chaussures ? sur notre blog !