No-show socks for women
No-show socks for women
Discover our selection of no-show socks, very short invisible socks for women.
Mazarin no-show socks are available in two styles: for trainers (ankle socks) and for moccasins (shorter and with a wider opening).
Les socquettes femme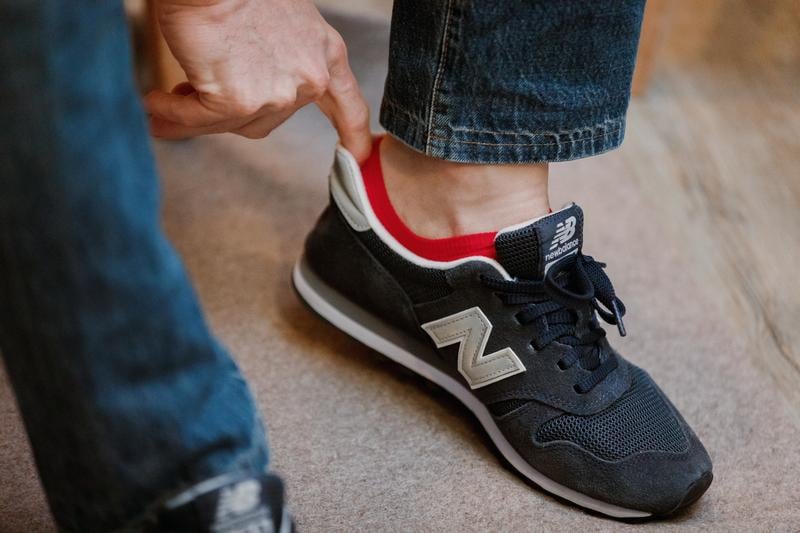 Les socquettes femme sont des chaussettes invisibles basses, dont la hauteur n'est pas la même pour tous. En d'autres termes, les socquettes sont donc des chaussettes basses dont la hauteur est entre la chaussette invisible pour mocassins, et la chaussette mi-mollet. Dans cette catégorie des socquettes femme, nous avons donc mis toutes nos chaussettes socquettes invisibles, qu'elles soient des socquettes pour mocassins ou des socquettes pour baskets ou sneakers et nos chaussettes malléole plus sportive.
# Pourquoi acheter des socquettes femme ?
Les socquettes invisibles femme sont idéales pour plusieurs raisons. La première c'est de protéger vos pieds. Vous aurez moins d'ampoules en portant des socquettes femme. La seconde raison, c'est de protéger vos chaussures ! Grâce aux mini socquettes femme, vous transpirez moins et surtout la transpiration va dans la socquette, pas la chaussure. Vous aurez donc moins d'odeur et le cuir de vos chaussures sera moins abîmé (car l'humidité de la transpiration abîme beaucoup le cuir). La socquette femme permet d'avoir une sensation de pied nu grâce à sa légèreté et à sa discrètion. Une mini chaussette moderne qui s'intègre facilement à tous les styles vestimentaires.
# Quelle est la matière de nos socquettes femme ?
Nos socquettes femme sont surtout en coton et en lin. Nos socquette femme coton apportent de la douceur à vos pieds. Des paires de chaussettes en coton confortables et faciles à entretenir. Les matières naturelles représentent 75%. Puisque les socquettes sont surtout portées par les femmes quand il fait chaud, en été, à la fin du printemps et au début de l'automne, nous avons choisi des matières qui correspondent à cette saisonnalité. Nous avons aussi un modèle de socquettes en laine pour les femmes inconditionnelles de la socquette, même en hiver. Ainsi, la laine vous protégera du froid. Pour les autres socquettes femme, 25% sont un polyamide, très résistant à l'abrasion, et 2% d'élasthanne pour assurer un parfait maintien.
# Quelle est la coupe de nos socquettes femme ?
La socquette femme bat en brèche l'adage selon lequel « Qui peut le plus, peut le moins ». En effet, plus l'échancrure de la socquette est importante plus elle ira à beaucoup de chaussures. La socquette femme la plus échancrée est celle pour mocassins, ensuite celle pour baskets en enfin les chaussettes qui à la malléole. Si vous mettez des chaussettes malléoles dans des mocassins, le résultat sera assez décevant. Alors qu'à l'inverse, une socquette femme mocassin sera convenable et fera une bonne partie du travail demandé à une socquette.
# Quels sont les points de qualité à vérifier pour une socquette femme ?
Comme pour toutes les chaussettes, il ne faut pas transiger avec la qualité des socquettes femme. Ce n'est pas parce qu'il y a moins de mailles, qu'il doit y avoir moins de qualité. Un élément essentiel, pour la qualité est le remaillage. Il doit être maille à maille, sans quoi vous serez gêné par une couture désagréable. Ces socquettes femme s'appellent aussi socquette sans couture. C'est le cas des nôtres. Deuxièmement, il faut de la silicone à l'arrière, au moins sur les socquettes femme mocassin, sans quoi la mini chaussette peut avoir tendance à glisser. Enfin, le tricotage. Nous avons choisi de faire des socquettes fines, mais avec un renfort en polyamide afin d'allier légèreté et durabilité. Pour les socquettes femme mocassins, nous avons un tricotage très aéré grâce à un système de tricotage en alvéole, pour rendre votre socquette encore plus légère.
Enfin, la qualité du coton n'est pas vérifiable à l'œil nu. Mais chez nous, nous n'avons que des socquettes cotons femme très longues fibres (Extra Long Staple selon la terminologie de l'OMS), c'est-à-dire les meilleurs du marché. Bref, ces socquettes femme sans couture sont d'une qualité irréprochable à tous points de vue.
# Histoire de la socquette femme
Si la mode des socquettes femme a vraiment émergé dans les années 2000, elle a été initiée par les sportives de haut niveau dès les années 1980. En effet, ce sont les femmes qui ont mis en avant aux yeux du monde entier, la mode des socquettes blanches. Les socquettes blanches sont devenues les chaussettes de sport femme incontournables ! Dans le tennis par exemple, les photos des légendes telles que Steffi Graff, Monica Seles puis Martina Hingis montrent des socquettes sport femme alors que leurs homologues masculins, tout aussi légendaires, arborent des chaussettes plus hautes. Ce sont vraiment les femmes qui ont apporté cette innovation stylistique. C'est d'abord dans les écoles que cette mode est apparue, avec la fameuse socquette blanche. Puis la classique socquette blanche femme a peu a peu laissé place à la socquette femme fantasie et colorée ! Chez Mes Chaussettes Rouges, nous vous proposons une belle collection de socquettes colorées : socquettes rouges, socquettes bleues , marron ou orange . Des couleurs tendances pour un style élégant et original.
Fun fact : Au fait, l'orthographe du mot socquette n'est pas parfaitement établie. On retrouve une version avec et sans "c" avant la lettre "q". Sans doute parce que le dictionnaire de l'Académie Française n'inclut pas le mot socquette. Le Larousse l'écrit socquette.