Thick socks
Thick socks
Discover all our models of thick mid-calf socks, perfect for those who need some extra warmth.
Our thick socks, knitted in Italy, are distinguished by the quality and softness of their fibres as well as by the comfort provided by their thickness.
Be it the softness of 85% cashmere or the durability of wool, we have a pair of thick socks for any need you may have!
Chaussettes épaisses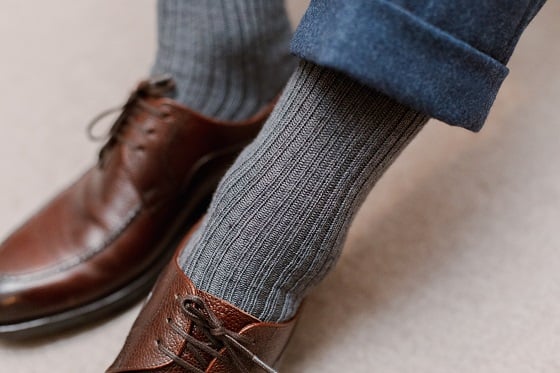 # Chaussette épaisses
Les chaussettes épaisses courtes (mi-mollet) que nous proposons sont idéales à porter en hiver grâce à leur composition et à leur épaisseur évidemment. Nos gammes de chaussettes hiver homme sont en laine, cachemire ou mélangées en cachemire et laine. Ces chaussettes épaisses homme se distinguent donc par leurs propriétés isolantes, leur confort et aussi leur longévité.
Chaussettes épaisses isolantes
Les chaussettes épaisses de cette collection sont soit des chaussettes en laine ou soit des chaussettes cachemire, deux matières réputées à la fois pour leur douceur mais aussi et surtout pour leurs capacités isolantes et thermorégulatrices :
Les fibres de laine des chaussettes épaisses retiennent la chaleur corporelle et isolent donc les pieds du froid.
L'aspect thermorégulateur de la laine permet dans le même temps de laisser les pieds respirer ce qui assure aux chaussettes en laine des propriétés antibactériennes.
Le plus des chaussettes laine épaisse homme ? Elles retiennent l'humidié au coeur de leur fibre ce qui permet de garder les pieds au sec même en cas de transpiration. C'est d'ailleurs pour cette raison que les chaussettes de sport, et notamment de randonnée, sont souvent tricotées en laine pour garantir le confort d'un pied au sec pendant toute la durée de l'effort Vous pouvez jeter un oeil à nos modèles de chaussettes de randonnée en laine juste ici.
Chaussettes épaisses confortables
L'épaisseur des chaussettes d'hiver permet également de gagner en confort. Les chaussettes épaisses de notre gamme sont les chaussettes chaudes parmi les plus confortables que nous proposons. En effet, l'épaisseur implique davantage de support pour le pied dans la chaussette. Vos pieds sont donc plus protégés pendant la marche et le contact avec la semelle de la chaussure se fait moins ressentir. Essayez par exemple nos chaussettes cachemire épais 85%, c'est un vrai bonheur de confort et de douceur !
Le confort des chaussettes épaisses provient également de la technique de tricotage des modèles. Au niveau du talon et de la pointe, toutes les chaussettes sont remaillées maille à maille. C'est une technique qui permet d'assurer des coutures plates, notamment au niveau de la pointe afin de garantir l'absence de gêne d'une couture épaisse.
Chaussettes épaisses résistantes
Toutes nos chaussettes épaisses sont composées en majorité de matières naturelles et renforcées avec des matières synthétiques de qualité et reconnues pour accroître la longévité des chaussettes. Les deux matières utilisées pour assurer la résistance et la qualité des chaussettes épaisses sont les suivantes :
Le polyamide : mélangé à des matières naturelles, le polyamide permet d'accentuer la solidité des matières. C'est d'ailleurs à base de polyamide que sont fabriquées les amarres de bateau !
L'élasthanne : réputé pour son élasticité, l'élasthanne permet aux chaussettes de gagner en souplesse et en maintien. Les chaussettes renforcées en élasthanne ont donc une tenue impeccable sur la jambe.
De plus, tous les modèles de chaussettes basses épaisses ont un tricotage renforcé à la pointe et au talon ce qui permet d'avoir une épaisseur de matière supplémentaire à ces endroits fréquemment soumis aux frottements.
N.B : l'avantage des chaussettes épaisses mi-mollet réside aussi dans le fait qu'elles ne remontent pas trop haut sur la jambe. Ainsi, vous pouvez également les porter avec des pantalons ajustés en hiver sans que cela ne fasse de marque sur votre jambe ou que ça n'altère votre sensation de confort dans vos vêtements.
# Nos gammes de chaussettes épaisses
Les chaussettes en laine & cachemire : ces chaussettes épaisses mélangent deux matières isolantes et douces pour donner une chaussette bien chaude et duveteuse, caractère d'ailleurs renforcé par l'aspect lisse des chaussettes. Ces chaussettes épaisses se distinguent par leur solidité grâce à la présence de polyamide et par leur souplesse : elles épousent parfaitement la forme de la jambe. Se sont sans aucun doute les chaussettes avec du cachemire les plus solides !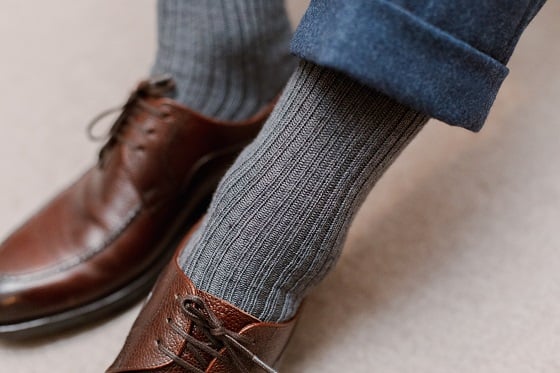 Les chaussettes laine épaisse : nous proposons des chaussettes épaisses de la gamme Bison en laine par Mazarin. Cette gamme de chaussettes d'hiver a la solidité des Super-solides et l'épaisseur des cachemire épais. Leurs côtes en volume ajoutent également de l'épaisseur et davantage de confort dans les souliers ! Pourquoi l'appelle-t-on la gamme Bison ? Car les chaussettes de cette gamme sont aussi robustes que l'animal et qu'elles tiennent aussi chaud que son pelage. Avec ces chaussettes, vous pourrez affronter l'hiver sans craindre le froid et marcher des kilomètres sans craindre l'usure.
Les chaussettes épaisses en cachemire : les chaussettes cachemire 85% sont parmi les plus chaudes et douces qui existent ! Très épaisses, ces chaussettes sont moelleuses et d'un duveteux incroyable. Leur plus ? Les nombreuses couleurs unies de cette gamme vous permettent d'assortir vos chaussettes aux détails les plus raffinés de vos tenues !
# Entretenir ses chaussettes épaisses
Les chaussettes épaisses sont ici composées dans des matières chaudes d'hiver relativement délicates (laine et cachemire). Voici nos conseils d'entretien afin de préserver vos chaussettes :
Lavage : les chaussettes épaisses en laine et en cachemire se lavent en machine à des régimes laine ou délicat qui respectent les critères suivants : lavage à 30° et 600 tours maximum.
Séchage : privilégiez un séchage à l'air libre et à plat afin de conserver la forme naturelle des fibres.