Very warm knee-high socks
Very warm knee-high socks
Discover our range of very warm knee-high socks to help you face the coldest days of winter.
We use multiple blends of materials to make our extra warm socks. Choose which blend is best for you depending on thickness and softness: 100% or 85% cashmere, cashmere & silk or cashmere & wool.
Les matières très chaudes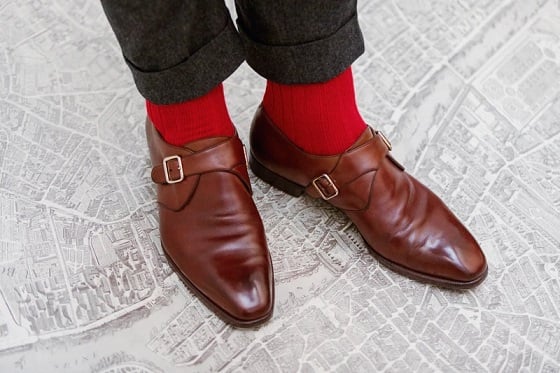 # Les matières très chaudes
Les matières très chaudes dont sont composées nos chaussettes d'hiver plairont particulièrement aux plus frileux et résisteront aux températures les plus froides. Des chaussettes chaudes sont des chaussettes qui isolent et pour garantir une bonne isolation de vos pieds, nous vous recommandons de porter des chaussettes en matières animales comme le cachemire et le cachemire mélangé (soie, laine). Il y a également les chaussettes en yak ou encore en vigogne, qui est aussi rare qu'elle est chaude !
# Comment choisir la matière ?
Pour choisir vos chaussettes très chaudes, comparez les particularités des matières et leurs épaisseurs :
Le cachemire est évidemment l'une des matières les plus douces et chaudes. Nos chaussettes sont soit en 100% cachemire soi en 85% (plus robustes) et sont très épaisses pour vous apporter du confort et de la chaleur.
Le mélange cachemire et laine : ces chaussettes sont d'une épaisseur intermédiaire et sans côte ce qui renforce le toucher doux et soyeux. Elles combinent la chaleur de la laine et la douceur du cachemire.
Le cachemire et soie : ces chaussettes sont la parfaite combinaison de deux matières particulièrement douces et chaudes. Elles sont très fines, idéales pour se glisser dans toutes vos chaussures d'hiver même les plus étroites. La soie leur donne un aspect soyeux inégalé. Elles font partie des chaussettes les plus chaudes notamment grâce aux capacités thermorégulatrices de la soie qui conserve bien la chaleur.
À matières exceptionnelles, entretien particulier : toutes ces chaussettes sont précieuses et doivent être lavées de préférence à la main sinon à la machine en régime très délicat (peu voir pas d'essorage) ni de sèche-linge.