Linen Socks
Linen socks
Our range of knee-high linen socks by Bresciani. Linen is a light material that keeps your feet cool thanks to its sweat-wicking qualities.
Linen is known for its mottled fibres which get softer with every wash.
Le lin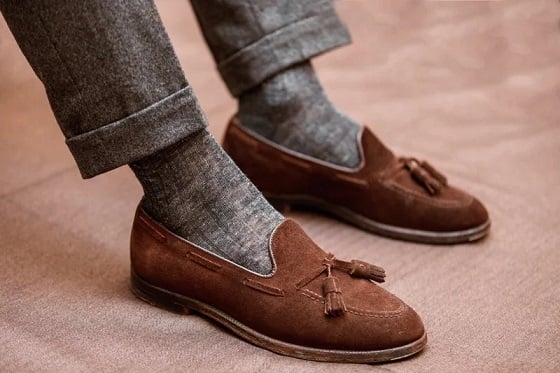 # Quels sont les avantages du lin ?
Sa fraicheur ! Le lin a une très bonne capacité d'absorption de l'humidité, jusqu'à 30% de son poids, ce qui permet de conserver le pied au frais même en temps de forte chaleur. Récolté en France, le lin a de très longues fibres - 10 fois plus longues que le coton - ce qui participe à sa robustesse.
Et sa douceur ! Plus on lave le lin plus la fibre s'adoucit. Vos chaussettes en lin seront donc de plus en plus douces après chaque lavage. Vous remarquerez que le fil de lin a de petites bourres qui font tout son charme et qui rendent ces chaussettes un peu plus décontractées et "sport".
# Quand porter des chaussettes en lin ?
Quand il fait chaud ! Le lin permet aux pieds de moins transpirer dans la chaussure grâce à ses capacités d'absorption, sans pour autant avoir un aspect froissé. C'est pour cela que nous recommandons de porter cette matière pendant les saisons chaudes ou si vous habitez dans des pays aux climats tropicaux. Notez que le lin, bien que matière très résistante et absorbante, n'a pas de qualité thermique. Il ne vous protègera donc pas du froid.