Shaving
Geo F. Trumper shaving products
Discover our selection of the most emblematic shaving products from London perfumer and barber Geo F. Trumper.
Shaving creams in tubs or travel size, lotion, etc., find all the brand's emblematic scents.
Geo F. Trumper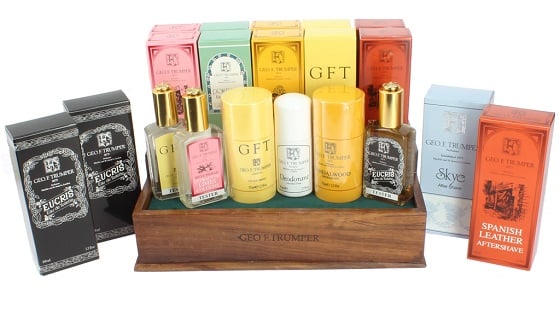 # La marque Geo F. Trumper
Geo F. Trumper est à la fois un parfumeur et un barbier londonien dont la marque a été créée à la fin du XIXème par Georges Trumper. Cette enseigne confidentielle s'est faite connaître par ses eaux de Cologne et par ses lotions d'après-rasage. Très peu distribués, les produits Trumper ont à la fois une odeur raffinée et le parfum des fragrances exclusives, que les inités partagent. Vous trouverez ici quelques-uns des produits les plus emblématiques de la marque.