Ivy League socks
The Ivy League range
Discover our brand-new Ivy League range of socks. Inspired by the preppy style of elite US universities, these socks feature iconic colourful hoops. The perfect blend of casual and stylish.
Made from a combination of linen and cotton, the Ivy league range is lightweight, soft and extremely comfortable.
To really get that Ivy league look, try wearing these casual socks with quintessentially preppy clothes like blazers, chinos, crewneck sweaters or penny loafers.
Chaussettes Ivy League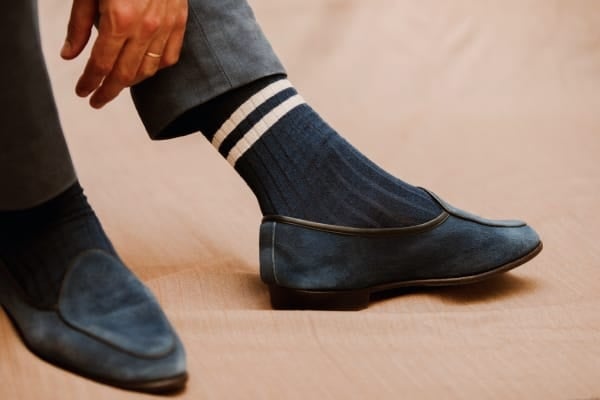 # Les chaussettes Ivy League
La tendance Ivy League d'après-guerre lancée par des étudiants des plus brillantes universités américaines est sans doute le style qui combine le mieux tenue chic et détail sportif pour un rendu décalé à la pointe de l'élégance. C'est pour cette raison que Mazarin a fait le choix de s'inspirer du motif le plus iconique de la tendance, les fameuses bandes ou larges rayures de couleurs, pour créer une gamme de chaussettes à l'aspect sportif et aux matières nobles.
# La gamme Ivy League : chaussettes rayées
Mazarin propose donc plusieurs modèles de chaussettes mi-mollet avec deux larges bandes de couleurs, ou larges rayures horizontales, à la pointe des pieds et en haut de la chaussette, le parfait détail sport qui donne cette touche de fantaisie à la chaussette et la rend moins formelle mais sans oublier l'élégance ! On peut également considérer ces chaussettes à rayures comme des chaussettes de weekend du fait de leur composition : le mélange du lin français et d'un coton égytpien extra-doux donne à ces paires Ivy League un aspect chiné mois formel et apporte souplesse et légèreté aux chaussettes pour un maximum de confort.
Ces chaussettes sont fabriquées en Italie.