Women cashmere socks
Cashmere
Our selection of women cashmere socks: choose between 85% cashmere socks or a blend of cashmere and silk socks.
Available in both knee-high and mid-calf lengths, these women's cashmere socks are luxuriously warm, light and soft. The perfect pair of socks for winter.

Women cashmere socks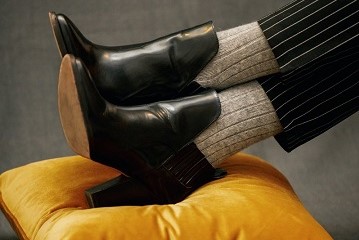 # Where does cashmere come from?
Although cashmere is prized worldwide for its rare and luxurious properties, it has only been available in France for the last 200 years. To tell the story of where our women's cashmere socks come from, we first have to go back to Kashmir; a mountainous geographical region that spans over India, Pakistan, and China. 'Cashmere' is an anglicisation of this region, which itself is home to the cashmere goat. People have been spinning luxury garments from the soft and warm undercoat of cashmere goats for centuries. It is said that the cashmere industry first exploded when Ali Hamadani, a travelling Iranian poet and scholar, presented a piece of cashmere clothing to the king of Kashmir who would go on to popularise the fabric. A man of exceptional taste, Hamadani obviously gave the king a pair of luxury cashmere socks!
Cashmere allegedly found its way into west European society through one Mr Napoleon Bonaparte. The General sent it back to Paris after having discovered the fabric in Egypt during the Ottoman campaign. His wife, Joséphine was an instant fan and cashmere soon became a prized and valuable fabric in Europe. The French were (quite rightly) very keen on cashmere. As well as being the first European country to spin cashmere hair into fabric, the French government also financed an expedition to bring back a herd of cashmere goats from Kashmir! Nowadays France is not best known for its cashmere production. In fact, the largest global producer of raw cashmere is China, and the best European-spun cashmere comes from Italy or Scotland. That's why all our cashmere socks for women are knitted in master Italian workshops.
# Why wear women's cashmere socks?
If you've never heard of cashmere socks before, they may seem like an unusual choice. However, here at Mes Chaussettes Rouges, we are firm believers that a pair of cashmere socks belongs in every wardrobe. When you're wearing a pair of our cashmere socks for women, you're wearing one of the softest, lightest, and warmest fabrics known to man.
Cashmere is so valuable thanks to this unique blend of properties which come from the cashmere goat. These goats are found grazing in the Himalayas, often above 4000m high. Here it can get as cold as -30°C in winter. To protect themselves from these freezing temperatures, cashmere goats have developed two fleeces; one tough and bristly overcoat and a warm, fine, and fuzzy undercoat. This undercoat is made from incredibly thin hollow fibres which trap air, keeping the goats warm despite the extreme conditions. All this boils down to mean that cashmere socks are the perfect sock for winter. We stock cashmere socks for women in both knee-high and mid-calf lengths; choose your favourite fit for even more comfort!
Our women's cashmere socks are excellent insulators (3 times better than regular wool) and are thinner than models made from wool or cotton lisle; the perfect blend of warmth and comfort. Once you put on these cosy cashmere socks for women you won't be able to take them off! As our ladies' cashmere socks aren't the strongest socks around, this is the perfect excuse to use them as comfy bed socks or when you're having a day at home. Who says luxury socks need to be seen to be believed? Treat yourself with a pair of our incredibly soft and smooth cashmere socks for women.
# How to look after your cashmere socks for women?
As cashmere socks are so fine and warm, they deserve a little extra care when you wash them. Ideally, wash your women's cashmere socks by hand and dry flat to keep them luxuriously soft and light. If you're machine washing your cashmere socks, choose a delicate setting with a low spin-cycle and cool temperature. If washed properly, our cashmere socks for women get softer over time, so take good care of them!