Socks in Sea Island Cotton
Sea Island Cotton
Sea Island cotton is a rare strain of cotton that only grows in the West Indies.
Socks made from Sea Island cotton are prized for being especially thin and soft. They are ribless and smooth from top to toe.
Try one of our pairs of knee-high sea island cotton socks and you'll never want to take them off!
Le coton sea island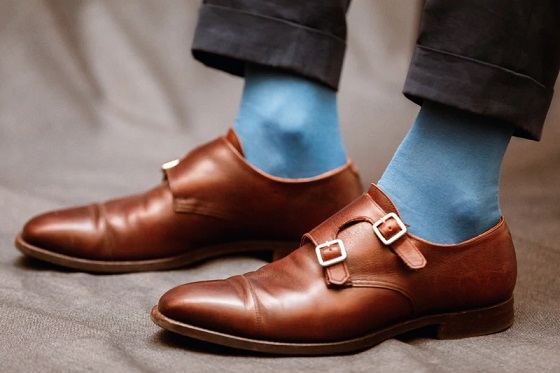 # Qu'est-ce que le coton Sea Island ?
Le coton Sea Island, aussi appelé West Indies Sea Island, est un coton extrêmement rare qui ne pousse qu'aux Antilles du fait de la particularité du climat local. Le coton Sea Island se distingue de la grande famille des cotons par la longueur de ses fibres et donc la qualité des produits qui en ressortent et évidemment sa rareté – la production de coton Sea Island ne représente que 0,004% de la production mondiale.

# Caractéristiques & entretien du coton Sea Island
Ce que le cachemire est à la laine, le Sea Island l'est au coton. Les chaussettes en Sea Island sont particulièrement douces et soyeuses, d'un confort et d'une finesse inégalée. Bref, les paires parfaites à porter avec des chaussures de villes. Mais attention, l'essayer c'est l'adopter !
Les chaussettes en coton Sea Island sont assez délicates ce qui nécessite un entretien particulier : à laver en machine en régime laine, de préférence à froid avec un très faible essorage pour conserver la douceur du coton.
# Une matière reconnue
La reine Victoria, reine du Royaume-Uni, exigeait d'avoir des mouchoirs en Sea Island. Plébiscitée par une telle personnalité, le Sea Island ne saurait décevoir les plus exigeants d'entre nous. Plus récemment, c'est le célèbre agent secret James Bond, qui est apparu avec des vêtements et sous-vêtements réalisés dans le coton des Caraïbes. Les produits en coton Sea Island subissent d'ailleurs un contrôle qualité exigent pour garantir la qualité irréprochable du coton.