Geo F. Trumper
Perfumes & shaving products
Discover the products of the famous London perfumer and barber Geo F. Trumper.
The Trumper product range includes parfumes, face & body products and shaving products.
Find your favourite scents in all Geo F. Trumper product ranges!
Geo F. Trumper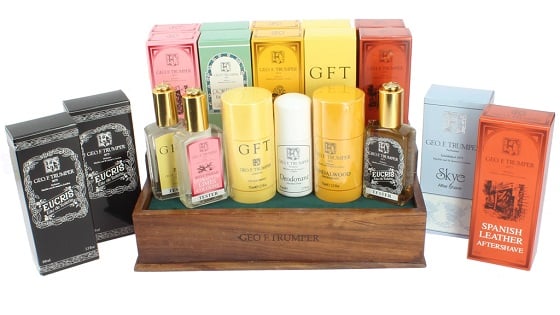 # La marque Geo F. Trumper
Geo F. Trumper est à la fois un parfumeur et un barbier londonien dont la marque a été créée à la fin du XIXème par Georges Trumper. Cette enseigne confidentielle s'est faite connaître par ses eaux de Cologne et par ses lotions d'après-rasage. Très peu distribués, les produits Trumper ont à la fois une odeur raffinée et le parfum des fragrances exclusives, que les inités partagent. Vous trouverez ici quelques-uns des produits les plus emblématiques de la marque.