Plain colours for women
Plain colours
From classic to extravagant colours, discover our selection of plain coloured socks for women.
Starting at size 36, in cotton lisle, Super-Durable, wool, cashmere... There's something for everyone!
Les chaussettes unies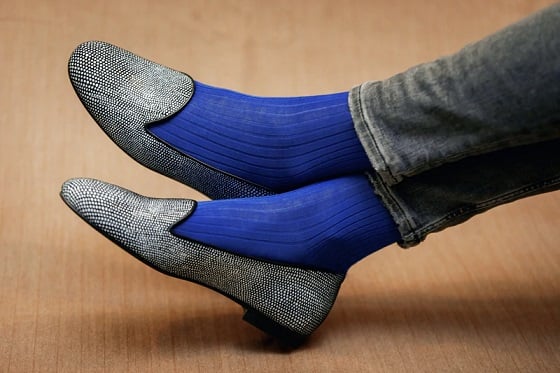 # Comment porter les couleurs ?
Nous avons un très large choix de chaussettes de couleurs, des plus classiques aux plus extravagantes, que vous retrouverez même dans différentes matières (du fil d'Écosse au cachemire). Plusieurs possibilités pour porter des chaussettes de couleurs :
Accordez la couleur de vos chaussettes à celle de votre pantalon pour allonger la longueur de vos jambes ;
Renforcez le détail contrasté des chaussettes lumineuses en les associant aux couleurs de vos chaussures pour créer la rupture avec le reste des couleurs de votre tenue.
# Must-have & coups de cœur
Les must have ? Des chaussettes rouges évidemment (Gammarelli comme pour les cardinaux !), car elles sont vives et redonnent facilement de l'éclat à des tenues sombres. Mais aussi toutes les couleurs classiques (bleu marine, gris, marron, etc.).
Nos coups de cœur ? Le fil d'Écosse lilas, jaune, orange ou encore bleu ciel, les couleurs pastel des Super-solides Daphné, le violet intense des laine & cachemire... À vous de trouver les couleurs de chaussettes qui vous correspondent le plus !