Non-compressive mid-calf socks
Non-compressive socks
Discover Mazarin's non-compressive mid-calf socks (short) made of extra-soft organic cotton.
What's so special about these non-compressible socks? The elastic has been distributed along the entire length of the sock to ensure a better fit, avoiding a too tight fit at the cuff.
Chaussettes non comprimantes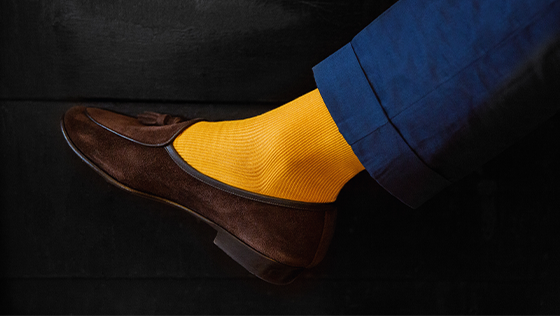 Pourquoi choisir des chaussettes non comprimantes ?

Les chaussettes non comprimantes sont un type particulier de chaussettes arrivant au-dessus de la cheville. Ces chaussettes mi-mollet se distinguent par l'absence d'élastiques sur le haut de la chaussettes. Ces chaussettes sont parfois préférées aux autres modèles plus classiques pour plusieurs raisons :
Une faible compression : les chaussettes non comprimantes ne serrent pas le mollet. Elles sont donc idéales pour les individus souffrant de problèmes de circulation sanguine, d'oedème, ou ceux qui ont récemment été opéré sous le mollet. Une paire de chaussettes mi-mollet ou mi-bas sera naturellement plus comprimante et est à proscrire dans ces cas.
Limitation des irritations : les bords élastiques des chaussettes courtes et hautes sont conçus pour rester en place toute la journée en serrant la jambe. En effet, les frottements répétés sur les peaux sensibles causent parfois (assez rarement) des irritations. Le port de chaussettes non comprimantes empêche ces irritations.
Un meilleur confort : les amateurs de style classique privilégient les chaussettes mi-mollet et mi-bas pour leur maintien sur la jambe, ce qui permet de garder une apparence "lisse" et bien ajustée sur la surface des chaussettes. Cependant, il est tout à fait possible de porter dans un style plus casual des chaussettes non comprimantes. Le pied ayant tendance à gonfler au cours de la journée, ces chaussettes sont plus confortables à porter.
Comment sont tricotées les chaussettes non-comprimantes ?

Les chaussettes non comprimantes sont réalisées d'une manière unique par rapport aux autres modèles et se distinguent sur plusieurs points :
La matière : les chaussettes non-comprimantes sont tricotées à partir d'un coton haut de gamme biologique. Cette variété de coton est particulièrement douce et confortable, et conserve sa douceur plus longtemps. Les fibres utilisées sont "extra-longues", ce qui les caractérise par une finesse exceptionnelle et une grande résistance.
La souplesse : si ces chaussettes ne comportent pas de bord avec des élastiques, elles sont en revanche tricotées de telle manière à étendre les fines côtes sur toute la longueur de la chaussette afin de répartir l'élasticité. Cela assure un bon maintien et une excellente souplesse.
Le renfort : afin d'accroître leur durabilité, nos chaussettes non-comprimantes sont renforcées aux pointes et aux talons, deux zones plus sensibles à l'usure.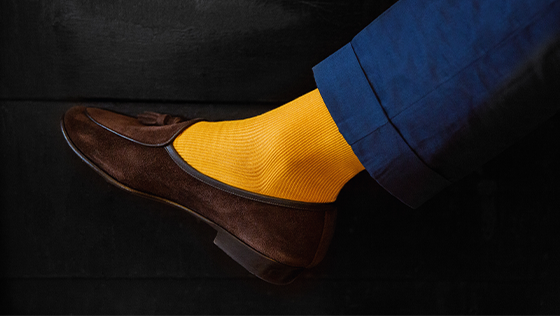 Ainsi, les chaussettes non-comprimantes sont intéressantes pour ceux qui cherchent à porter des chaussettes élégantes qui ne serrent pas le mollet tout en conservant un bon maintien. Elles peuvent également parfaitement s'intégrer dans un ensemble plus casual grâce à leur aspect moins formel.