Beanies
Cashmere beanies
Discover the new range of beanies in 100% cashmere from Mazarin, knitted in France.
These beanies are particularly soft and warm: they'll keep your head warm all winter long; from the city to the mountain.
The Mazarin cashmere beanies also have a very delicate signature: the name of the brand Mazarin is knitted behind the lapel of the beany in the same color for a very discrete fancy touch.
An essential accessory for a warm winter, best paired with cashmere socks!
Bonnet cachemire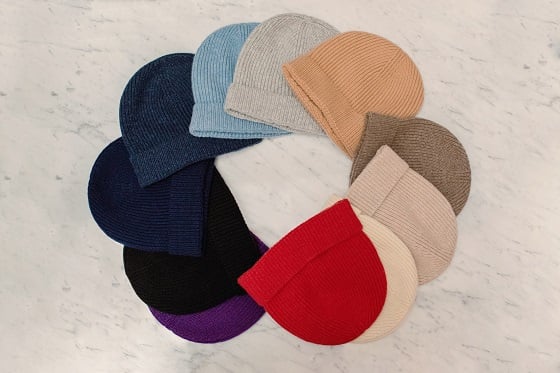 # Le bonnet cachemire donne le ton pour l'hiver
Portez un bonnet cachemire fabriqué en France pour affronter les températures hivernales ! C'est le meilleur accessoire à la fois pratique et tendance pour les jours d'hiver froids !
La marque Mazarin, spécialiste de la bonneterie et des matières haut de gamme, a choisi d'étendre ses collections à la gamme de bonnet cachemire. Amoureux des matières duveteuse, ces modèles de luxe sont faits pour vous : ils sont en 100% cachemire naturel, disponible en taille unique pour homme et pour femme.
Le bonnet cachemire made in France est l'accessoire mode tendance de ces dernières années à ne pas oublier pour finaliser sa tenue avec élégance et style.
Le bonnet cachemire Mazarin
Le bonnet cachemire Mazarin se distingue par sa qualité haut de gamme irréprochable :
La provenance du cachemire : le cachemire utilisé pour les bonnets provient de Mongolie, le pays du cachemire par excellence ! Mazarin s'est d'ailleurs assuré de sélectionner son fournisseur selon des critères sociaux et environnementaux précis.
Les certifications : Les fibres de cachemire utilisées pour chaque bonnet cachemire répondent à 8 certifications mondialement reconnues dont Associazione Tessile e Salute (traçabilité de la chaîne de production et des produits chimiques utilisés afin d'assurer leur traitement éco-responsable) et The good cashmere standard (qui certifie un cachemire éco-responsable tant du point de vue de la protection des élevages que des éleveurs).
Les propriétés du bonnet cachemire :
Un bonnet isolant : le bonnet en cachemire est réputé pour ses propriétés isolantes et donc la chaleur qu'il procure, atout indispensable quand on sait qu'une importante part de la chaleur corporelle s'évapore par la tête.
Un bonnet doux : Ce bonnet en cachemire homme et femme est aussi particulièrement doux, moelleux et duveteux, idéal pour protéger les peaux sensibles des irritations.
Un bonnet épais : les fibres de cachemire utilisées pour ce bonnet chaud ont été spécifiquement choisies pour leur épaisseur qui renforce tous les avantages expliqués précédemment.
Fun fact : saviez-vous que lorsque l'on parle du nombre de fil du cachemire cela ne veut finalement pas dire grand chose ?! En effet, il ne s'agit pas de parler du nombre de fils pour donner la qualité du cachemire mais plutôt de l'épaisseur de ses fils ! Par exemple, si vous achetez un cachemire 6 fils mais que chaque fil est très fin, cela revient au même que d'acheter un cachemire 2 fils où chacun est très épais. C'est d'ailleurs pour cette raison que nous ne parlons pas du nombre de fils de nos bonnets cachemire mais que nous mettons plutôt en avant leur épaisseur !
# Comment porter son bonnet cachemire
Style et matières, voici nos conseils pour choisir votre bonnet.
Les façons de porter son bonnet en cachemire
Le bonnet cachemire Mazarin a une forme assez classique, taille unique pour homme et femme : il est ajusté et sa forme épouse parfaitement la forme de la tête. Si vous préférez porter vos bonnets de façon plus large, il vous est tout à fait possible de défaire le revers du bonnet pour aplatir le haut et mettre davantage en avant la délicate signature Mazarin tricotée sur l'envers du bonnet !
Le bonnet cachemire Mazarin a un secret ! Soulevez le rebord du bonnet pour découvrir la signature originale et raffinée de la marque : le nom Mazarin est tricoté dans la masse du bonnet avec des fils en ton sur ton. C'est la touche fantaisie discrète et délicate parfaite pour vous démarquer avec chic et sobriété !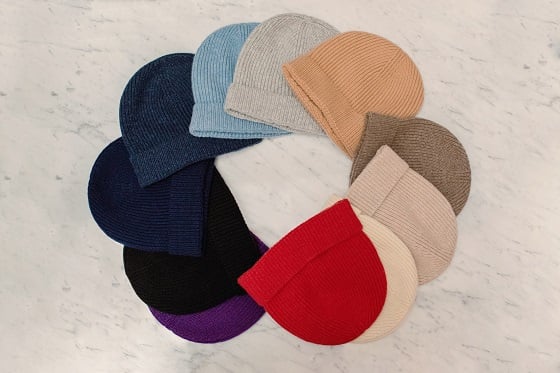 Choisir la couleur parfaite de son bonnet cachemire
Mazarin propose plus d'une dizaine de coloris pour ses bonnets en cachemire : des plus classiques (noir, bleu marine, gris) aux plus lumineuses (rouge, violet, bleu ciel, ivoire, etc.).
Voici nos conseil pour choisir la couleur parfaite de bonnet made in France :
Selon vos caractéristiques physiques : la teinte de votre peau, de vos cheveux et de vos yeux peuvent être des indicateurs à prendre en compte afin de vous donner la meilleure mine possible, de se fondre ou pas dans vos cheveux ou encore de faire ressortir la somptueuse couleur de vos yeux ;
Selon vos vêtements : vous pouvez opter pour un total look et associer la couleur du bonnet à votre manteau par exemple ou, au contraire, optez pour une couleur plus vive pour marquer les contrastes et mettre en avant ce détail fantaisie élégant.
Fun fact : si vous aimez être coquet de la tête aux pieds, amusez-vous à porter en plus une paire de chaussettes en 85% cachemire ou en cachemire & soie de la marque Mazarin. Les premières sont les plus chaudes et épaisses et les deuxième le parfait combo finesse, douceur et chaleur. Ces modèles sont disponibles en hauteur mi-bas et mi-mollet.
# Entretenir son bonnet cachemire
Le cachemire est une matière pure et délicate, il est donc nécessaire de prendre certaines précautions de lavage afin de garder votre bonnet en cachemire intact :
Lavage : vous pouvez laver votre bonnet à la main ou en machine à un régime laine très délicat c'est-à-dire 30° et 600 tours/minute maximum.
Séchage : il est impératif de faire sécher votre bonnet cachemire à l'air libre (sèche linge-interdit !) afin d'éviter tout risque de feutrage de la matière et pour qu'il préserve sa forme naturelle.