Golf & Hiking socks
Golf & Hiking socks


Our golf and hiking socks are reinforced at the toe and heel and have a soft and comfortable loop-knit sole.

The materials we use to make these socks adapt to your body's temperature during exercise resulting in a more enjoyable sporting experience.


Golf & hiking socks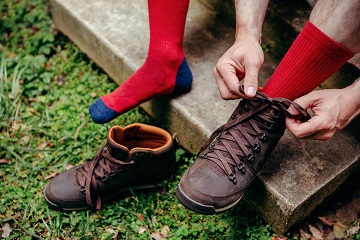 # Why do I need specific socks for hiking?
Hiking socks can be made from either wool or cotton. However, as wool is the only material that retains heat even when wet, we have chosen to offer special hiking socks made from the luxuriously soft and warm merino wool. Our models are reinforced by loop-knit stitching at the toe and heel, giving them a thick, fleecy feel. When it comes to comfort these socks are second to none, the ideal companion for any hike.
As an activity that allows you to connect with the world around you and experience nature's beauty, hiking has become more and more popular in recent years. Whether you're trekking in the mountains, running in the forest or walking the great hiking routes which wind though France, having the right equipment is essential.
# Discover our specially designed golf socks
Comfort and support are must-haves when it comes to golfing equipment. They also happen to be the main features of our golf socks. Our golf socks have special weft-knit soles for extra comfort and are made from cotton, the best naturally occurring breathable fabric. Moreover, they feature an elastic hoop around the instep to support your feet and maximise grip. This model has been designed with spiked golf shoes in mind and is the perfect ally when taking on an 18-hole course.