Knee-High socks from Mazarin
Mazarin
Here are all the pairs of Mazarin knee-high socks.
Among the sumptuous colours of Mazarin socks, you will find two iconic models.
The cotton lisle pair in Academy Green, in reference to the olive branches on the Academicians' robes, and the Super-Durable range, the most resistant socks in the world.
Mazarin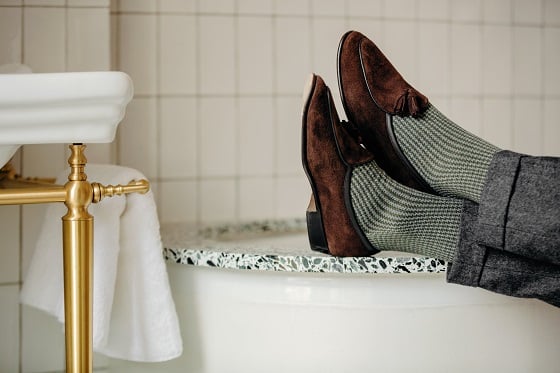 # Mazarin grand faiseur
Mazarin grand faiseur a été fondée en collaboration avec Alain Stark, tailleur de l'illustre maison Stark & Sons (tailleur de l'Académie Française). Depuis sa création, la maison française Mazarin grand faiseur est le créateur des chaussettes des académiciens, faisant ainsi du vert sa couleur fétiche. Les fils de soie, issus des broderies d'oliviers du très célèbre vêtement, ont permis d'identifier cette couleur si forte.
# La spécialité de la marque Mazarin grand faiseur
En plus de l'iconique couleur vert académie, Mazarin grand faiseur a développé les chaussettes de ville les plus solides du marché avec sa gamme Super-solide. Ces chaussettes en fil d'Écosse ou laine sont renforcées en polyamide. Ce matériau technique rend les chaussettes plus résistantes aux frottements et plus confortables. Produites dans des usines de pointes italiennes, les super-solides sont disponibles dans de nombreuses couleurs, unies ou à motifs. Avec cette gamme, vous pouvez donc assortir élégance et style sans négliger confort ou robustesse !
# Pourquoi porter des chaussettes Mazarin grand faiseur ?
Mazarin grand faiseur propose des modèles inégalables en termes d'élégance et de confort. La maison étoffe continuellement sa gamme de chaussettes : couleurs, matières (laine, cachemire, etc.), hauteurs (mi-haute, invisibles) et usages (sport, confort d'intérieur). Pour les adeptes de voyage, Mazarin grand faiseur est l'une des uniques maisons à proposer des bas de contention élégants et raffinés qui répondent aux critères médicaux (classe 2), fabriqués en Italie et contrôlés en Suisse.