Tennis socks
Tennis socks
No matter your level of tennis, having the right sports equipment is essential for a good game!
Here you will find our tennis socks, designed specifically for this sport: with models available in medium (mid-calf) or short height (ankle height).
The quality of the natural materials, the efficiency of the synthetic materials and the vintage pattern with colourful stripes make these tennis socks the perfect touch of elegance.
Chaussettes de tennis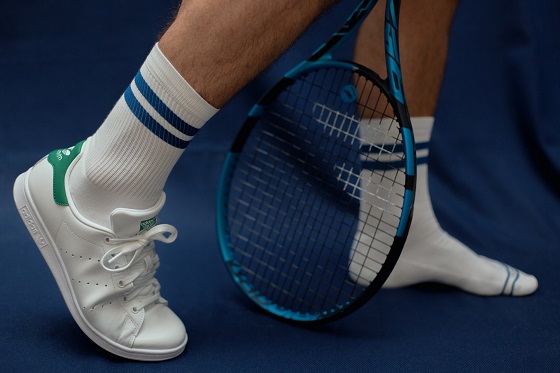 # Des chaussettes de tennis techniques
Choisir des chaussettes faites pour le tennis est indispensable pour la bonne pratique de ce sport, au même titre que des chaussures de sport ! Nos chaussettes de tennis répondent à des caractéristiques bien précises qui bénéficient à votre santé :
Favoriser la santé : L'épaisseur des chaussettes de tennis, couplée à la souplesse de la matière, leur confère un excellent amorti. Cela est indispensable pour réduire les chocs entre votre pied et le sol et éviter de finir la séance de sport avec les pieds douloureux. De même, cela va fortement contribuer à minimiser les dégâts aux articulations, et cela favorise la récupération. Il est très important d'avoir les pieds bien protégés lors d'une activité sportive afin d'éviter les douleurs et les courbatures.
Une hauteur adaptée : Nos chaussettes de tennis sont soit des chaussettes de tennis courtes (mi-mollet) soit des chaussettes de tennis très courtes (hauteur cheville). Ces hauteurs sont idéales car elles vous permettent de réaliser des mouvements plus importants en conservant votre agilité. Vous ne serez pas restreint par des chaussettes qui compriment toute votre jambe.
Un maintien optimal : Les chaussettes de tennis bénéficient d'une très bonne élasticité judicieusement répartie sur la chaussette. Elles ont ainsi un excellent maintien. Vous n'aurez pas à les réajuster en permanence pendant votre activité. En outre, cette élasticité permet également aux chaussettes de tennis de s'adapter parfaitement aux formes de votre pied.
# Des chaussettes de tennis plus confortables
Nos chaussettes de tennis sont tricotées principalement à partir d'un coton d'excellente qualité qui est peigné, ce qui leur confère une grande douceur, et ce même après plusieurs lavages. Le tricotage est réalisé en bouclettes, ce qui garantit un confort et un support accrus au niveau de la semelle alors plus épaisse.
De plus, la présence de bandes élastiques, notamment aux extrémités, assure un maintien optimal tout au long de l'effort. Vous n'aurez pas à les réajuster constamment !
Enfin, les paires de chaussettes tennis sont bien aérées. Les parties au niveau du cou de pied et des orteils sont tricotées de telle manière à pouvoir laisser respirer le pied. La transpiration est ainsi rapidement éliminée, et les chaussettes restent agréables à porter même après votre séance.
Bon à savoir : Nos modèles sont unisexes, il s'agit de chaussettes de tennis homme comme de chaussettes de tennis femme !
# Des chaussettes de tennis durables
La pratique d'une activité sportive comme le tennis implique d'être constamment en déplacement. Cela signifie également que vous augmentez les mouvements de friction intensive dans vos chaussures, et par conséquent, l'usure de vos paires de chaussettes.
Ainsi, une paire de chaussettes de tennis trop fine et non renforcée s'usera considérablement plus vite qu'une paire adaptée. Nous avons élaboré nos chaussettes de tennis en prenant en compte ces considérations techniques afin de pallier cette usure accélérée.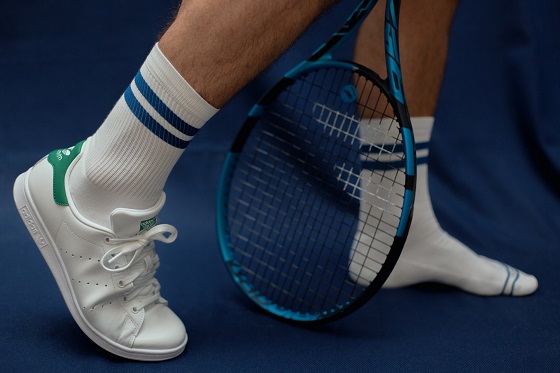 Les chaussettes de tennis sont tricotées à partir d'un coton d'excellente qualité qui conservera son aspect et sa texture pendant longtemps. Elles sont également rendues plus robustes avec la présence de polyamide. Cette matière synthétique est réputée pour sa résistance exceptionnelle. De plus, les chaussettes de tennis sont particulièrement renforcées aux pointes et aux talons, car il s'agit des zones les plus mobilisées et sensibles à l'abrasion.
Enfin, nos chaussettes de tennis intègrent une part d'élasthanne. La matière épouse ainsi parfaitement les formes du pied sans excédent, ce qui limite encore l'usure.
# Des chaussettes blanches tendances
Pour les plus attentionnés d'entre vous, nous avons veillé à vous proposer des chaussettes qui complètent une tenue de joueur de tennis dans les moindres détails ! Nos chaussettes de tennis ont un motif vintage : elles sont ainsi majoritairement blanches, et agrémentées de bandes de couleurs différentes à choisir selon vos goûts personnels !
Ces chaussettes blanches peuvent également se porter hors du cadre d'une activité physique. Vous pouvez ainsi les associer à des sneakers pour adopter un look résolument sportswear.