Women's socks
Socks for women
Discover all of our socks for women in mid-calf (short) and knee-high (long), available from size 36 to 41 or more depending on the model.
Our ranges of women's socks are characterised by their materials (cotton lisle, wool, cashmere), their designs (plain, glittery, patterns) and their finishes.
For you or to give as a gift, women's socks are chic and feminine, ideal for everyday wear with all your outfits!
Chaussettes femme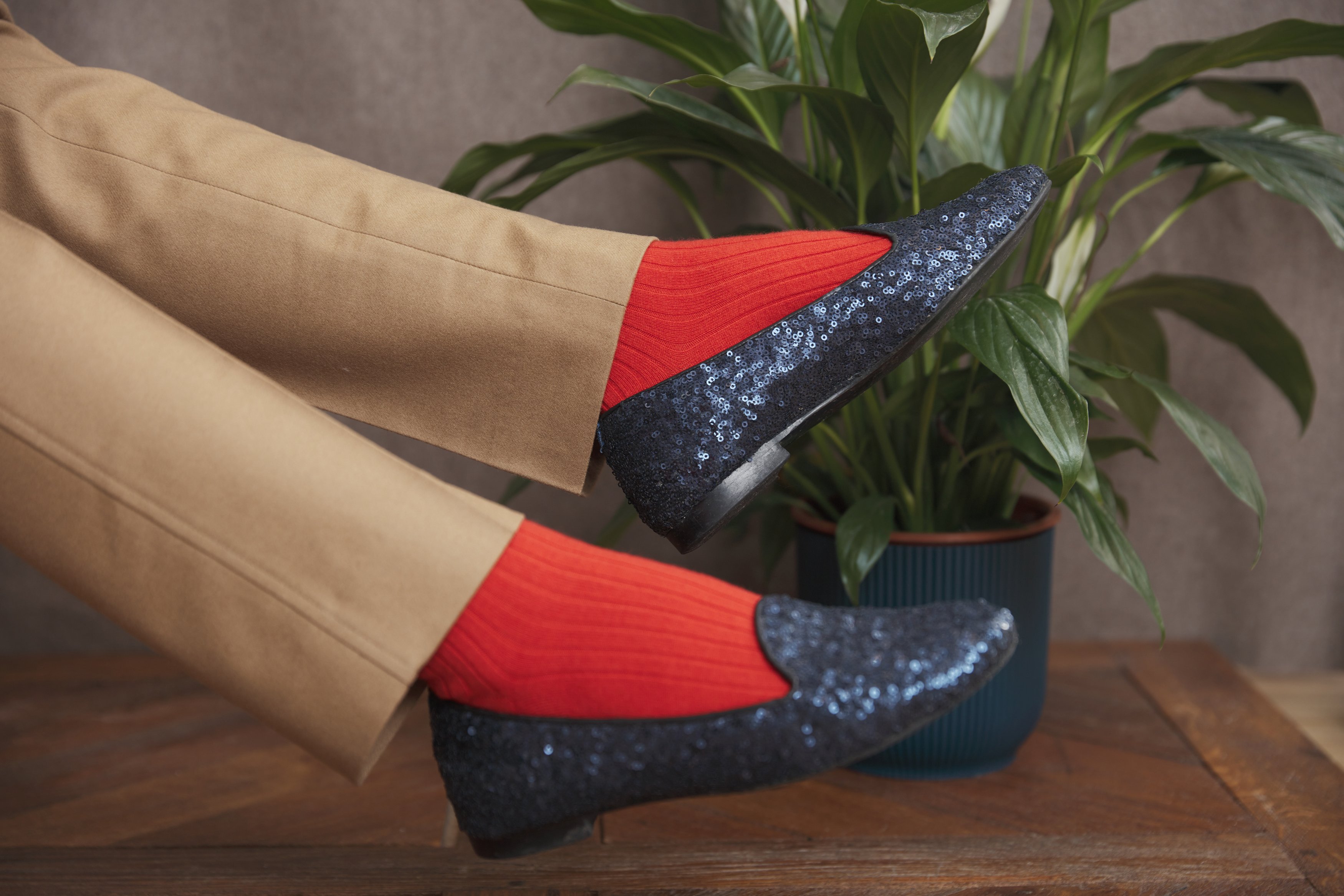 # Nos chaussettes femme
Mes Chaussettes Rouges, spécialiste des chaussettes de luxe, propose une large gamme de chaussettes homme et femme adaptées à tous les styles et qui vous accompagnent au fil des saisons.
Pourquoi avoir des gammes de chaussettes spécifiques pour femme ?
Satisfaire tous les goûts : même s'il est possible pour vous mesdames de porter des chaussettes homme à partir du 39, les chaussettes femme peuvent vous permettre d'ajouter une touche féminine tendance et raffinée à vos tenues !
Adapter les pointures : les modèles femme sont disponibles à partir du 36 ;
Affiner les formes : les morphologies féminines sont généralement plus étroites que celles des hommes (mollets, chevilles). Les chaussettes femme sont donc tricotés sur des machines aux cylindres plus étroits, permettant d'ajuster la largueur des chaussettes à la perfection.
# Trouver la paire de chaussettes femme idéale
Il est important de bien choisir sa paire de chaussettes en fonction de la hauteur (chaussettes hautes ou chaussettes basses), des matières et de leur style afin d'assurer un confort maximal.
Choisir sa hauteur de chaussettes femme
Les chaussettes femmes sont disponibles en trois hauteurs, chacune adaptée à un usage spécifique :
Les matières des chaussettes femme
Maintenant que le choix de la hauteur est fait, trouvez la matière de chaussettes adaptées à vos besoins.
Les 100% fil d'Écosse : la marque française Mazarin propose des chaussettes en 100% fil d'Écosse, principalement des mi-bas. Elles se distinguent par leur finesse et leur légèreté et sont idéales à porter toute l'année. Gammarelli, le fameux tailleur des Papes italien, décline également ses modèles iconiques en hauteur mi-bas et mi-mollet en noir (teinte des prêtres), violet (pour les évêques) et rouge (couleur des cardinaux).
Le fil d'Écosse super-solide : ces chaussettes femme super-solides sont uniques en leur genre ! Imaginées par Mazarin, ces modèles de chaussettes sont d'une résistance incroyable grâce à leur renfort en polyamide (utilisé pour les amarres de bateaux). Les Super-solides femme sont disponibles chez Daphné, marque pour femme de Mazarin. Elles ont un liseré doré à l'extrémité haute des chaussettes pour la touche féminine délicate et raffinée.
Le coton supersoft : les chaussettes femme en coton supersoft sont réputées pour leur douceur. Leur coton est naturellement plus duveteux, toucher renforcé par l'aspect lisse des modèles, plus doux sur la peau. Les Supersoft se distinguent aussi par leur finesse et leur tenue impeccable sur la jambe. Créez votre semainier personnalisé grâce au panel de couleur proposées par cette gamme !
Le coton bio : les chaussettes femme en coton bio sont appelées les non-comprimantes, une gamme pensée pour tenir sans serrer. Leur secret ? L'élastique est réparti sur toute la longueur des chaussettes pour favoriser la circulation sanguine sans serrer à un seul endroit.
La laine mérinos : Mazarin propose des chaussettes en laine mérinos en hauteur mi-bas (sous le genou). Elles sont parfaites à porter pour des temps d'hiver doux car leur laine est chaude, isolante mais relativement fine.
La laine nattée : Daphné a une gamme en laine particulièrement stylisée et raffinée. Le tricotage de ces chaussettes femme est dit "natté" car il a un aspect en tressé en relief qui donne épaisseur et confort aux modèles. Des chaussettes femme composées de 80% laine, elles sont bien chaudes et idéales à porter dans des bottines et bottes par exemple. Une paire de chaussettes cocooning parfaites pour passer un hiver les pieds bien au chaud !
Le cachemire : les chaussettes en cachemire sont exceptionnelles par leur épaisseur, leur chaleur et leur douceur. En hauteur mi-bas et mi-mollet, ces chaussettes d'hiver sauront satisfaire les plus frileuses d'entre vous grâce à leur capacités isolantes et à leur épaisseur. Leur plus ? Les fibres de cachemire permettent des teintes de chaussettes ravissantes et colorées qui se marient particulièrement bien avec leur large liseré doré.
La soie :
Les 100% soie : les chaussettes en soie se caractérisent par leur finesse, leur légèreté et surtout leurs propriétés thermorégulatrices. Elles sont particulièrement soyeuses au toucher et leur aspect brillant permet d'obtenir des teintes vives et lumineuses.
Cachemire & soie : vous recherchez de la finesse et de la chaleur en hiver ? Ces chaussettes sont faites pour vous : la parfaite combinaison entre chaleur du cachemire et finesse de la soie. La douceur et le brillant de ces deux matières en font des chaussettes d'un duveteux et d'une brillance sans pareil !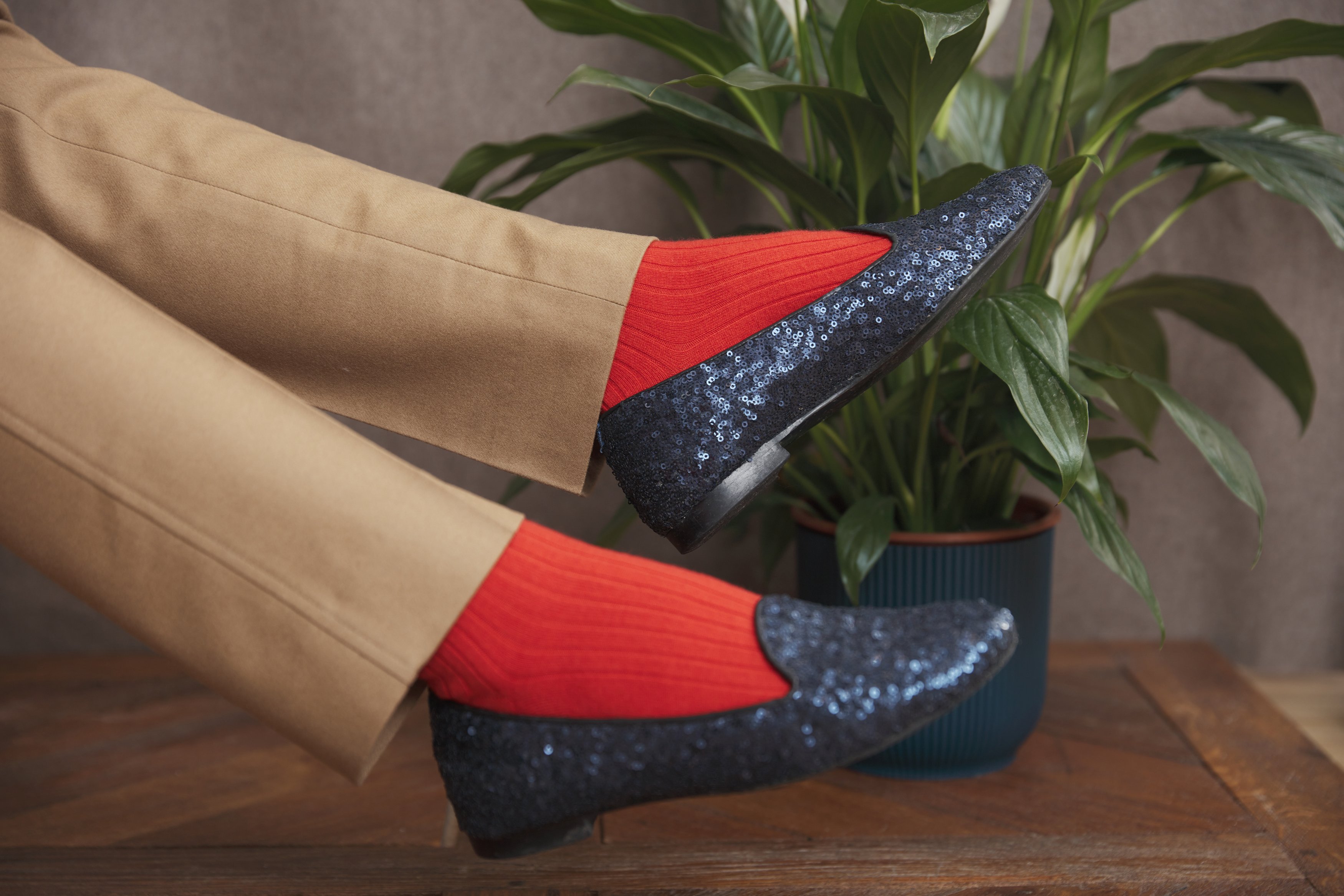 Les chaussettes femme à motifs
Comme promis, vous trouverez dans notre gamme de chaussettes femme, des paires pour tous les goûts, les envies et les styles !
Les chaussettes fantaisie : Daphné et Bonne Maison proposent des chaussettes femme made in France au tricotage fantaisie original et délicat. Les Daphné sont riches en histoire : la collection Rome reprend les emblèmes de la ville qui ont fait sa réputation (les Pins Parasols, La villa Borghese, les oies du Capitole, le Colisée, les lauriers de la couronne de César). Et si vous recherchez des motifs plus abstraits, nous vous conseillons les chaussettes françaises Bonne Maison dont le tricotage est réputé pour être très fin et les associations de couleurs tendances.
Les chaussettes femme paillettes : la marque Daphné a une gamme de chaussettes brillantes ravissantes. Ces mi-mollet pailletées sont disponibles en une dizaine de coloris. Qu'elles soient sombres aux paillettes argentées (noir & argent ou bleu marine & argent) ou vives avec des billants dorées (rouge & doré, bleu ciel & doré, etc.), ces chaussettes peuvent se porter en toute occasion. Elles apporteront une touche d'originalité à vos tenues habillées en toute discrétion et seront le détail fashion ultime de vos tenues décontractées !
# Les autres modèles de chaussettes femme
Chaussettes femme sport
Parce que chaque activité mérite sa paire de chaussettes adaptée, il existe aussi une gamme de chaussettes femme sport ! Les chaussettes de sport Mazarin sont idéales pour pratiquer la course à pied, faire de la randonnée, jouer au golf ou au tennis. Chaque modèle de chaussettes en coton ou en laine a des renforts spécifiques pour résister à l'activité physique : une semelle en bouclette plus épaisse et confortable, des renforts en synthétique plus solides face à l'usure, une élasticité impeccable pour une meilleure tenue, le tout pour protéger les pieds des frottements, ampoules et à-coups.
Leur plus ? La variété des couleurs proposées pour s'accorder à toutes vos tenues de sport et leur design vintage avec leurs larges bandes colorées.
Offrir des chaussettes femme
Nous proposons également des coffrets de chaussettes femme pour les grandes occasions ou tout simplement pour (vous) faire plaisir. Les coffrets cadeaux chaussettes femmes sont idéales pour découvrir les différentes gamme de chaussettes ! Une idée cadeau originale et utile ! Découvrez vite nos coffrets cadeaux chaussettes femme dans notre boutique en ligne.