Wool socks women
Women's Woollen Socks
All our wool socks for women are knitted with high-quality Australian Merino wool.
With an array of styles, patterns, and lengths to choose from, there's a pair for every occasion in our selection of women's wool socks.
Soft and warm, these Merino wool socks are perfect for winter. Choose between Merino wool socks or a cashmere Merino blend.

Chaussettes laine femme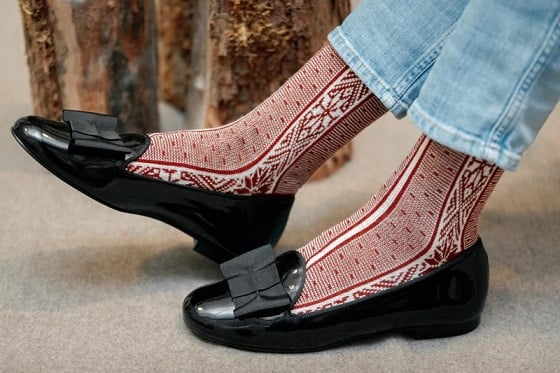 # D'où viennent les chaussettes laine pour femme
La laine est une matière constituée d'après la fibre des poils de la toison des animaux comme les chèvres, moutons, chameaux ou encore lapins. La qualité de la laine dépend donc de l'animal qui la produit, de l'épaisseur de son pelage, de l'environnement dans lequel il est élevé, etc.
C'est la laine de mouton qui est la plus répandue car le mouton s'adapte facilement aux différents climats dans le monde. Sa tonte a lieu une fois dans l'année (voire deux) au printemps, lorsque son pelage est particulièrement dense. Une fois la tonte réalisée, la laine est nettoyée puis on effectue le cardage. Qu'est-ce que le cardage ? Il s'agit d'une opération qui consiste à diviser les fibres de laine et à retirer les dernières impuretés grâce à une carde, un peigne possédant une planche garnie de pointes recourbées en acier. Les fibres sont par la suite défeutrées, c'est-à-dire redressées, puis on procède à la filature à l'aide d'un métier à tisser. Le fil est tordu afin qu'il soit le plus solide et surtout le plus régulier possible. Enfin, après toutes ces étapes, les fibres sont entrecroisées avec des fils de trame de manière à obtenir des fils de laine plus ou moins souples et épais pour leur utilisation future. Cette douce laine est ensuite consacrée au tricotage des chaussettes laine femme.
N.B : la laine reste une des fibres les plus utilisées dans le textile de nos jours, notamment grâce à ses capacités thermiques isolantes. Les chaussettes en laine pour femme gardent 80% d'air dans leur volume afin de garder le pied bien au chaud mais aussi au sec lorsque les températures sont basses.
# Quels choix faire parmi nos chaussettes en laine femme
Les paires en laine chez Mes Chaussettes Rouges sont de véritables incontournables de votre garde-robe hivernale ! Pourquoi ? Car ce sont des chaussettes chaudes idéales à porter par basses températures : elles sont douces, épaisses et particulièrement confortables ! Des chaussettes en laine d'une grande qualité pour vous apportez douceur et chaleur. Une sélection de paires de chaussettes haut de gamme, résistantes et élégantes pour être stylé cet hiver. Chaussettes colorée, unies ou imprimées, nos chaussettes en laine femme sont tendances et accompagnent tous vos looks !
Nous vous proposons 5 gammes de chaussettes en laine pour femme tricotées avec des laines de différentes épaisseurs pour convenir à tous les besoins :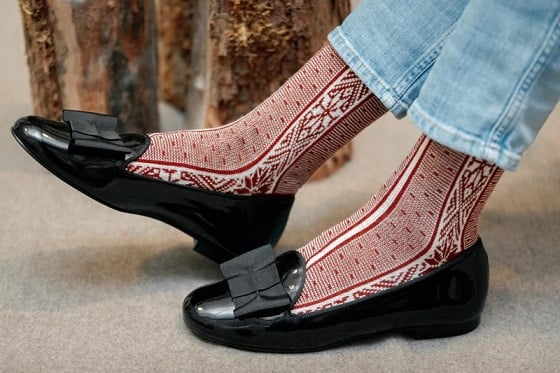 # Prendre soin de ses chaussettes laine femme
Vos chaussettes en laine femme nécessitent des précautions de lavage si vous voulez conserver la qualité de vos paires à long terme !
Deux options s'offrent à vous :
Le lavage de vos chaussettes en laine à la machine : protégez la matière en plaçant vos paires dans un sac de lavage, cela évite le contact avec le tambour de la machine. Ensuite, lavez-les avec un programme spécial laine ou délicat, à 30° de préférence et avec un essorage très faible (600 tours maximum) ;
Le lavage à la main de vos chaussettes en laine : en cas de doute, c'est toujours la meilleure option ! Dans ce cas, privilégiez un lavage à l'eau froide ou tiède (environ 30°C) et malaxez délicatement vos chaussettes avec une lessive ou un savon doux sans trop les tirer pour conserver la forme naturelle des fibres ;
Pour le séchage, nous vous conseillons de privilégier un séchage naturel en disposant vos chaussettes à plat afin que les fibres se resserrent naturellement et que vos chaussettes paraissent comme neuves. Et attention, nous vous déconseillons fortement le sèche-linge !