Socks in supersoft Cotton
Supersoft cotton socks
Try out these cotton socks, distinguished by their lightness, softness and flexibility thanks to their smooth or unmercerised appearance.
Each pair of socks is particularly soft because of the absence of ribs and the use of unmercerised cotton.
Explore as well our range of women's cotton socks and the invisible range.
Chaussette coton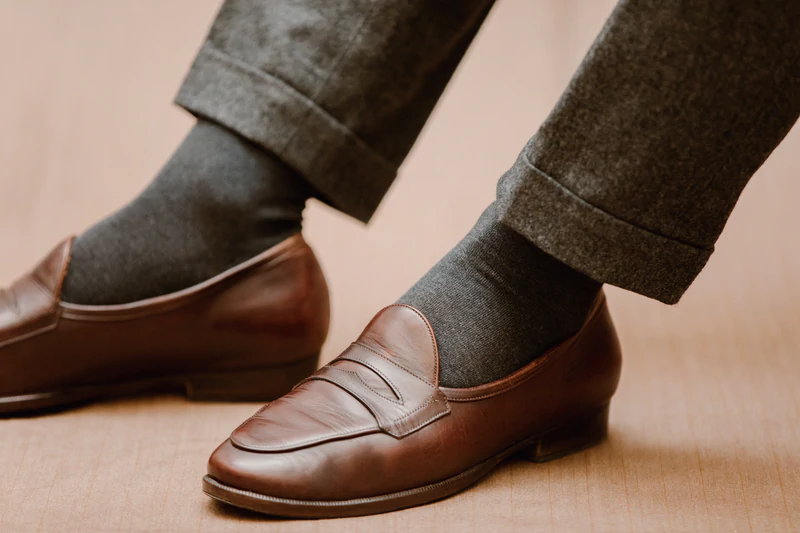 # La particularité d'une chaussette coton
S'il existe bien un spécialiste de chaussette coton, c'est bien Mes Chaussettes Rouges ! Nous proposons une multitude de gammes de chaussette coton dont chaque modèle en coton a sa particularité en termes d'aspect, d'épaisseur, de couleur, de forme, etc.
Avant de vous dévoiler chaque gamme, revenons sur les caractéristiques qui font d'une chaussette coton une paire si particulière.
Chaussette en coton : la provenance
C'est la marque française Mazarin qui propose le plus grand nombre de chaussettes coton. Pour développer chacune de ses gammes, Mazarin utilise un coton d'une qualité supérieure en provenance d'Egypte. Le coton égyptien est réputé pour sa qualité : il a de longues fibres plus résistantes sur la durée et est particulièrement doux.
D'où vient la douceur d'une chaussette en coton
Le douceur d'une chaussette en coton peut s'expliquer par deux facteurs :
Son aspect : une chaussette lisse a un toucher plus duveteux car elle est plus nette ;
Le traitement des fibres : chaque fil de coton, avant d'être utilisé pour tricoter, est généralement traité par une technique appelée la mercerisation. Ce processus consiste à brûler les morceaux de fibres qui dépassent du fil afin de lui donner un aspect et un toucher plus net et brillant. Ainsi, les chaussettes non mercerisées sont plus mates et surtout plus douces.
# Pourquoi porter une chaussette coton ?
Comme évoqué précédemment, une chaussette en coton est réputée pour sa douceur. La douceur de la chaussette coton protège à la fois la peau des frottements (matière hypoallergénique) et assure une sensation de confort grâce à son aspect duveteux. Une chaussette coton est également plus légère et souple : le coton est une matière aérée qui laisse les pieds respirer. Les fibres d'une paire en coton sont longues donc plus robustes et apportent aussi une certaine souplesse à la chaussette.
En plus d'être doux, le coton est isolant : il laisse les pieds respirer tout en conservant la chaleur corporelle pour maintenir les pieds à bonne température.
Et comme s'il vous fallait un prétexte supplémentaire pour vous convaincre d'essayer une chaussette coton : sachez que les modèles de chaussettes coton sont renforcés à la pointe et au talon pour mieux résister dans la durée.
Le plus ? Le coton de notre modèle ne bouloche pas grâce à une technique innovante développée par le filateur de Mazarin qui permet de filer de façon plus compacte et permet d'éviter les bouloches sans perdre la douceur du coton pour autant !
# Les gamme de chaussette coton
Mazarin propose plusieurs gamme de chaussettes en coton. Pourquoi ? Parce qu'une chaussette coton n'est pas une simple chaussette ordinaire. Chaque gamme a ses spécificités en termes de composition (pourcentage de coton), forme, coloris, etc.
Chaussette coton supersoft lisse
La gamme chaussette coton supersoft propose les chaussettes coton homme parmi les plus douces grâce à leur aspect lisse sans côte qui renforce le toucher doux. Elles se distinguent également par leur finesse et leur souplesse qui leur donne une tenue impeccable sur la jambe. Cette gamme existe pour homme en hauteur mi-bas et mi-mollet mais également en chaussette en coton pour femme en hauteur mi-bas, mi-mollet et cheville dans plus de 6 coloris !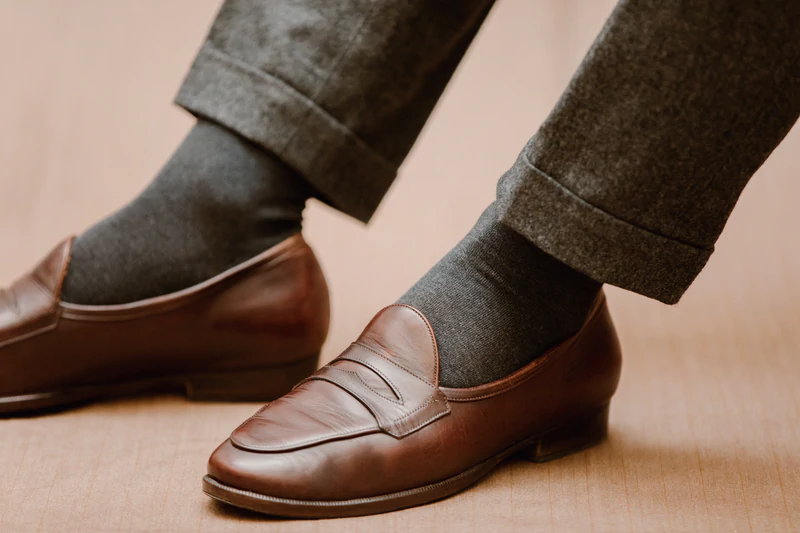 Chaussette coton à côtes
Généralement, les chaussettes coton de qualité de Mazarin sont en 100% fil d'Écosse, un coton égyptien premium mercerisé. Mais pour certaines paires, le coton est non mercerisé ! Cette technique de finition des fibres de coton rend le fil plus doux et donc, après tricotage, la chaussette en coton est plus duveteuse. Les chaussettes homme coton non mercerisé existent en mi-bas (hautes) et en mi-mollet (courtes).
Chaussette coton bio sans élastique
Le coton égyptien utilisé par Mazarin est issu d'une exploitation raisonnée qui cultive le coton de sorte à limiter ses besoins en eau. Par exemple, on utilise un coton issu d'une exploitation bio pour la gamme de chaussette non-comprimante : il est exploité de façon naturelle, sans engrais, afin de limiter l'impact de sa culture sur son environnement naturel.
Ces chaussettes sont sans élastique à l'extrémité haute pour ne pas serrer la jambe. L'élastique a été réparti sur toute la longueur de la chaussette pour bien maintenir la jambe, sans jamais la serrer.
Chaussettes coton pour femme
Chez Mes Chaussettes Rouges, nous proposons aussi des chaussettes femme coton :
Les socquettes coton
Avis aux amateurs de chaussettes invisibles et de coton : essayez les socquettes homme et socquettes femme Mazarin. La version socquettes pour basket est en coton et les invisibles pour mocassin mélangent coton et lin pour davantage de légèreté.