Super-durable mid-calf socks in wool
Super-Durable wool socks
Discover our selection of Super-Durable wool mid-calf socks (short).
Super-Durable wool socks are very resistant and warm for winter, ideal to wear with city shoes because they are not too thick.
Super-Durable wool knee-highs are available in solid colours or patterns (as well as in knee-highs).
Les Super-solides en laine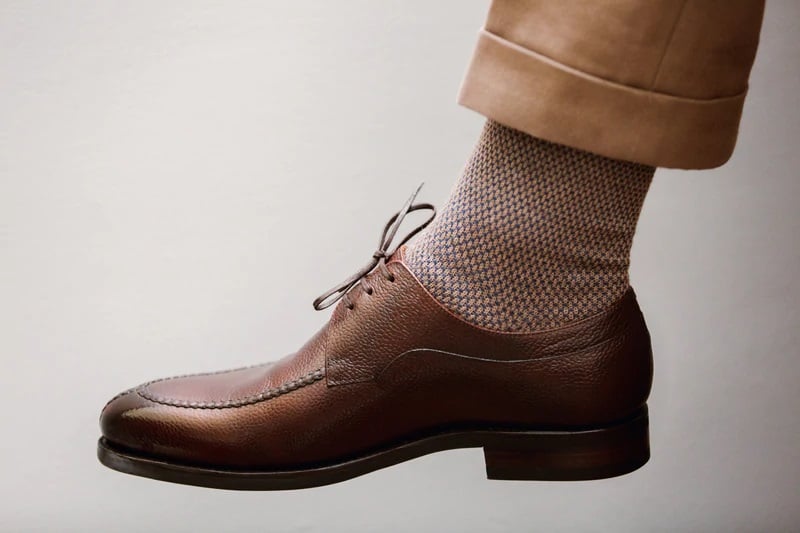 # Pourquoi affirmer que ce sont les chaussettes les plus solides du marché ?
Ces chaussettes sont les plus solides du marché pour deux raisons :
Leur composition : l'association des meilleurs laine et fibres synthétiques (le polyamide & l'élasthanne) donne un mélange de matières inégalé en termes de résistance à l'usure ;
Leur succès au test Martindale : ce test d'usure de renommée mondiale a été appliqué à la gamme Super-solide qui a obtenu les meilleurs résultats de résistance aux frottements parmi un échantillon de 15 paires de marques haut de gamme. Soit une résistance de près de 49 000 tours, résultat qui ne peut pas être converti en nombre de pas mais correspond à un usage très intensif de la matière.
# Pourquoi ajouter des matières synthétiques ?
Les matières synthétiques donnent de la résistance aux chaussettes. Nous avons choisi le polyamide pour sa robustesse - c'est la matière utilisée pour créer les amarres des bateaux - et l'élasthanne car il donne une impression de netteté et cet aspect lisse sans plis à la chaussette.
# Quand porter les Super-solides en laine ?
Les Super-solides en laine se portent principalement en hiver. En termes d'épaisseur, elles se situent entre la laine mérinos et la laine 90% : elles ont une épaisseur suffisante pour vous tenir chaud et résister aux frottements tout en vous permettant de les glisser dans tous les types de souliers. Les modèles en laine super-solide mi-mollet existent aussi bien en couleurs unies qu'à motifs (côtes colorées ou caviar).