Casual Socks
The Casual Range
Our selection of casual socks. Often considered as the perfect weekend socks and characterised by their patterns, comfort, and style. With creative patterns ranging from stripes to Mazarin's Ivy League range, there's a pair for everyone.
These casual socks can be worn during the week with relaxed outfits, with trainers on the weekend, or even paired with smarter outfits for a preppy style!
Casual Socks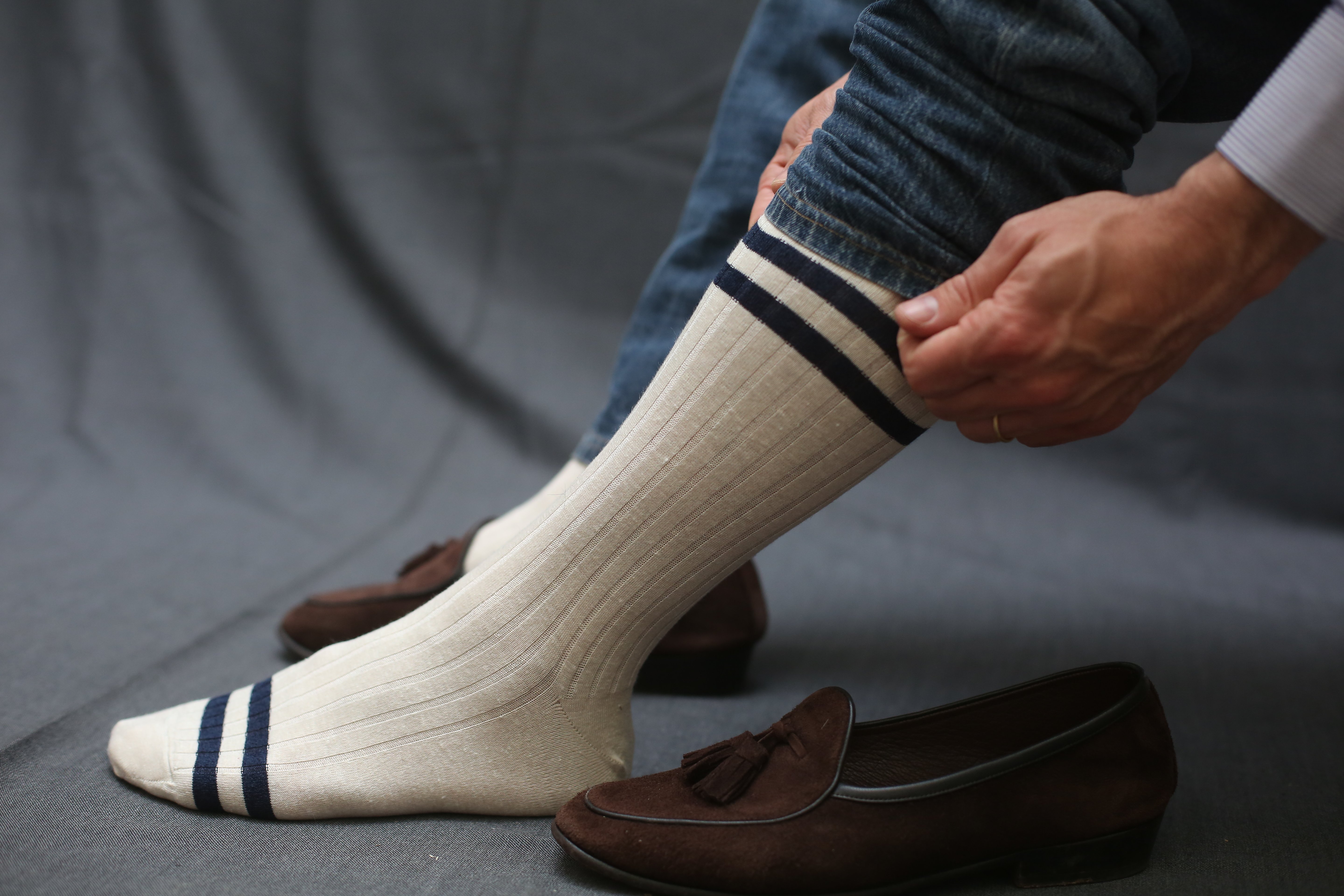 # Why wear casual socks?
Lots of people like to change up their socks when it comes to the weekend and take a break from formal workwear. With working from home also now commonplace, it is only natural that workwear has become more relaxed as well. Ties have been the first to go, could suits soon follow them? In light of these developments, we have searched far and wide for best casual socks to fit your every need.
What exactly are 'casual' socks?
In our experience, the term 'casual' refers to socks that are perhaps less traditional, especially when it comes to their patterns. Casual socks feature more creative and striking patterns, such as large hoops around the cuff, or an extra-large houndstooth design.
Casual socks are also those that are made from less formal materials: smooth cotton instead of cotton lisle, and naturally mottled linen which is perfect for a smart-casual look.
# The Deckchair Stripes range
Mazarin have released a new range of less formal looking Deckchair socks. You're right to question what the link could possibly be between a pair of informal socks and a deckchair. This new range was inspired not by the piece of furniture as a whole (which would be odd) but by the distinctive thin stripes that are found on the canvas of deckchairs. These signature stripes are synonymous with holidays and travel, notably due to popularity of the stripey deckchair during the golden age of ocean liner cruises.
Channelling the holiday atmospheres which inspired them, these socks will bring a relaxed feel to your outfits. As socks go, they're pretty ambidextrous; they'll bring a smart-casual look to your more formal outfits, and a touch of class and style to your most relaxed outfits! Chinos and brogues or jeans and trainers, these socks will go with any look.
These socks are also special due to their blend of fabrics. They are knitted from a mix of cotton lisle and non-mercerised cotton, resulting in a practical sock that combines finesse with comfort and texture.
# The Ivy League range
The post-war fashion trends that came out of elite American universities have become famous for their blend of sporty and stylish, smart and casual. This iconic style is sometimes referred to as 'preppy' - which comes from the preparatory schools often previously attended by the elite students who first donned the style. Mazarin have taken one of the most classic motifs from this style, sporty coloured hoops, and created a line of socks that will make you feel like a bona fide Ivy League student.
These large hoops feature on several different pairs of socks from Mazarin's new range, with two coloured rings hugging the cuffs and toes of the socks. The perfect sporty, creative detail for a sock that strikes a balance between casual and stylish. The blend of fabrics used to knit these socks also makes them ideal for the weekend; Mazarin have mixed cotton and linen to create a light and comfortable line of socks with a natural mottled colour. Casual socks don't get much better than this.