Casual Socks
The casual range
Discover our selection of casual socks, often considered as the perfect weekend socks and characterised by their patterns, comfort, and style.
With creative patterns ranging from stripes to Mazarin's Ivy League range, there's a pair for everyone.
These casual socks can be worn during the week with relaxed outfits, with trainers on the weekend, or even paired with smarter outfits for a preppy style!
Chaussettes décontractées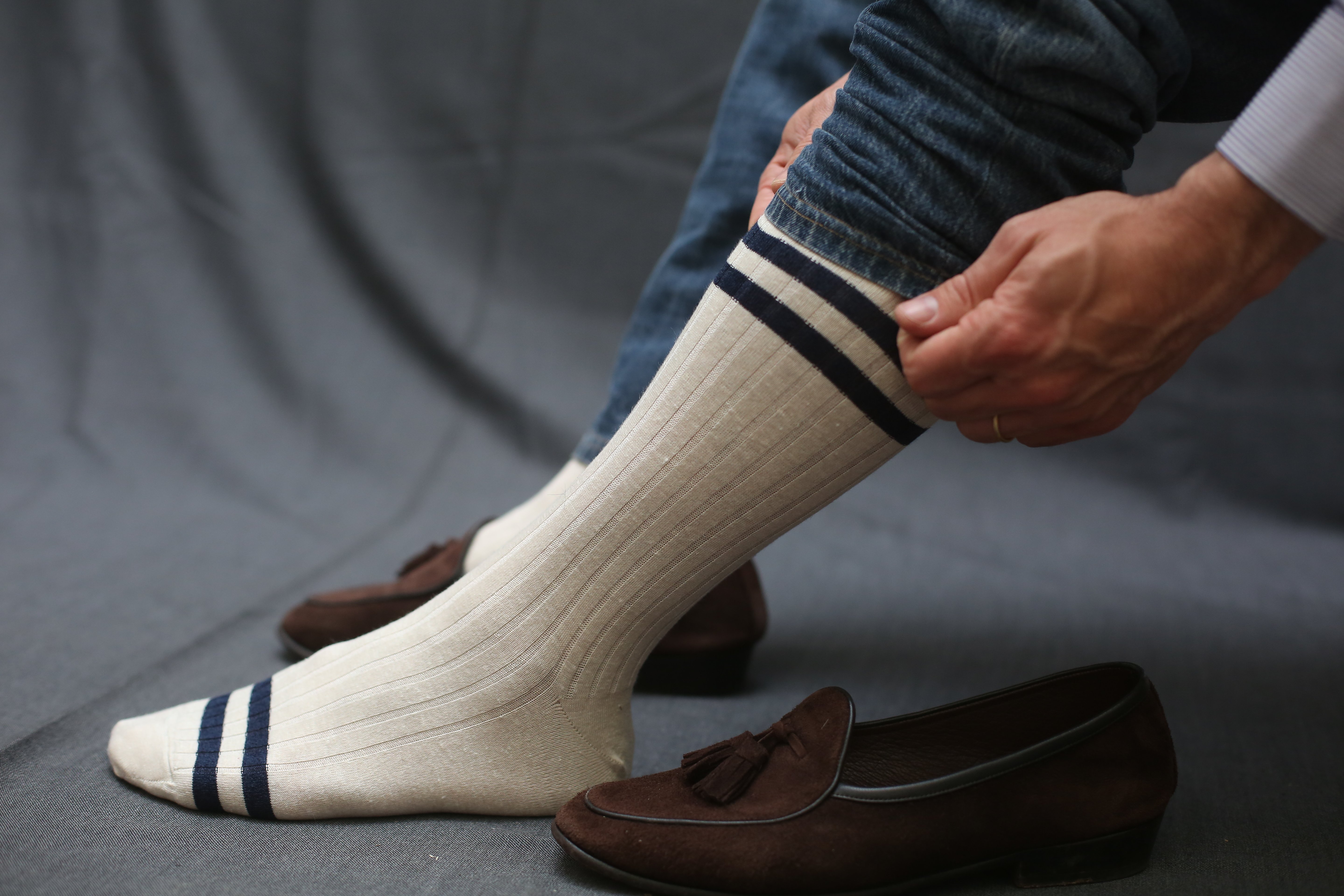 # Pourquoi porter des chaussettes décontractées ?
Nombreuses sont les personnes qui aiment changer leurs modèles de chaussettes les jours de weekend pour marquer une rupture avec leurs tenues formelles. De plus, avec la généralisation du télétravail, les tenues professionnelles tendent à être plus décontractées (après la disparation de la cravate, l'abandon des costumes ?). Nous avons donc cherché les meilleurs modèles de chaussettes qui s'adaptent le plus à ces nouveaux besoins/envies.
# Qu'entend-on par chaussettes décontractées ?
il s'agit de chaussettes moins "classiques" dans leurs motifs : on retrouve souvent des motifs plus fantaisie avec de larges rayures ou bandes en haut de la chaussette, des motifs plus larges comme un pied-de-poule XXL, etc.
de paires aux matières moins formelles : moins de fils d'Écosse à cotes et plus de coton lisse par exemple ou encore du lin qui, par son aspect chiné, donne des chaussettes à l'allure chic décontractée.
# La gamme Transat, chaussettes décontractées
Mazarin a lancé une nouvelle gamme de chaussettes Transat à l'allure moins formelle. Pourquoi Transat ? Parce que ces chaussettes ont de très fines rayures verticales d'égale largeur, à l'image des motifs des transats disposés sur les ponts des bateaux de croisière de la Transatlantique.
Ces rayures donnent comme un air de vacances à vos tenues : elles apportent la touche casual chic à vos tenues habillées et redonnent une touche d'élégance à vos tenues moins formelles, en jean et baskets par exemple.
Vous apprécierez également le mélange de matières de ces chaussettes en Fil d'Écosse et coton : elles combinent la finesse du fil d'Écosse à la douceur du coton non-mercerisé, ce qui donne également du relief aux rayures !
# Les chaussettes Ivy League
La tendance Ivy League d'après guerre lancée par des étudiants des plus brillantes universités américaines est sans doute le style qui combine le mieux tenue chic et détail sportif pour un rendu décalé à la pointe de l'élégance. C'est pour cette raison que Mazarin a fait le choix de s'inspirer du motif le plus iconique de la tendance : les fameuses bandes de couleurs.
Mazarin propose donc plusieurs modèles de chaussettes mi-mollet avec deux larges bandes de couleurs à la pointe des pieds et en haut de la chaussette, le parfait détail sport qui donne cette touche de fantaisie à la chaussette et la rend moins formelle mais sans renier l'élégance ! On peut également considérer ces chaussettes comme des chaussettes de weekend du fait de leur composition : le mélange du lin et du coton leur donne un aspect chiné mois formel et apporte souplesse et légèreté à la chaussette pour un maximum de confort.