Braided belts
Italian braided belts
Discover the sumptuous Italian braided belts from the Italian brand Athison, the world specialist of braiding.
The Athison braided belts come in leather, suede, or viscose with a silver-colored buckle in chrome-plated brass.
These belts, in addition to being very elegant and made with high-quality materials, are very practical as they are easily adjustable to your size.
Explore all of our calf leather belts and exotic leather belts.
Ceinture tressée homme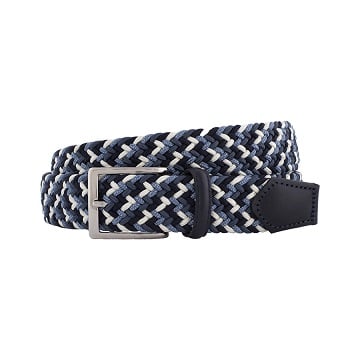 # Le savoir-faire d'une ceinture tressée homme Athison
Athison, entreprise familiale italienne créée en 1913, est la marque spécialiste de la ceinture tressée homme. Aussi élégant que pratique, ce type de ceinture est d'une qualité exceptionnelle, tant dans sa conception que dans ses finitions. Une ceinture de luxe pour exprimer tout le raffinement et l'élégance de l'homme qui la porte.
Ceinture tressée homme, l'origine
Le savoir-faire : La marque italienne est depuis 1970 le premier fabricant mondial de ceinture tressée homme. Son savoir-faire si particulier lui a été inspiré à la fois :
De ses connaissances en tressage de matériel comme les câbles et cordage, originellement son coeur de métier ;
Et d'une technique ancestrale inventée par Leonardo da Vinci qui permit les premiers tressages du cuir, technique aujourd'hui reprise par des machines à la technologie de pointe innovante.
Les finitions : chaque ceinture tressée homme se distingue par ses finitions d'exception qui ajoutent une touche d'élégance et de classe :
Boucles : ces ceintures de luxe ont deux modèles de boucles disponibles. L'un est en laiton massif chromé et l'autre est en métal doré, deux matières anti-corrosives et traitées contre l'oxydation ce qui permet à la ceinture de rester intacte avec le temps.
Passant & extrémité : quelle que soit la matière de la ceinture, son passant et son extrémité sont en cuir naturel surpiqué d'une légère couture très discrète.
Couleur : pour les ceintures tressées en cuir, le tannage du cuir est effectué grâce à une technique végétale naturelle qui rend la couleur plus "vraie'' et qui reste impeccable avec le temps, technique d'ailleurs plus respectueuse de l'environnement.
Un savoir-faire italien qui mêle artisanat, modernité et finesse. Une ceinture homme de luxe travaillée dans les moindres détails, parfaite pour exprimer son audace et son charisme..
Ceinture tressée homme, l'ingénieuse
Le tressage de ces ceintures haut de gamme Athison a de nombreux avantages, en plus de son aspect fantaisie-chic. En effet, la flexibilité permise par le système de tressage, ajouté à l'élasticité de certaine matière (notamment la viscose), permet à la ceinture de s'ajuster à toutes les morphologies et vous offre la possibilité d'ajuster sa taille à l'infini ! De plus, le tressage rend beaucoup plus simple le système d'attache de la boucle qui n'a pas besoin de trou et peut alors se refermer à n'importe quel endroit du modèle.
# Ceinture tressée homme, à chaque style sa matière
Le ceinture tressée homme est l'accessoire indispensable d'une tenue masculine. La finesse de son tressage et le mélange possible des couleurs de matières offrent un grand nombre de possibilités d'association de votre ceinture tressée à vos tenues.
Les matières : il est important de bien choisir la matière de votre ceinture tressée homme afin qu'elle corresponde à votre style vestimentaire. Les ceintures Athison sont disponibles en 3 matières différentes :
Ceinture en cuir : couleur marron foncé ou marron clair, le cuir utilisé pour les ceintures tressées homme est un cuir de vachette. Ce type de cuir est réputé pour sa souplesse et son épaisseur, qui lui apporte la résistance nécessaire pour garder sa qualité au fil du temps.
Ceinture suède : cette matière est réputée pour sa douceur et sa souplesse. Très légère, cette ceinture détonne par sa finition à l'aspect élégant. Les couleurs bleu marine et marron clair des ceintures tressées en suède ont un aspect sobre qui permet aux modèles de se fondre aisément dans une tenue.
Ceinture en soie artificielle : aussi appelée viscose, la soie artificielle dont sont composées ces ceintures ont l'avantage d'être très élastiques et flexibles. Chaque ceinture tressée homme en viscose s'adapte donc à l'infini à votre morphologie. Cette matière noble permet également de belles associations de couleurs, notamment comme avec ce modèle tricolore ou celui en nuancé de bleu.
N.B : si vous aimez particulièrement les cientures en cuir, jettez aussi un oeil aux ceintures Mazarin en cuir de veau et cuir exotique !
Les couleurs : la ceinture tressée homme est l'accessoire raffiné d'une tenue, le détail discret qui vous permet de personnaliser votre style vestimentaire. Voici nos conseils pour choisir la couleur de ceinture :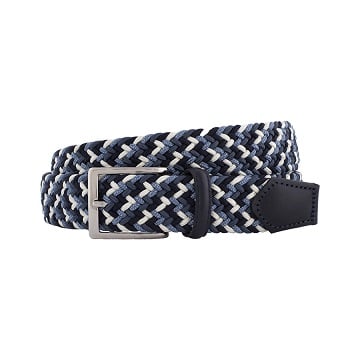 Les ceintures de couleur unies : généralement, leur couleur rappelle la couleur de vos souliers (comme pour les ceintures tressées homme en cuir marron foncé et marron clair ou en suède) ;
Les mélanges de couleurs : les modèles tressés multicolores ont un aspect plus fantaisie qui vous permettra d'oser un détail original grâce à votre ceinture en restant néanmoins dans la sobriété. Par exemple, si vous portez une tenue habillée dans les tons bleus, optez pour cette ceinture marine, ciel et blanc. Et si vous aimez les tenues décontractées en jean par exemple, ce modèle multicolore sera la touche originale de votre tenue.
N.B : les modèles de ceinture tressée homme en viscose ont un aspect plus décontracté qui, portées avec des tenues plus habillées, apportera la parfaite touche casual chic à vos tenues !
# Trouvez la taille idéale de ceinture tressée homme selon votre morphologie
Il ne suffit pas de trouver le modèle de ceinture qui vous plaît pour être satisfait… il vous faut aussi la taille parfaite qui vous assurera un maintien impeccable de vos tenues tout en vous apportant un confort !
Afin de déterminer la taille de ceinture qu'il vous faut, deux mesures sont possibles :
À partir d'une ancienne ceinture : mesurez la taille d'une de vos ceintures en partant de l'extrémité de la boucle jusqu'au troisième trou de la ceinture.
À partir de votre taille : mesurez votre tour de taille en insérant le mètre dans les passants de votre pantalon.
Une fois la mesure obtenue, reportez-vous au guide des tailles en haut à droite de la fiche produit.