Bresciani
Bresciani
From two-tone stripes to houndstooth and from cotton lisle to 100% cashmere, browse all the knee-high models from the master Italian sock maker Bresciani.

Bresciani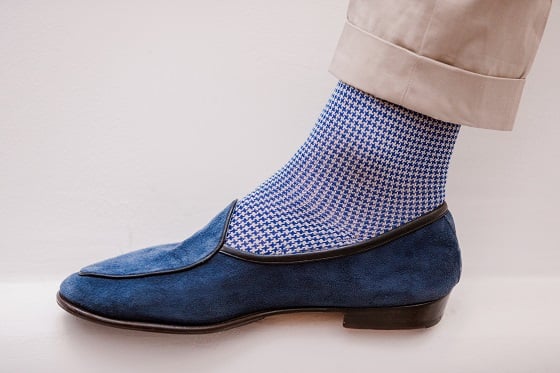 # La marque Bresciani
Bresciani est un fabricant de chaussettes italien fondé en 1970. Cette entreprise familiale, audacieuse et toujours à la pointe de la mode, travaille depuis longtemps en collaboration avec les plus grandes maisons de mode. La philosophie du créateur de chaussettes Bresciani se résume en deux mots : qualité et confort. La maison utilise des matières prestigieuses pour concevoir des chaussettes plus raffinées les unes que les autres.
# La spécialité de la marque Bresciani ?
La maison Bresciani se démarque par ses gammes de couleurs variées et ses motifs originaux toujours très élégants. Laissez-vous séduire par des mi-bas en fil d'Écosse vanisés (à rayures), en laine au motif pied de poule et pied de coq. Bresciani propose également de somptueuses paires de mi-bas en 100% cachemire d'une douceur inégalée et une collection de mi-bas et mi-molleat en lin d'une incroyable légèreté.
# Pourquoi porter des chaussettes Bresciani ?
Porter des chaussettes Bresciani, c'est toucher de près à l'élégance italienne ! Le style chic et soigné des chaussettes Bresciani permet d'oser des assortiments couleurs/motifs à la fois sobres et originaux. Pour l'anecdote, les modèles Bresciani sont réversibles, de quoi renouveler sans cesse votre style ! Et pour les plus curieux, le fil de couleur à la pointe du pied indique la taille de la chaussette.