Warm Knee-high socks
Warm knee-high socks
Discover our range of knee-high socks in wool, perfect for the colder days of winter (but still thin enough to fit in any shoe).
Wool is the ideal material for the colder month thanks to its insulating and thermoregulatory properties, perfect to protect you feet from the weather.
This is our selection of warm socks, from merino wool to Super-Durable wool or even the 90% wool for the thickest warmest socks.
Les matières chaudes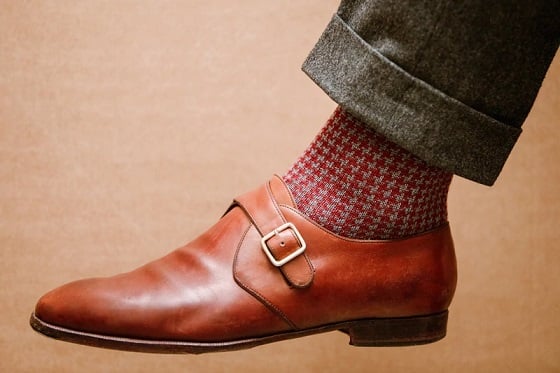 # Quelle matière porter pour avoir des chaussettes chaudes ?
Ce sont les matières animales qui isolent le plus et tiennent le plus chaud. Si vous cherchez des chaussettes chaudes pour des températures hivernales modérées, nous vous conseillons donc de vous tourner vers la laine ! Les chaussettes mi-bas tiendront plus chaud que les mi-mollet grâce à leur longueur, elles arrivent sous le genou, qui recouvre davantage la jambe.
# Quel type de laine choisir ?
Nous proposons plusieurs types de chaussettes en laine :
Les chaussettes en laine mérinos : c'est une laine assez fine, ces chaussettes se glissent facilement dans des souliers étroits.
Les chaussettes en laine super-solide : ces chaussettes sont chaudes et particulièrement résistantes à l'usure, légèrement plus épaisses que la laine mérinos.
Les 90% laine : elles sont caractérisées par leur épaisseur et leur douceur extrême. Elles tiennent bien chaud et sont particulièrement confortables.