Leather belts
Mazarin belts
Discover all the models of belts in crocodile, ostrich or calf leather from the brand Mazarin, and braided leather belts by the italian brand Athison.
All our men's and women's models are cut to fit your waist for a perfect custom finish.
Ceintures en cuir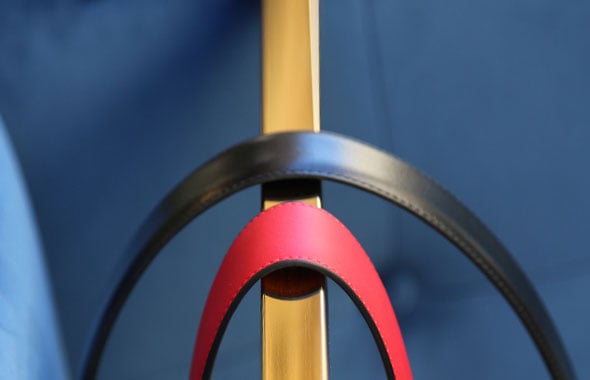 # La ceinture en cuir, un accessoire de mode
Sans un œil averti, il est difficile en voyant plusieurs ceintures de séparer le bon grain de l'ivraie. Nous allons aborder ici les différents critères qui vous permettront de choisir votre ceinture sans vous tromper.
La ceinture en cuir est probablement un des accessoires de mode les plus populaires chez les hommes, autant par ses fonctions utilitaires que ses qualités esthétiques. Désormais présent dans la majorité des gardes robes, cet accessoire pour homme est un indispensable. Si les adeptes du style classique peuvent privilégier les bretelles, le port d'une ceinture est généralement préféré. Les utilisations sont nombreuses :
La ceinture classique formelle : Cette ceinture en cuir habillée est la plus répandue (ceinture noire ou ceinture marron). C'est en effet la plus facile à porter au quotidien, que ce soit dans un milieu d'entreprise ou de façon plus casual. Elle est généralement assortie à la couleur des chaussures et réhausse une tenue sans exagération. Nous proposons des ceintures unisexe (ceinture cuir homme et femme).
La ceinture casual : La ceinture en cuir casual se porte de façon plus décontractée sur des tenues non formelles. Elle accompagne souvent les jeans, les chinos et autres pantalons. Elle se distingue souvent par le choix des boucles, des formes (notamment les ceintures tressées), des matières (suede, velours, laine, coton…). La ceinture casual se décline sous de très nombreuses formes.
# Le choix du cuir
Il s'agit sans doute du critère de choix le plus important pour les ceintures cuir de luxe, au même titre que pour tous les autres produits de maroquinerie ! Un cuir de mauvaise qualité aura tendance à se dégrader très rapidement, et notamment en plis d'aisance disgracieux, qui, bien qu'inévitables, seront considérablement plus marqués. Acheter une ceinture en cuir de qualité, c'est acheter un cuir pleine fleur, de belles peausseries.
Les ceintures Mazarin sont disponibles en cuir de veau, l'un des plus beaux cuirs qui, bien que classique, n'en reste pas moins un choix intemporel pour la conception de beaux produits.
Mazarin propose également des ceintures en cuir exotique. Vous trouverez notamment des ceintures en alligator légèrement vernies, dont la peau est issue de la partie ventrale de l'animal. Vous pourrez également trouver des ceintures en autruche véritable. Ces deux matériaux d'exception apportent à vos tenues une élégance et une originalité parfaitement maîtrisées.
Il faut également s'assurer d'avoir une ceinture souple en cuir. Pour cela, une fois placée sur un support en son milieu, il faut apprécier la courbure. Vous saurez ainsi s'il s'agit effectivement d'une ceinture cuir souple. Toutes nos ceintures homme sont doublées en cuir de vachette, et conservent ainsi une belle souplesse.


# Bien choisir sa taille de ceinture en cuir
Voici un guide des tailles simplifié. Le choix de la taille de la ceinture est définie par deux critères. Il faut d'abord choisir la largeur en proportion de votre corps. Naturellement, à l'exception de certains gabarits, il faut être vigilant à ne pas choisir une ceinture trop fine ou trop large. Idéalement, une ceinture large se situe généralement entre 30 et 40 mm.
Les ceintures Mazarin sont proposées avec une largeur de 35 mm, afin de trouver un équilibre, qui conviendra aussi bien aux hommes et aux femmes qui cherchent à construire des tenues formelles que décontractées.
Comment mesurer son tour de taille pour une ceinture en cuir ?
Prenez un mètre ruban. Le tour de taille correspond à la circonférence horizontale du corps. Il se mesure à partir de l'endroit le plus creux de votre abdomen, un peu en dessous ou au-dessus de votre nombril. Favorisez au-dessus si vous portez des pantalons de costume à taille haute.
Si vous avez déjà une ceinture qui vous va parfaitement, vous pouvez aussi directement prendre les mesures dessus !
Bon à savoir : Votre ceinture en cuir est ajustable ! Nous ajustons sa taille avant l'envoi afin de vous éviter cette opération de cordonnerie. En cas de changement de morphologie, un bon cordonnier serait en mesure de réaliser une perforation supplémentaire afin que vous puissiez serrer confortablement votre ceinture réglable sans perte esthétique.
La boucle de ceinture en cuir
Le choix de la boucle est primordial ! Il s'agit d'une affaire d'élégance et de précaution. Le premier critère de choix est bien sûr le choix du type de boucle. Il existe plusieurs types de boucles, des formelles aux plus originales avec des formes variées (boucle carrée, rectangulaire, ronde …) .
Celle proposée par Mazarin est la boucle à ardillon simple que vous pourrez trouver soit rectangulaire, soit avec des angles légèrement plus arrondis. Il s'agit d'une boucle adaptée aux ceintures en cuir formelles, là où une boucle ronde est plus décontractée.
Le second critère de choix, bien que souvent négligé, est le choix du métal ! Même si à première vue il est difficile de déterminer la qualité des matériaux employés sur une boucle en métal, son choix reste primordial pour que la boucle conserve une belle tenue dans le temps. Il n'est pas rare d'observer des tâches d'oxydation apparaître rapidement sur les boucles de ceintures en cuir.
Les boucles des ceintures en cuir Mazarin sont en laiton chromé, un métal de luxe reconnu pour ses propriétés anti-abrasion, anti-corrosion et anti-oxydation. La couleur des finitions est définie en accord avec celle des ceintures.
Reconnaître de bonnes finitions sur une ceinture en cuir
Le diable se cache dans les détails ! Ou dans notre cas, au moins dans les finitions. Comme sur tout produit d'artisanat, la qualité des finitions est un excellent indicateur sur la qualité d'une ceinture en cuir dans son ensemble. En ce qui concerne les ceintures homme et femme, on s'attardera notamment sur la qualité des perforations. Celles-ci doivent être nettes et rondes, sans aspérités.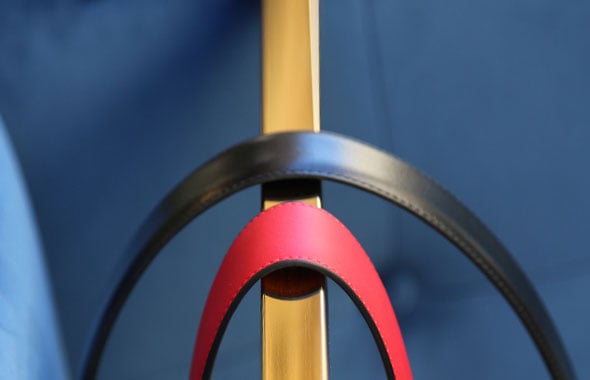 La finition de la tranche est également primordiale. Celle-ci est affinée avec un léger ponçage, les bords sont légèrement arrondis et égalisés. La tranche peut également être brûlée, graissée et teintée pour obtenir un effet bombé.
# Comment assortir votre ceinture en cuir
Assortir sa ceinture avec le reste de sa tenue se fait en fonction du niveau de formalisme recherché.
Sur une tenue formelle, la règle est (idéalement) de toujours accorder sa ceinture en cuir avec ses souliers, ce qui signifie avoir une ceinture de la même matière et couleur (ceinture noire avec des chaussures noires, ceinture marron clair avec des souliers marron clair…). Pour des tenues plus décontractées, vous pouvez tout à fait vous amuser à assortir votre ceinture à d'autres détails de votre tenue (couleur d'une chemise, d'un pull ou encore d'un pantalon par exemple).
Pour les variations de modèles, comme les ceintures tressées, l'association est tout à fait possible si vous ne prenez pas trop de liberté dans la règle précédente !
Si vous recherchez, au contraire, à construire une tenue moins formelle avec des souliers, alors vous pourrez également prendre plus de libertés avec les ceintures, avec des couleurs différentes, une variation de matière (veau lisse associé à du suède par exemple).
Une ceinture en cuir marron foncé se trouve sur un registre de style intermédiaire : elle s'associe aussi bien à un look formel qu'un look décontracté. Évitez cependant d'associer des ceintures de couleurs variées à des chaussures noires.
N.B : Nous vous conseillons d'éviter de porter une ceinture en cuir formelle avec des sneakers pour ne pas trop mélanger les styles.
# L'entretien d'une ceinture en cuir
Afin que le cuir conserve une bonne tenue et se patine naturellement dans le temps, voici quelques conseils d'entretien :
Roulez votre ceinture après l'avoir portée, et ne la portez pas tous les jours ! Cela lui permettra de retrouver sa forme droite autant que possible. Idéalement, suspendez-la à un support ;
Ne pas la laisser à proximité de sources de chaleur au risque que le cuir s'assèche ;
Évitez de l'exposer au soleil de façon prolongée (notamment en été), les rayons peuvent éclaircir la couleur.
Il n'est pas nécessaire d'entretenir sa ceinture avec des produits comme vous devriez le faire pour une paire de souliers. Tous les 6 mois, vous pouvez utiliser une chamoisine en coton ou un chiffon légèrement humide pour nettoyer votre ceinture afin de retirer la poussière et les saletés en surface.
Astuces : Si le cuir est particulièrement sec, pour pouvez le nourrir avec un lait nettoyant sans solvant. Et si vous souhaitez lui redonner un peu de brillance et de couleur, vous pouvez aussi appliquer une crème pigmentée de temps à autre.