Houndstooth socks
Houndstooth socks
Our range of knee-high houndstooth socks.
Bring a touch of flair to your outfit by blending different colours with the houndstooth motif.
Motif pied-de-poule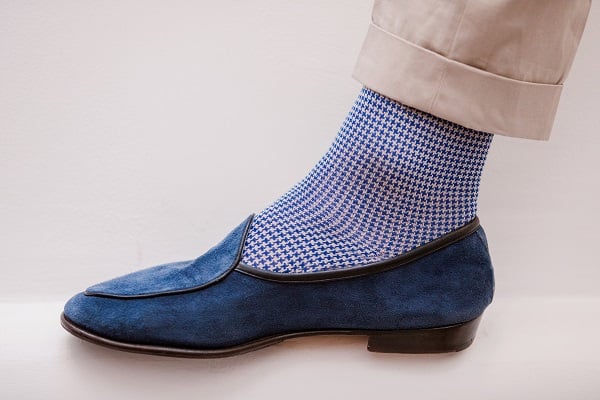 # D'où vient ce motif ?
Ce motif a été créé par des bergers écossais au XIXème siècle qui tricotaient des vêtements pour se protéger du froid en y appliquant ce fameux motif noir et blanc, couleurs choisies pour leur neutralité. Il devient célèbre et symbole de l'élégance à partir des 30's grâce aux costumes du prince de Galles puis des tailleurs Dior iconiques.
# Comment le porter ?
Les contrastes de couleurs permis par le motif font des chaussettes en pied-de-poule un détail fantaisie élégant. Si vous souhaitez qu'elles se remarquent, associez-les à des tenues unies et accordez les couleurs à celles de vos chaussures pour marquer les contrastes. Pour plus de discrétion, vous pouvez toujours assortir les couleurs du motif à celle de votre pantalon et créer l'effet jambes longues !
# Et ce nom ?
Confusion au moment de la traduction de l'anglais houndstooth (dents de chien) au français. Certains y verront une logique dans la ressemblance entre un vrai pied de poule et ce motif. Jugez par vous-même !