Pocket squares
Pocket squares
Here is our selection of Carlo Riva & Simonnot Godard pocket squares.
These pocket squares are made of linen and cotton, soft and supple materials, ideal to add a touch of extra elegance to your suits.
Les pochettes de costume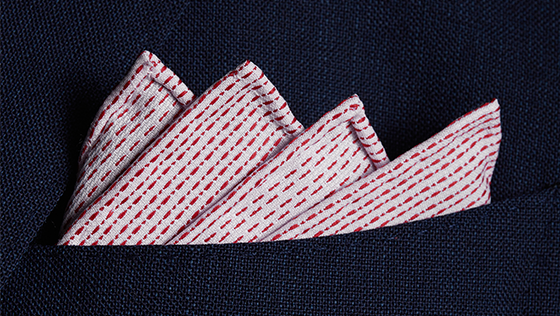 # Les pochettes de costume
Pour remettre l'élégance des pochettes de costume au goût du jour, nous proposons de sublimes pochettes des marques Mazarin et Carlo Riva. Une pochette de costume, également appelée mouchoir de poche, a de multiples usages.
Elle ajoute un trait de caractère à une tenue et permet de réhausser le port d'une veste en contrastant. Porter une pochette de costume n'est plus réservé à une catégorie d'élégants. Tout le monde peut s'aventurer à en porter une ! Aujourd'hui, il n'est pas choquant de porter une pochette de costume avec un blazer par exemple, c'est même une manière de réhausser une tenue quotidienne, au travail ou le week-end.
# Les matières et détails des pochettes de costume
Nos pochettes de costumes sont composées de matières légères et peu rigides afin de réaliser différents pliages avec aisance. Ainsi, vous pourrez choisir parmi des pochettes en coton, ramie, ou lin et coton.
De plus, les bords de nos pochettes de costumes sont roulottés à la main. Cette finition très appréciée des amateurs est réalisée par un artisan qui vient rouler et coudre les bords. Elle apporte une touche subtile d'élégance et d'authenticité à votre tenue.
# Comment choisir un mouchoir de poche ?
Pour les novices en pochette, la première chose est d'abord de porter une pochette de costume unie ou à deux couleurs pour ensuite, une fois l'habitude prise, porter des imprimés. Les pochettes sont généralement choisies en rappel d'une autre couleur de la tenue ou indépendamment. La pochette de costume blanche est souvent favorisée, car elle constitue un choix simple mais efficace. Elle s'accorde particulièrement bien dans une tenue formelle sans faux pas stylistique.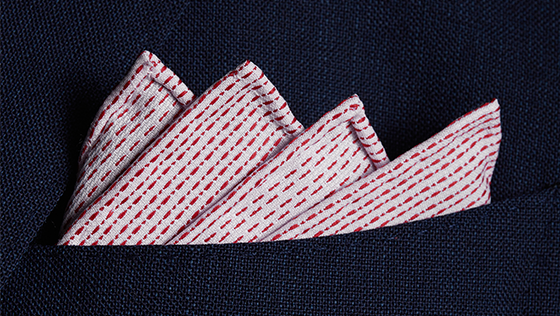 # Comment plier une pochette de costume ?
Il existe de nombreuses manières de plier une pochette de costume. Le choix du pliage rendra votre tenue plus ou moins complexe. Nous vous invitons à lire notre article qui explique les différentes possibilités. Les amateurs de sprezzatura (et les plus pressés d'entre vous) ont généralement pour usage de rassembler les pointes de leur pochette hors de la poche, et de ranger le reste à l'intérieur.