Grey socks
Grey socks
Our selection of mid-calf length socks in grey.
From cotton lisle to cashmere to our super-durable range, browse through all the grey tones and patterns we have to offer!
Grey socks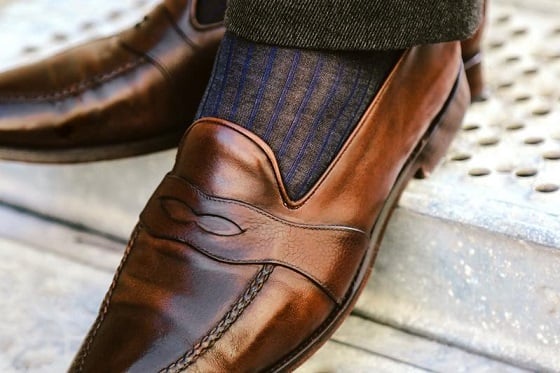 # How to wear grey socks?
For lovers of the understated, grey socks are an absolute must have in your wardrobe!
Grey is a neutral, dark shade which goes well with many colours (navy, brown, burgundy, green, black, red) in an elegant and refined fashion. Grey socks can also be worn tone-on-tone with grey suits and/or shoes. In other words, grey socks are a very safe bet!
# Our advice
If you want to bring a touch of colour to your outfits without taking the plunge with colourful socks, try our patterned socks. Coloured ribbing is perhaps the best way to brighten up a pair of grey socks. If you're looking for a slightly more eye-catching detail, opt for a mix of colours in a houndstooth pattern
Should I match the colour of my socks to my trousers or to my shoes? Both have their benefits:
Socks and trousers : this pairing is guaranteed to make your legs look longer, almost like an illusion!
Socks and shoes: this combination leads to a more visible touch of colour at the bottom of your figure which catches the eye and creates a break with the colour of your trousers.