Grey socks
Grey socks
Our selection of knee-high socks in grey.
From cotton lisle to cashmere to our super-durable range, browse through all the grey tones and patterns we have to offer!
Le gris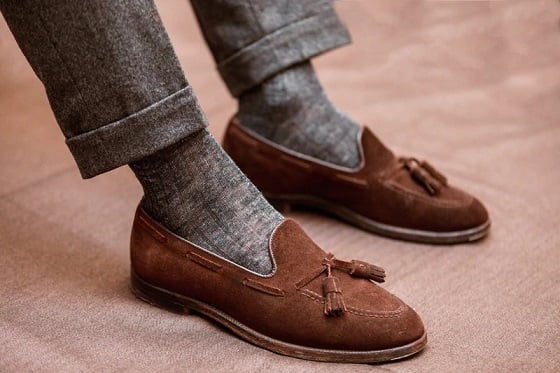 # Comment porter des chaussettes grises ?
Amateurs de sobriété, les chaussettes grises sont incontestablement l'un des must-have de votre garde-robe !
Le gris est une teinte neutre, assez sombre, qui s'accorde avec de nombreuses couleurs (bleu marine, marron, bordeaux, vert, noir, rouge) avec élégance et raffinement. Les chaussettes grises peuvent aussi se porter ton-sur-ton avec des costumes et/ou des chaussures grises – un sans-faute assuré !
# Notre conseil
Si vous souhaitez apporter une touche de couleur à vos tenues sans sauter le pas des chaussettes colorées, adoptez les chaussettes à motifs ! Les côtes colorées sont sans doute celles qui donnent le plus de lumière aux chaussettes grises. Si vous recherchez un détail légèrement plus voyant, optez pour le mélange des couleurs du motif pied-de-poule.
Accorder la couleur de ses chaussettes à celle de son pantalon ou de ses chaussures ? Les deux sont possibles :
Chaussettes & pantalon : effet longues jambes assuré ! La couleur des chaussettes permet un effet trompe l'œil d'allongement de la jambe ;
Chaussettes & chaussures : cela créé une touche de couleur plus visible en bas de la silhouette qui attire l'œil et créé une rupture avec la couleur du pantalon.