Argyle socks
Argyle socks
Discover our range of knee-high argyle socks.
The argyle pattern is quintessentially British and is inspired by the geometric diamond shape.
This pattern is usually knitted using several different coloured threads, opening the door for all sorts of colour combinations.
Les losanges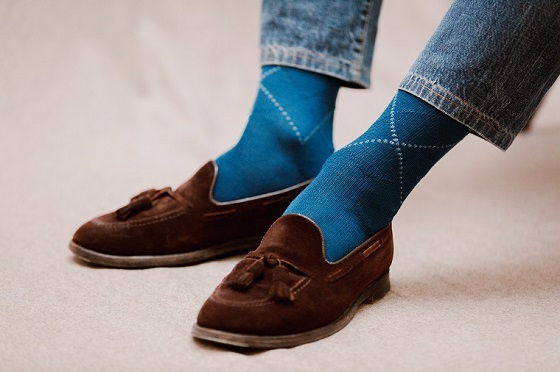 # Qu'est ce que ce motif des losanges ?
Traditionnellement appelé argyle par nos voisins britanniques, ce motif s'apparente à la forme géométrique du losange.
Populaire depuis de nombreuses années, ce motif reste un grand classique malgré l'évolution des tendances. Les chaussettes losanges sont généralement composées de plusieurs losanges superposés ce qui permet de nombreuses associations de couleurs.
# Comment porter des chaussettes avec losanges ?
Le motif argyle est souvent associé à des chaussettes chaudes d'automne-hiver. À porter donc sans modération pendant les jours d'hiver froids avec un pantalon en velours, des chaussures de campagne… Parmi nos coups de cœur, vous retrouverez les chaussettes losanges taupe ou gris bleu (mi-mollet) Doré Doré en laine épaisse de la gamme Aventure ou les modèles en laine taupe ou bleu canard Bresciani, parfaitement dans le thème pour les jours d'hiver froids !
Sur les modèles en fil d'Écosse, les losanges sont souvent plus fins et plus petits. Plus faciles à porter en ville avec des costumes ou même des jeans et des baskets pour apporter une petite touche de fantaisie à vos tenues.