Purple socks
Purple socks
Discover our selection of purple mid-calf socks (short).
Purple socks go well with navy, grey or black outfits (also available as knee-highs).
Find the perfect pair of socks in a range of shades: from dark purple to lilac and even burgundy!
Le violet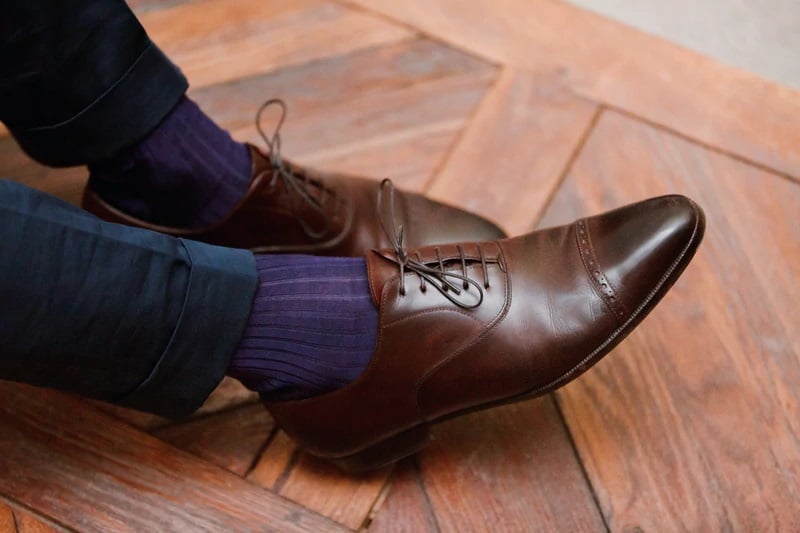 # Les Chaussettes violettes
Le violet est une couleur plus facile à porter qu'il n'y parait ! Les chaussettes violettes sont un parfait intermédiaire entre le rouge et le bleu. Notre sélection propose un large choix de chaussettes violettes pour plaire à tous les goûts : des plus foncées couleur aubergine ou bordeaux, aux plus claires avec les chaussettes couleurs lilas. À porter sans modération avec des pantalons bleu marine, gris ou même noirs pour leur donner un peu d'éclat ! Les chaussettes s'accordent aussi facilement avec des chaussures marron, noires ou grises.
# Nos coups de cœur
Voici quelques-uns de nos modèles violets favoris :
Le violet Gamamrelli, traditionnelle couleur des évêques, donne des chaussettes en fil d'Écosse particulièrement éclatantes ;
Optez pour les modèles en fil d'Écosse bordeaux ou aubergine de chez Mazarin pour une sobriété élégante ;
Le violet à côtes rouges de la paire en laine est parfait pour égayer vos tenues hivernales ;
Et tous nos modèles à côtes apportent une touche originale à vos tenues en toute subtilité.