Beige socks
Beige socks
Our range of knee-high socks in beige.
Browse through our selection of different beige tones and patterns which include Bresciani's famous linen socks and summery houndstooth designs!
Beige socks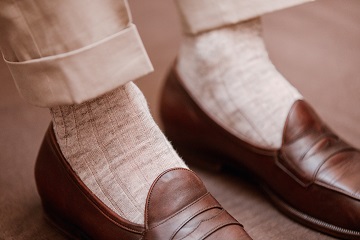 # Beige socks
Beige is a timeless colour that is often associated with more summery outfits, perhaps due to their less formal feel. Beige socks add a touch of brightness to your outfits and are perfect to wear in springtime, with bright trousers or even lightweight trousers such as canvas and linen.
# How to wear beige socks?
Beige is an easy colour to wear as it blends easily into an outfit. Try wearing it tone-on-tone with trousers (or even trainers!) for a refined, leg lengthening effect. Some of our favourites are the super-durable cotton lisle pairs in beige and the mottled linen model from Bresciani.
Why not play around with different colour schemes and contrasts by matching your beige socks with darker coloured trousers (in brown, green or even blue jeans), or with leather shoes.
If you fancy yourself as a trailblazer, or love adding daring details to your outfits, beige socks offer you a wide array of combinations when used in a houndstooth pattern (especially those made by Bresciani)!