Women Knee High Socks
Women's Knee Highs
Our selection of women's knee-high socks. Incredibly versatile, knee-highs can be the star of any outfit or a chic and subtle accessory.
Wear them with boots for a stylish layered effect or with a skirt or a minidress for a bold, vintage look.
Choose the perfect pair for you from our wide range of brands, patterns and colours.

Chaussettes hautes femme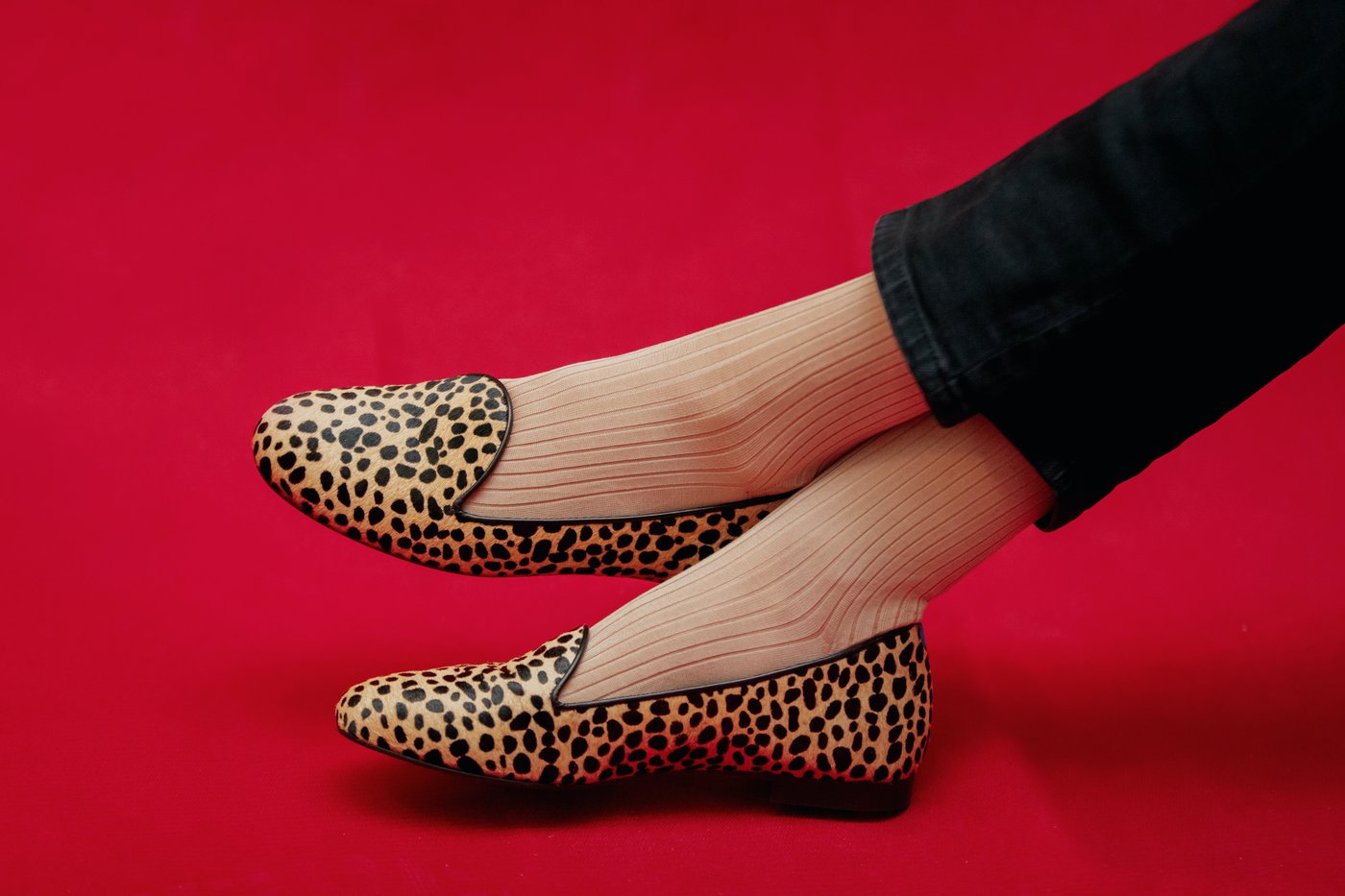 # Les chaussettes hautes femme : caractéristiques & avantages
Les chaussettes hautes femme sont des chaussettes montantes qui arrivent juste en dessous du genou, on les appelle aussi des chaussettes mi-bas ou chaussettes longues.
Les Chaussettes hautes femme ont plusieurs avantages :
leur hauteur : elles remontent au-dessus du mollet jusque sous le genou (mi-bas). Porter des chaussettes hautes est particulièrement élégant car les chaussettes longuent recouvrent bien tout le mollet jusque sous le genou. Ainsi, si votre pantalon remonte, on ne voit pas votre peau !
leur tenue : la hauteur des chaussettes mi-bas leur assure une meilleure prise sur la jambe. Les chaussettes montantes ont un large élastique à l'extrémité haute, pas trop serré mais suffisamment pour maintenir la jambe juste au-dessus du mollet qui fait résistance pour ne pas qu'elles glissent ;
leur capacité d'isolation : on pense souvent que les chaussettes hautes sont d'office les plus chaudes, mais cela dépend de la matière ! Portez des chaussettes longues en hiver en matières chaudes (comme les chaussettes en cachemire ou les chaussettes en laine) et elles vous tiendront très chaud. À l'inverse, si vous portez des chaussettes hautes femme en fil d'Écosse ou en soie, les chaussettes vous raffraichiront car ces matières ont des caractéristiques thermorégulatrices qui, associées à la hauteur mi-bas, gardent la jambe d'autant plus au frais et au sec ;
leur style : mesdames, si vous aimez porter des chaussettes visibles, vous adorerez porter ces chaussettes hautes femme avec des tenues plus courtes (jupes, robes courtes ou short) et montrer vos chaussettes mi-bas comme un élément de votre style original, raffiné et assumé en toute élégance.

La paire de chaussettes hautes femme est une pièce tendance et ultra-féminine. La chaussette haute habille les femmes avec élégance pour un style raffiné, sophistiqué, vintage ou bohème chic. Les chaussettes hautes femmes galbent les jambes, redessine le mollet et donnent de l'allure à la silhouette. Une pièce d'hiver audacieuse parfaite pour donner du caractère à notre look.
N.B : Les chaussettes hautes femme sont idéales si vous recherchez une alternative aux collants et aux bas. Les chaussettes mi-bas se maintiennent bien tout au long de la journée et évitent d'avoir une sensation d'étroitesse dans vos tenues liée à la surcouche que peuvent provoquer des bas trop hauts ou des collants !
Fun fact : les chaussettes mi-bas ou hautes sont souvent considérées comme les plus élégantes. Pourquoi ? Il nous faut remonter au Moyen- Âge pour le comprendre. À cette époque les hommes portaient des bas qui remontaient jusqu'au-dessus des cuisses et cette tenue était un symbole d'élégance et d'appartenance aux plus hauts rangs de la société.
# Les gammes de chaussettes hautes femme
Nous proposons plusieurs marques de chaussettes hautes femme, certaines spécialisées dans les chaussettes femmes comme Daphné ou encore Bonne Maison, et d'autres réputées pour leur savoir-faire en mi-bas en général comme Mazarin, Gammarelli, Doré Doré ou encore Bresciani. Des chaussettes hautes de qualité qui s'adaptent à toutes les saisons.
Symbole de chic et de sensualité, la chaussette haute femme se porte facilement au quotidien. Offrez-vous des chaussettes montantes de luxe d'une qualité exceptionnelle. Des chaussettes longues qui accessoirisent une infinité de looks. Pour un effet extravagant, optez pour des chaussettes hautes femme fantaisie. Pour une allure sobre et épurée, craquez pour des chaussettes hautes unies et minimalistes. Pour un hiver tout en douceur, misez sur les couleurs et les motifs en portant des chaussettes hautes femmes originales. Vous trouverez dans notre sélection de chaussettes hautes femme des gammes pour toutes les saisons et pour tous les goûts !
Modèles chaussettes hautes femme : la diversité des matières nobles
Et pour que chaque paire de chaussettes hautes femme s'accrode à vos tenues et à vos envies, nous avons sélectionné des modèles unis et à motifs aux somptueuses couleurs, des plus classiques aux plus extravagantes mais toujours raffinées et tricotées avec élégance ! Une touche étincelante idéale pour réhausser votre style et parfaire votre tenue de jour comme de nuit !
N.B : vous craquez sur plusieurs modèles et n'arrivez pas à faire votre choix ? Nous vous enlevons ce dilemme grâce à nos coffrets de chaussettes hautes femme spécialement conçu pour vous faire découvrir nos modèles emblématiques et notre évantail de matières. Des chaussettes longues femmes raffinées et intemporelles qui offrent un confort parfait.
# Finitions & entretien des chaussettes hautes femme
Toutes nos chaussettes hautes femme que nous proposons sont fabriquées en Italie dans des ateliers d'exception que nous avons choisi avec minutie en fonction de leur savoir-faire, des machines utilisées pour le tricotage et des finitions des chaussettes.
Nos chaussettes hautes ou mi-bas (sous le genou) sont d'une qualité exceptionnelle grâce à leur composition mais aussi à leurs finitions. Toutes les chaussettes sont remaillées maille à maille : la couture de la chaussette est effectuée autour des doigts de pieds pour éviter la gêne d'une couture centrale à la pointe des pieds. Le tricotage des chaussettes hautes est également renforcé au talon et à la pointe pour leur apporter plus de résistance à l'usure.
Concernant l'entretien des chaussettes hautes femme, cela dépend généralement de leur composition (chaussette haute femme laine, cachemire, soie, etc.). L'idéal est de les laver dans un sac de lavage (offert à partir de 150€ d'achat) afin de protéger les matières des frottements avec le tambour et autres accros possibles lors du lavage. Ensuite :
s'il s'agit de matières telles le fil d'Écosse ou le coton : vous pouvez les laver en machine à 30° ou plus, à des régimes normaux car ces matières sont robustes ;
s'il s'agit de chaussettes hautes femme en cachemire, en laine ou encore en soie : ces matières délicates nécessitent un lavage à la main ou en machine à régime très délicat (600 tours maximum), à froid de préférence avec très peu d'essorage et pas de sèche-linge (privilégiez un séchage à l'air libre et à plat pour conserver la forme des fibres).
N.B : si les chaussettes courtes mi-mollet pour femme vous intriguent, vous pouvez toujours jeter un coup d'oeil à nos modèles de chaussettes en fil d'Écosse super-solide, en coton supersoft ou à la gamme non-cimprimantes de Mazarin. Il existe également quelques modèles mi-mollet femme en laine nattée chez Daphné.