Glittery Mid-calf socks for women
Glittery socks for women
Our range of glittery socks from Daphné.
These mid-calf length trousers are made from a blend of cotton and lurex which gives them an elegant and original glittery effect!
Chaussettes paillettes femme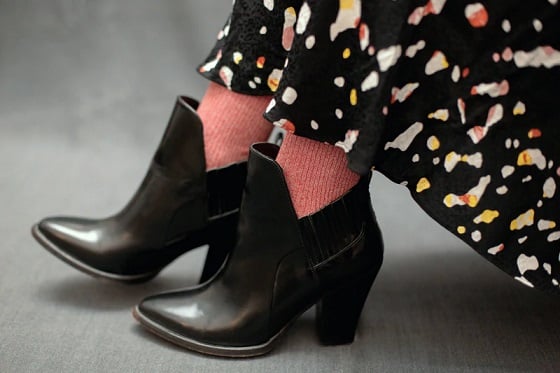 # Notre gamme de chaussettes paillettes femme
La marque française Daphné, spécialiste des chaussettes pour femme, propose une gamme de chaussettes paillettes femme aux somptueux coloris avec effet métalisé. Ces chaussettes brillantes existent en hauteur mi-mollet (court) et sont disponibles du 36 au 41.
Composition des chaussettes paillettes femme
Les chaussettes paillettes femme de la marque Daphné se distinguent par leur compositon d'exception. Elles allient les meilleures matières naturelles et synthétiques pour en faire des modèles légers, doux, confortables, robustes et élégants à porter toute l'année :
67% coton : en provenance d'Egyte, le coton utilisé pour le tricotage de ces chaussettes paillettes femme est réputé pour sa douceur et sa légèreté. Cela permet d'avoir des chaussettes en coton fines, très confortables et agréables à porter qui protègent la peau des agressions ;
20% lurex : c'est ce fameux fil métalisé qui donnent aux chaussettes paillettes femme toute leur brillance et qui vous permet également d'ajuter une touche d'éclat à vos tenues. La faible quantité de lurex dans ce modèle permet de préserver la douceur du coton au porté ;
Polyamide : initialement utilisé pour les amarres de bateaux, le polyamide est une matière très robuste qui rend les chaussettes femme encore plus solides face à l'usure et aux frottements. Ces chaussettes paillette femme font donc partie des plus solides qui existent !
Élastanne : l'intégration de cette matière aux fibres des modèles à paillettes Daphné rend les chaussettes paillettes femme plus souples et assure une tenue impeccable des chaussettes sur la jambe.
Couleurs des chaussettes paillettes femme
La gamme des chaussettes en coton brillantes Daphné est composée d'une multitude de coloris afin que vous puissiez, Mesdames, associer vos chaussettes originales à toutes les couleurs de vos tenues ! Qu'elles soient sobres ou vives, claires ou plus foncées, il y a des chaussettes paillettes femme pour toutes les occasions et tous les goûts.
Nos coups de coeur :
Les chaussettes brillantes beu marine & argent : leur couleur bleu foncé associée aux légères touches pailletées argentées font de cette paire l'une des plus faciles à porter et notamment à associer à des tenues formelles (comme pour la paire noir & argent d'ailleurs) ;
Les chaussettes rouge & or : ces chaussettes paillettes femme ont la teinte parfaite si vous souhaitez apporter un peu de lumière à votre tenue. Les fils de coton rouges sont mélangés avec de légères touches de fils bleu atténuant légèrement la vivacité de la couleur. Et les fils dorés donnent la touche de brillance chaleureuse tant attendue à ces chaussettes pour femme ;
Les chaussettes paillettes femme écru & or : sans doute l'une des paires brillantes la plus claire, ces chaussettes couleur écru et doré s'associeront discrètement avec des baskets blanches. C'est aussi l'une des teintes les plus faciles à associer avec des pantalons et chaussures marrons, camel, beige… Brillantes, donc, mais discrètes !
Le plus de ces chaussettes brillantes ? Leur liseré doré ! Signature iconique de tous les modèles de chaussettes Daphné, le liseré doré situé à l'extrémité haute des chaussettes fait toute la différence. À la fois élégant, raffiné et suffisamment fin pour attirer l'œil sans en faire trop, ce liseré ajoute une touche de féminité aux chaussettes et donc à vos tenues.
N.B : la finition avec le liseré doré assure également une tenue encore plus impeccable des chaussettes femme.
# Comment porter les chaussettes paillettes femme
Dans l'imaginaire collectif, les chaussettes paillettes femme se portent principalement le soir avec des tenues de soirée. Et pourtant, les chaussettes brillantes font de plus en plus leur apparition dans des tenues décontractées mais aussi parfois même professionnelles !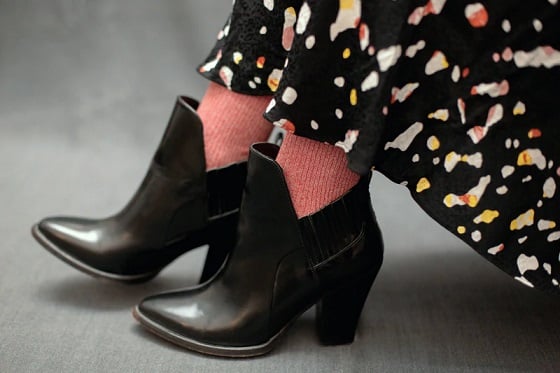 Les chaussettes paillettes femme en journée
Chaussettes paillettes femme à porter la journée : que ce soit avec des tenues décontractées ou des tenues plus habillées pour aller travailler, osez porter des chaussettes brillantes ! L'avantage des chaussettes femme, c'est que, plus qu'un accessoire, c'est un vêtement à part entière mais relativement discret. Vous pouvez donc vous permettre une touche colorée et lumineuse pour redonner un coup d'éclat à vos tenues sans mettre de côté l'élégance ou la discrétion. Au bureau, enfilez-les dans des mocassins ou des derbies. Grâce à leur fine épaisseur, ces chaussettes métallisées se glissent aisément dans toutes vos chaussures de ville, même les plus étroites. De façon plus décontractée, portez-les avec des baskets pour donner une touche féminine à vos tenues et affiner vos jambes et vos chevilles.
Les chaussettes brillantes pour vos tenues de soirée
Chaussettes brillantes en soirée : si vous n'osez pas les porter en journée, les chaussettes paillettes femme trouveront leur place dans votre dressing de cocktail ou de soirée ! Portez les avec des jupes pour un style osé assumé qui détonne et reste chic. Sinon, associez-les à des pantalons coupe ¾ pour faire apparaître ce délicat détail fantaisie qui ne passera pas inaperçu.
Et pour les mordues du total look glamour, portez-les avec une robe ou un haut pailleté pour briller de mille feux !
# Entretenir ses chaussettes paillettes femme
Les chaussettes paillettes femme se lavent à la machine sans aucun poblème. Afin de préserver la forme des chaussettes et la qualité des fibres, nous vous conseillons de les laver à 30° maximum avec un essorage à 1200 tours/minute. Privilégiez un séchage naturel et à plat afin de conserver le brillant des fils de lurex sans déformer les chaussettes.