Mid-calf socks in Linen
Linen socks
These are the mid-calf (short) linen socks from the Bresciani summer range, the ideal summer socks if you are looking for freshness.
Linen is a warm weather material as it keeps feet cool and dry and softens with every wash.
Linen socks are very light and have a mottled look thanks to their particular fibres that give them that elegant yet casual look.
Chaussette lin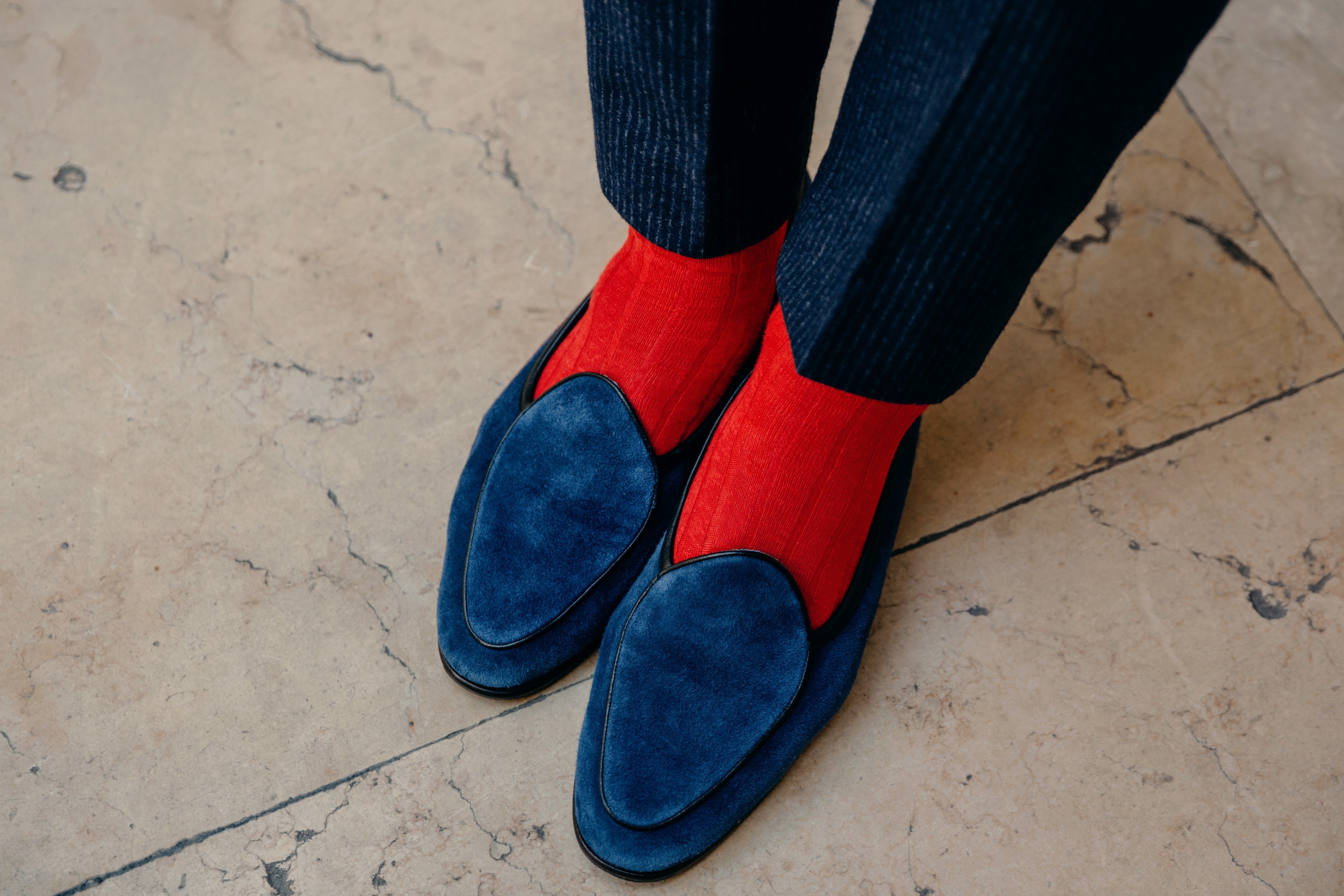 # Les chaussettes en lin pour les saisons chaudes
Les chaussettes en lin sont les chaussettes d'été par excellence. En saison chaude, vous pourriez être tenté de porter vos chaussures pieds nus… Sans chaussettes, cela accentue la sudation et le développement des bactéries à l'intérieur de la chaussure, ce qui peut provoquer des mycoses et de mauvaises odeurs. Le port de chaussettes en été est donc fortement recommandé pour des questions hygiéniques. Privilégiez les matières nobles et légères comme le lin. Le lin permet le port de chaussettes en été, sans compromettre la respirabilité.
En effet, c'est une matière naturelle extrêmement respirante avec une grande légèreté. La nature de la fibre laisse passer l'air, ce qui permet au pied de ne pas être isolé sous la matière. Le lin permet également une excellente régulation de l'humidité. Elle absorbe en effet jusqu'à 30 % de son poids en humidité. Ainsi, la chaussette pur lin est particulièrement adaptée aux climats chauds et tropicaux, mais on évitera de les porter en saison froide.
Si le lin a tendance à froisser sur d'autres pièces, il reste bien tendu sur les chaussettes.


# Des chaussettes en lin durables
Un savoir-faire d'exception pour une paire de chaussettes en lin incroyable, confortable et durable.
Contrairement à beaucoup de croyances, le lin est une matière durable ! Cela est principalement dû au fait que la matière ne "bouloche" pas comme la laine. En ce sens, la perte de matière est minimale. En outre, les fibres de lin sont en moyenne dix fois plus longues que celles de coton, ce qui assure une meilleure résistance à l'abrasion. En termes de confort, les chaussettes légères en lin sont encore une fois avantageuses par rapport aux autres matières. Dans la mesure où la fibre de coton peut perdre en tenue avec les lavages, le lin lui s'adoucit et conserve sa forme, bien que la matière paraisse rêche au premier abord. Enfin, à l'instar d'autres modèles de chaussettes, nous avons renforcé ces chaussettes en lin avec une part de polyamide. Ce fil synthétique, réputé pour sa résistance exceptionnelle à l'usure, se retrouve dans la composition des amarres de bateaux, de protections, etc. Il vient ici renforcer l'ensemble de la chaussette lin, avec une faible proportion (seulement 5% suffisent) qui assure une meilleure robustesse.
Les paires de chaussettes en lin sont aussi renforcées à la pointe et au talon pour assurer plus de résistance à l'usure naturelle des chaussettes. Elles sont aussi remaillées maille à maille à ces deux mêmes extrémités ce qui permet d'assurer le confort de l'absence de coutures à la pointe des pieds. Ces finitions d'exceptions garantissent ainsi la longévité des chaussettes en lin.


# La chaussette lin, idéale pour prendre soin de vos pieds
Le travail du lin permet d'obtenir une fibre végétale unique, réputée depuis des millénaires pour ses nombreuses propriétés bénéfiques à la santé. Le lin est même le textile le plus ancien ! Dans l'Egypte antique, la matière était même symbole de pureté. Le lin a été longuement utilisé pour la confection de tuniques et de bandages, car contrairement au coton qui évacue très mal les fluides, le lin sèche très rapidement. Cela permettait de favoriser la guérison et d'empêcher les infections. Matière noble, le lin a traversé les époques et reste encore très populaire dans le domaine du textile.
La chaussette lin est idéale pour préserver vos pieds car il s'agit d'une matière saine, avec plusieurs propriétés qui favorisent l'hygiène et la santé. La chaussette pur lin est ainsi antifongique et antibactérienne, ce qui permet d'empêcher des infections, l'apparition d'odeurs et de bactéries. Elle est également hypoallergénique. Le lin n'agresse en effet pas votre peau, et ne provoque pas de réactions allergiques ou d'irritation. Les chaussettes en lin sont idéales pour les pieds sensibles. Des chaussettes légères qui apportent douceur et confort.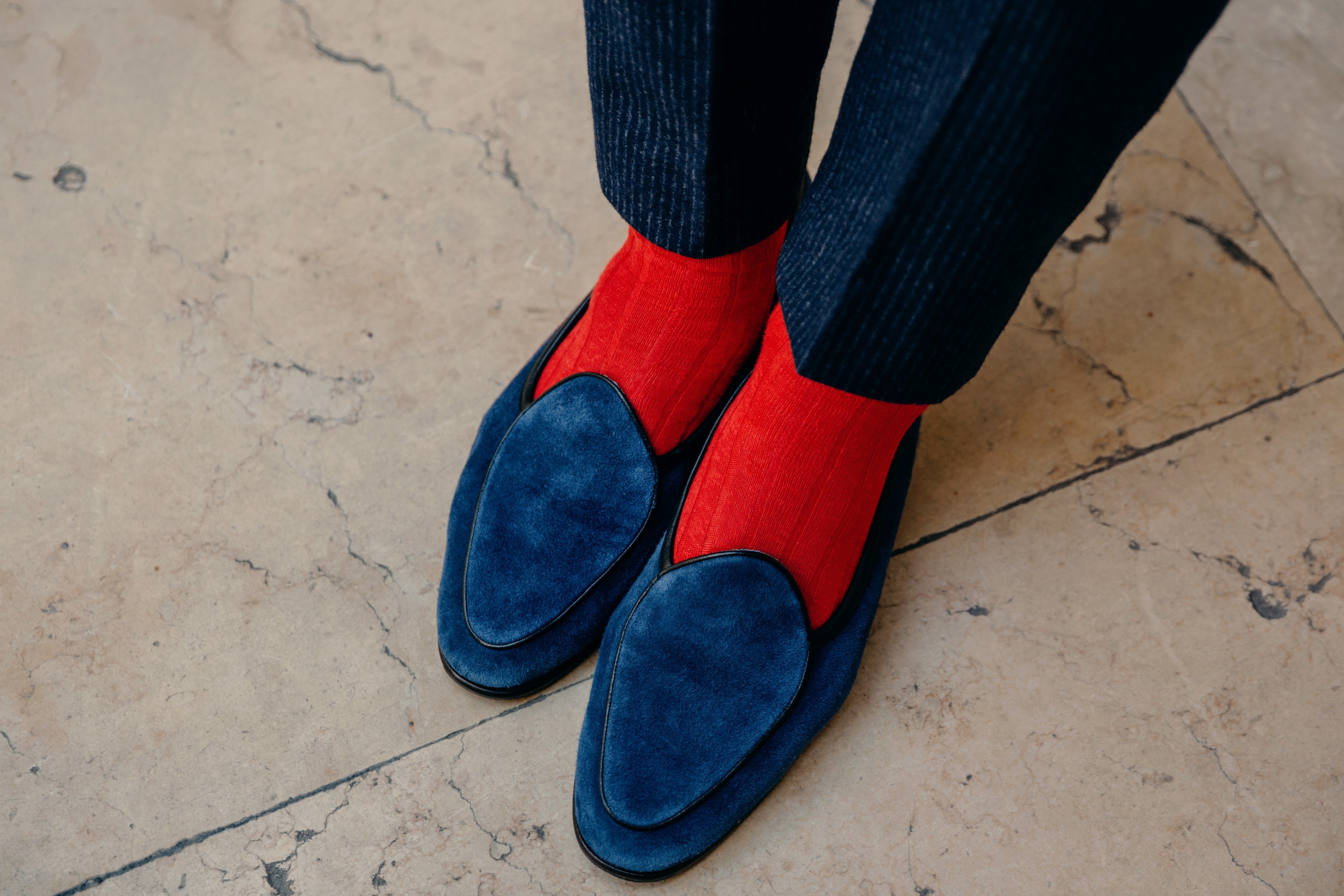 # La chaussette en lin, idéale comme chaussette d'été
Le port de chaussettes est toujours l'occasion de réaliser des associations uniques. D'un point de vue esthétique, les chaussettes en lin sont tout à fait adaptées à la saison. Le lin étant la matière estivale par excellence, nous avons décidé de proposer une chaussette tendance. La période de l'été est toujours l'occasion de porter des couleurs vives et plus claires dans vos tenues (comme avec les modèles vieux rose, blanc cassé ou encore bleu azure), un aspect que nous avons pris en compte.
Nos modèles de chaussette lin homme sont parfaites comme chaussettes d'été. Nous proposons des chaussettes unies et élégantes, mais la texture chinée et légèrement plus claire par endroit permettrait presque de les qualifier de chaussettes à motifs. Vous pourrez ainsi réaliser de nombreux accords avec des tenues aussi bien formelles que décontractées.
# L'entretien facile de votre paire de chaussette lin
À l'image de la légèreté de cette matière, l'entretien du lin est très facile ! Vous pouvez laver votre chaussette lin en machine sans problème, à 30 ou 40° et avec un essorage à 1 200 tours/minutes maximum (un régime coton classique suffit par exemple). Pour le séchage, vous pouvez les mettre au sèche-linge mais nous recommandons plutôt un séchage à l'air libre afin de conserver la forme naturelle des chaussettes et la qualité de leurs fibres de lin.