Saphir Médaille d'Or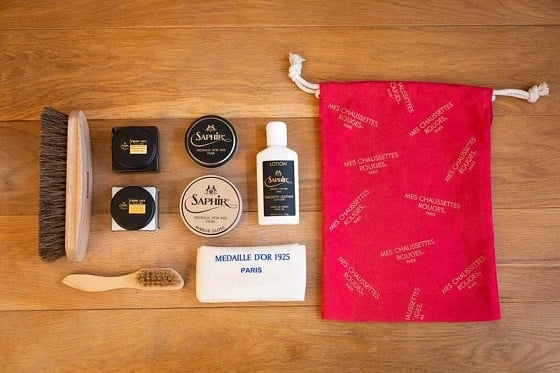 # What is the Saphir brand?
Created in 1920, the French brand Saphir is renowned internationally for its high-quality and varied range of leather polishing and cleaning products. Saphir continually tries and tests new products, using the best natural raw materials and boasts the largest range of leather care products in the world.
# What is Saphir's Médaille d'Or range?
In 1925 Saphir was awarded the médaille d'or in Paris for the exceptional quality of its leather care products. The range is the largest range that the brand offers and is highly recommended its unbeatable quality.
# How should I use the products?
The luxury polish pâte de luxe Médaille d'Or is ideal for glaçage which will give your shoes a glossy look. The pommadier Médaille d'Or will nourish and re-colour the leather. The Saphir Médaille d'or lotion will hydrate and revitalise your leather. The case is excellent for keeping all of your care products neat and tidy. You will also find the best suede products to make them waterproof, recolour them and keep them clean.