Calzificio Palatino Socks
Calzificio Palatino
Explore our collection of plain and two-tone socks in 100% cotton lisle from the Italian brand Palatino.

These socks stand out for their original colour schemes. With pastel tone bases and bright stripes, this range of socks is full of beautiful and striking colour combinations.
Calzificio Palatino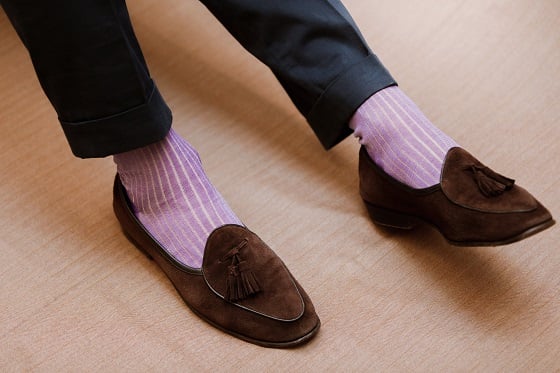 # L'histoire de la marque Calzificio Palatino
Installée depuis 1949 en Italie, Palatino, entreprise familiale depuis sa création, tricote des chaussettes en fil d'Écosse et en laine mérinos dans de somptueux coloris, unis ou vanisés. Ses ateliers installés à Rome près de la gare Termini étaient à l'origine situés dans le quartier du Palatin - d'où ce fameux nom !
# Les caractérisitques des chaussettes Calzificio Palatino
Palatino est tout d'abord reconnue pour ses associations de couleurs : ses modèles vanisés associent des couleurs pastel à des côtes plus claires qui apportent une touche de fantaisie raffinée à vos tenues. Mais c'est principalement sa gamme en laine mérinos qui est la plus réputée : des modèles en laine assez fine, idéale pour se glisser dans tous les types e chaussures, à la palette de couleurs très large (des couleurs les plus sobres aux plus lumineuses - jaune, orange, rouge, bleu ciel, turquoise, etc.).