Orange knee -high socks
Orange socks
Orange knee-high socks are bright and original, ideal if you want to add a touch of elegant extravagance to your outfit.
Discover all our orange socks, plain or patterned, in cotton lisle, linen or silk!
Le orange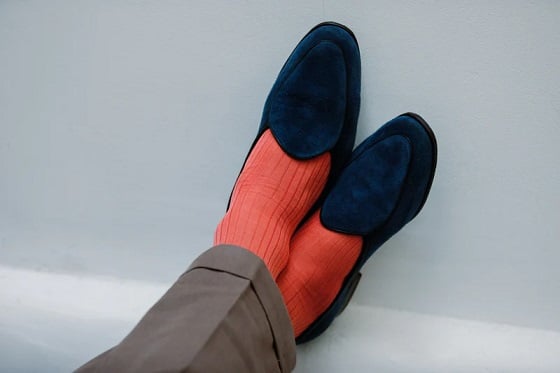 # Les chaussettes orange
Le orange est une couleur vive et originale, trop souvent mise de côté ! Pour les habitués des couleurs, porter des chaussettes orange est une bonne alternative aux chaussettes rouges. Si vous n'êtes pas encore très familier avec les chaussettes aux couleurs vives, nous proposons également des teintes de orange plus douces et sombres. À porter sans modération avec des pantalons marron, beige ou encore gris et osez le détail tape à l'œil avec des pantalons bleu marine ou même noirs ! Elles seront aussi parfaites avec des chaussures en cuir ou daim marron.
# Nos coups de cœur
Vous l'aurez compris, des chaussettes orange il y en a pour tous les goûts ! Et parmi nos préférées vous trouverez :
Les subtiles chaussettes orange Bresciani à côtes bleu claire ;
La vivacité du orange Mazarin en fil d'Écosse ;
Les délicates mi-bas terre battue avant et après la pluie.