Orange socks
Orange socks
Our range of knee-high socks in orange.
Add a touch of flair and elegance to your look.
Orange socks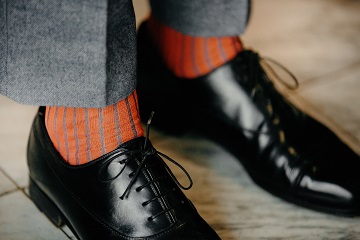 # Orange Socks
Orange is a bright and quirky colour which is too often left at the back of a wardrobe. For those who like a colourful sock, orange socks are a good alternative to a red pair. If you're not as used to wearing brightly coloured socks, we also have orange socks in softer and more understated shades. They go very well with brown, beige and even grey trousers and will really catch people's attention if you wear them with black or navy trousers! They also perfectly compliment shoes made from leather or suede.
# Our top picks
The subtle orange Bresciani socks with blue ribbing;
The vibrancy of Mazarin's cotton lisle pair in orange;
Two delicate pairs of knee-high socks inspired by wet and dry clay respectively.